Splunk engaged 62% of its workforce, spread out across the world, in its first-ever companywide giving campaign. Find out how a small incentive — just $10 in each of their people's Giving Accounts — grew into nearly $50,000 in donations to 1,300 different causes.
When Splunk launched their first-ever international giving campaign, they kept their goals pretty conservative. The big data software company with 33 offices around the world had run regional giving and volunteering programs before.
But this time they wanted to run a campaign that would bring all employees together and show them how easy it is to give to their favorite causes on the Benevity platform (while demonstrating why they should give in the first place).
"We purposely made it as simple as we could," explains Patricia Nevers, a Senior Specialist on Splunk's Social Impact Team. "If we got 35% participation … we would have a celebration. And I was nervous."
To spread the word, Patricia and her team dropped flyers on desks and put up large, easy-to-understand banners in kitchens and lobbies. They sent out personalized launch emails, with a look and feel distinct from run-of-the-mill corporate communications, in nine different languages to Splunk offices around the world.
Splunk seeded each employee's Giving Account on the Benevity platform with $10. Their people could then give this donation currency to any charity they wanted, among the two million in our Causes Portal.
To boost the energy (and impact!), Splunk incentivized their people even further by randomly putting a $10,000 reward in one employee's Giving Account, which the winner could donate to a cause of their choice.
"I was overjoyed." Splunk doubled their participation goal AND impact
Splunk employees started giving and something remarkable happened.
They didn't just use the donation currency from the company — they also opened up their own wallets, donating nearly as much of their own money ($22,000) as Splunk gave in seed funds ($25,000).
Previous campaigns at Splunk didn't thrive because it was rarely simple and straightforward for people to donate, points out Aaron Chrisco, Senior Manager of Social Impact at Splunk.
"I think it's important to recognize that Benevity is so easy to use, our employees had no excuse not to participate," he says. "This technology allowed us to quickly activate and engage our people like we couldn't have done in the past."
When it was over, a whopping 62% of Splunk employees had participated in the campaign — 95% of whom were donating through the Benevity platform for the first time.
"I was overjoyed when looking at the reports and constantly rerunning them to make sure they were real," Patricia remembers. "Right off the bat, the success of this campaign really proved that our employees want to give and will give."
The funds went to support more than 1,300 causes, and Splunk got mountains of insight into what their employees really care about.

"We learned that humanitarian and disaster relief organizations were really top of mind for our employees and that's definitely shifted our programs into promoting those Giving Opportunities that Splunk supports as well," Patricia explains.
Splunk's people shared their personal stories and photos
Without being asked, Splunk people started sharing their stories of giving on the company's intranet, and the campaign instantly became a cultural unifier.

One employee posted a photo of himself in the hospital with his little girl. He shared that he'd been there with her when the campaign began and his $10 went to the hospital. Some of his team members chimed in to say they'd given their funds to the same hospital.
And what about the winner of the $10,000 in donation currency? That was Rob Dunne, a regional sales manager for Splunk in Oregon.
He gave funds to a cause near and dear to his heart: Randall's Children's Hospital in Portland, where his 3-year-old son has received care since he was born.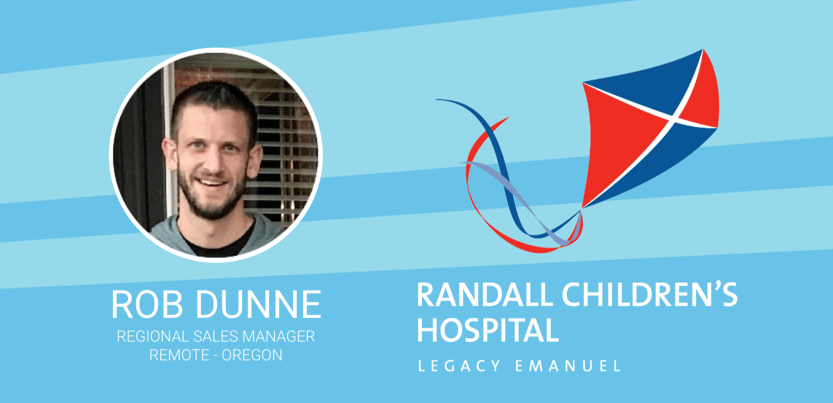 Splunk people are not "just their job titles"
The success of the campaign showed Patricia and her teammates that Splunk employees want to give when they have the opportunity.
The company didn't need a large budget to engage authentically with their people and affect real change. They just needed an incentive and the right platform to encourage people to do the good they wanted to do.
"A campaign like this — that truly shows our employees are not just their job titles — has a ripple effect across our culture," Patricia says. "Our employees are the north star."
Ready to see how your giving budget can have a big impact? Book a demo.