Today's Guide to Workplace Giving Success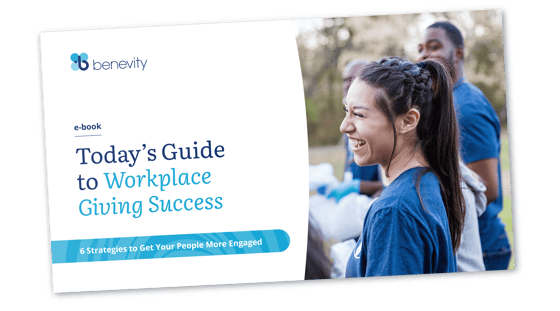 Want to get more engagement in your workplace giving program? Has your company made a commitment to workplace giving, employee engagement or simply doing Good? If so, you may have already discovered it's not always easy to achieve the goals you set out. Especially in a workplace that will soon be dominated by millennials, the rules of the game have shifted and you could probably use a revised rulebook right about now. Using real data from our Fortune 1000 clients, we developed a free eBook that will help you navigate the path to growing a modern, engagement-focused program.
In here, you'll find 6 key strategies to grow participation in your giving program:
1. Make giving personal
2. Make giving easy
3. Make it a perfect match
4. Kick-start participation with incentives
5. Unite giving and volunteering
6. Internationalize your program
Fostering more engagement with your people while driving business and social impact has never been easier.