What's Driving Change in Our Community Investment Programs?
This is the first part of a new content series from Michelle DiSabato, president and founder of Community Impact Consultants, that provides important insight into impact measurement. Each piece will build on the last, creating a master guide for CSR and community investment professionals who are taking steps to determine the impact of their initiatives in the community and on their businesses.
How many times have you been asked questions like these:
What impact is our program having?
What difference are we making in the community through our philanthropic efforts?
Why does our organization give money away?
How will that help our business?
These oft-asked questions can be daunting to answer, but they're not going away — especially in light of current world events. In fact, Corporate Social Responsibility (CSR) and community investment professionals are hearing these questions more and more, from the C-suite, from staff, and increasingly from customers and shareholders. So, why do so many in the CSR sector shy away from questions about what their programs are achieving?

Here's the main reason: The vast majority of companies believe that social impact cannot easily be measured, or that we cannot have common measures for our grant partners to report on. Instead, we focus on individual grant achievement, when we should be measuring our overall CSR portfolio achievement. Moreover, CSR departments and professionals have long been viewed as a nice-to-have, rather than as an integral part of the company. It doesn't have to be this way.

The true question that needs to be answered is: As a sector, how can we evolve to be better positioned to measure and report our social impact and its contribution to our business success?

THE EVOLUTION OF THE SECTOR

To better understand the need to measure your company's social impact and its relation to your business, it is important to recognize the changing landscape of the CSR space over the past few decades.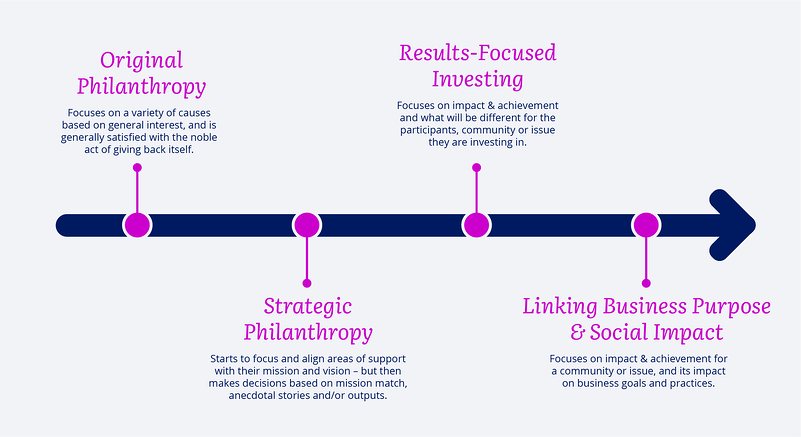 Original philanthropy
Many companies started out with the "original philanthropy" mindset. Companies wanted to do good and give back to the communities where they live and work. Think of it as the Rockefeller or Carnegie model — wealthy individuals wanting to give back, communities wanting to come together to address local issues, or businesses wanting to make the places where employees live and work better. All these reasons are still very important, and they're part of what makes us love the work we do.

Strategic philanthropy
In the past few decades, some companies became more strategic, which for most meant focusing social good on categorization and outputs in terms of focus areas, dollars invested, number of grants or number of hours volunteered. Those who were most successful with this approach were able to tell stories about people who were helped in each of the categories. For example, if a company was providing funding in the domestic violence field, they could share how Jane Doe got help getting out of an abusive situation and into safe, long-term housing.

Results-focused investing
More recently, companies began seeking answers to questions about overall impact on participants, on the community, or on the issues they support, while using measures (or indicators) to track whether or not conditions were improving for those audiences. The new thinking focused on investing in social change and asking results-focused questions like:
What will be different for the participants because we invest in your program?
What's different in the community as a result of this program?
How have we made a difference for those in need?
Linking business purpose & social impact
Over the past decade, companies have been asked to show what impact their work is having on social issues as well as on the success of their company, in terms of overall business goals and even business practices, to ensure alignment with internal and external voices. That typically means supporting and taking action on social issues that align with your business, then integrating the best practices that you develop socially back into your business practices. For example, if a company's social impact is focused on women's empowerment, their hiring and potentially even their products and services are also aligned with that focus area.

Much of this latest evolution owes its origin to an influential 2011 Harvard Business Review article, "Creating Shared Value," by Michael E. Porter and Mark Kramer. The paper outlines a new perspective: "Shared value is not social responsibility, philanthropy, or sustainability, but a new way for companies to achieve economic success."

FACTORS DRIVING THE CURRENT CSR EVOLUTION
A number of other groups are driving this current shift in the evolution of our sector, where companies are being asked to be more aligned with societal expectations.

Investors
Now more than ever, investors and shareholders are diligent about making sure they support companies that operate in an ethical manner, and whose social purpose aligns with their own personal values. This alignment was heightened in 2018 in the now-famous "Letter to CEOs" written by Larry Fink, CEO of global investment management corporation BlackRock. Fink's message to CEOs was this: "Contribute to society, or risk losing our support."

This was not a one-time message. In subsequent letters to CEOs in 2019 and 2020, Fink continued to focus on purpose and profit, emphasizing that working toward social good is no longer simply a nice thing to do, but an integral part of how organizations are valued by his firm and other investors. Given BlackRock manages $6.3 trillion in assets, most companies paid attention, and are now trying to ensure they are demonstrating their contribution to society and the positive impact these efforts are having on business. CSR programs are being incorporated into conversations at the investor relations and analyst tables for the first time ever.

Consumers
Many consumers now think about a company's social platform before they head to the cash register. More than 75% of Americans say supporting companies that address social and environmental issues helps them feel they are doing their part.1 This trend is leading more and more brands to speak out or take action on societal issues, whether through point-of-sale nonprofit donations or by actively changing business practices to support their overall societal mission. CVS Health, a national pharmacy chain, is a concrete example of a company changing their business practices to align with its overall societal mission. Because CVS Health identifies as a health-focused company, they made the business decision to stop the sale of cigarettes and
replace them with The Last Pack, a step-by-step guide to quit smoking disguised as a pack of cigarettes.

The trend extends to recent world events, ranging from natural disasters to the global pandemic and civil unrest, to name only a few. Consumers are paying attention to each company's position on these events and are seeking alignment before they buy products or use services.

Employees & the millennial generation
Similarly, employees want to feel good about where they work and how those companies affect societal issues. In fact, 70% of people globally say they want to work for a company with a "powerful social conscience." 2

Contributing to the shift in employee expectations is that, as of 2016, millennials are the largest generation in the workforce.3 With 81% of millennials expecting companies (especially their chosen employers) to publicly pledge to be good corporate citizens4 it is time to start linking social and business programs.

Governments and the SDGs
Finally, governments are coming together to contribute to the results-focused conversation. In 2015, the United Nations released 17 Sustainable Development Goals (SDGs), a set of15-year goals that collectively comprise "the blueprint to achieve a better and more sustainable future for all."5

What differentiates these goals from their predecessors, the Millennium Development Goals (MDGs), is that they go further to define how progress will be measured, outlining clear targets and indicators of success. In short, they have created their own measurement framework.

THE JOURNEY TO IMPACT
Watch my webinar with Benevity where we explore steps to making the shift to results-focused community investment. The session includes an introduction to the Roadmap to Results, a proven formula for helping companies measure the impact of their programs in the community and on their business.

1Cone/Porter Novelli, 2019, 2PWC, 2019, 3Key Statistics About Millennials in The Workplace, Mark Emmons, 5www.UN.org

Michelle DiSabato, founder and president of Community Impact Consultants, Inc. (CIC), is a philanthropic impact subject matter expert with more than 20 years of experience developing, designing and implementing multi-million-dollar philanthropic initiatives and programmatic social impact analyses. Michelle has worked with a wide array of clients in industries ranging from healthcare and finance to consumer products and entertainment providers, helping them align their giving strategies to meet their business and social responsibility goals, while leveraging and optimizing technology to maximize efficiency. Prior to founding CIC, Michelle was a CSR manager at a Fortune 10 global organization, where she managed one of the largest installed grants management systems (200+ users in more than 15 locations) and led their measurement initiative to determine the impact of their community engagement.