A new year, a new outlook that transcends traditional corporate philanthropy
January is a time for new beginnings, with many reflecting on the events of 2017 and how our beliefs, practices and sense of purpose evolved as a result. What did we learn that we can carry forward into 2018 as we reach for even greater goals?
In the world of charitable giving, we at Benevity saw many new trends emerge, often in response to what was happening around us.
Tragedies, tensions and political triggers caused people and companies to recognize their place and power as a force for good, particularly when they worked together towards positive change. All of this created a unique space for companies to put their corporate values to action—and did they ever!
These five macro-trends made a colossal impact on the world of corporate giving, volunteering and community investment last year.
Their influence was so big that the world is now on the verge of a whole new era of Goodness—one aimed at creating better people, better communities and, ultimately, a better world. In case you (like us!) want to welcome this new era with open arms, we've highlighted these top trends and how even more companies can partake in them in 2018.
1. Companies as society's social conscience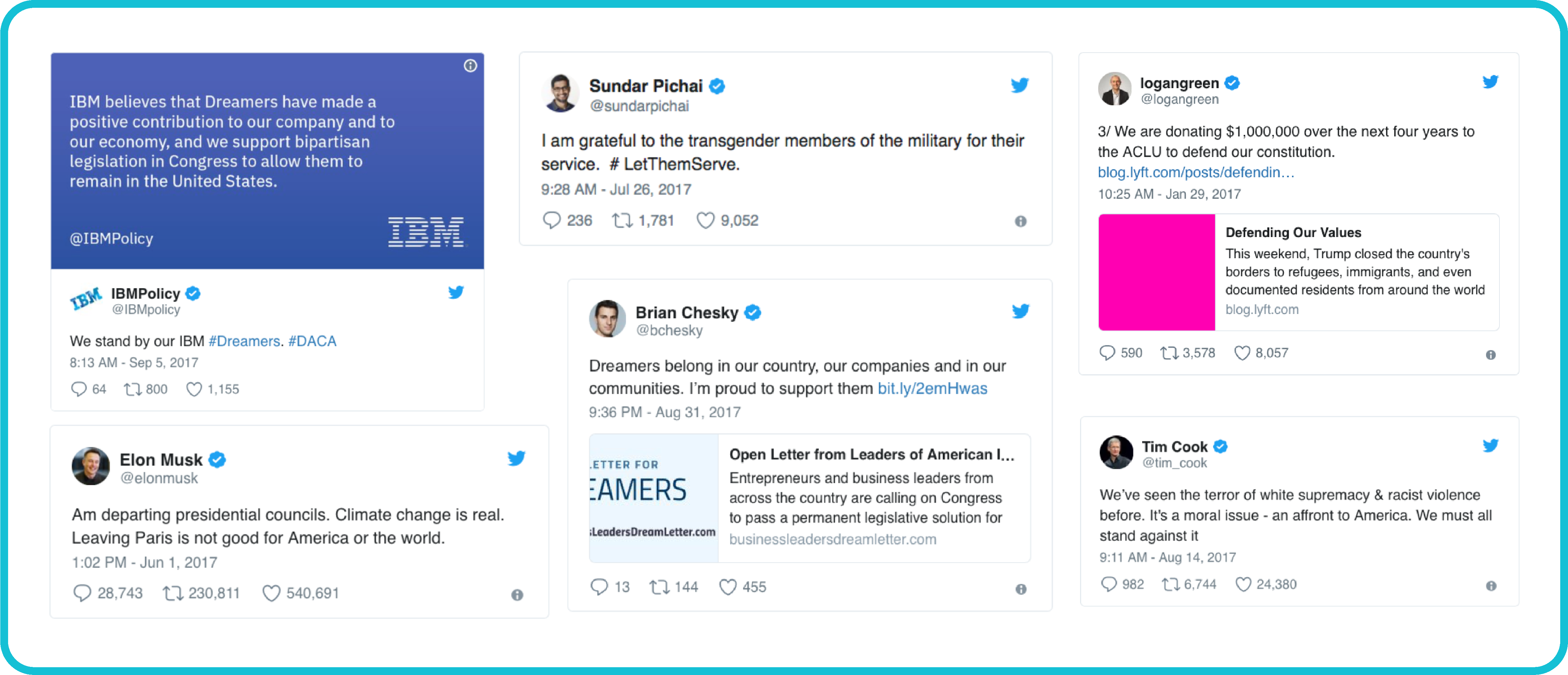 Consumers are demanding more from businesses, with 78% of Americans wanting companies to address social justice issues. These demands are clearly resonating because last year, more than ever before, CEOs spoke up and took action in support of their organizations' values.
Leaders at the helm of brands like Lyft, Google, Intel and Apple, made public statements on issues including the travel ban, ending the Deferred Action for Childhood Arrivals (DACA) program, the barring of transgender members from serving in the military and the white nationalist rally in Charlottesville. Their statements made headlines and, more importantly, motivated companies and their people to work together with national and community-based organizations in an effort to right the wrongs. In 2017, Benevity clients showed incredible support for charities like the ACLU Action Fund, Natural Resources Defense and the Southern Poverty Law Center by donating up to 330x the typical monthly amount.
How to Take Action in 2018
To make this seismic shift possible, Goodness programs—workplace giving, volunteering and corporate granting programs—had to adapt. Companies have an opportunity to tap into their employees' passions by responding to events as they happen and allowing them to support any charity they choose.
Companies can also use data and analytics from their Goodness programs to see which causes their people care most about. With this insight, they can further amplify their employees' efforts with community investment grants, volunteer events or by offering special matching rates for donations to resonant charities.
"…we should stay engaged to try to influence decisions in a positive way and help bring people together. I will continue to strongly advocate on behalf of our associates and customers, and urge our elected officials to do their part to promote a more just, tolerant and diverse society." — Walmart CEO Doug McMillon
2. Redefining culture through an inclusive employee experience
According to research from Cone Communications, 88% of Millennials find their job more fulfilling when they have opportunities to make a positive impact on society and the environment. This is why companies like Microsoft have transformed their workplace giving and volunteering programs into impactful employee engagement strategies that embed Goodness into their culture (and the world!).
To ensure all of their people can take part, Microsoft focused on removing thresholds and barriers to participation due to ability or lifestyle. As a result, Microsoft employees participated in 117 micro-volunteering events in just one month and were able to track their time down to the minute—and be rewarded!
Building an inclusive employee experience and a culture of belonging also means removing technology obstacles for people with accessibility needs. This includes ensuring development work meets Web Content Accessibility Guidelines so it can be accessed by people who use screen readers or navigate through software using their keyboards. Which is why we're so pleased to report that Spark, Benevity's award-winning platform for workplace giving and volunteering, is the most inclusive solution in the industry.
How to Take Action in 2018
Inclusion doesn't happen by accident. It needs to be mindfully built into a company's culture and infused into the employee experience so that everyone has equal opportunity to participate. Choosing accessible workplace giving and volunteering software is one step towards building a culture of belonging. Another is letting employees lead the way.
LinkedIn empowers its employees to support any charity they choose and applies company matching dollars to all donations—the company views this matching as essential to extend opportunity to every corner of the globe.
To take that message even further, LinkedIn shares all employee giving and volunteering campaigns on their Community Impact Portal so they can involve friends, family and the community to achieve maximum impact.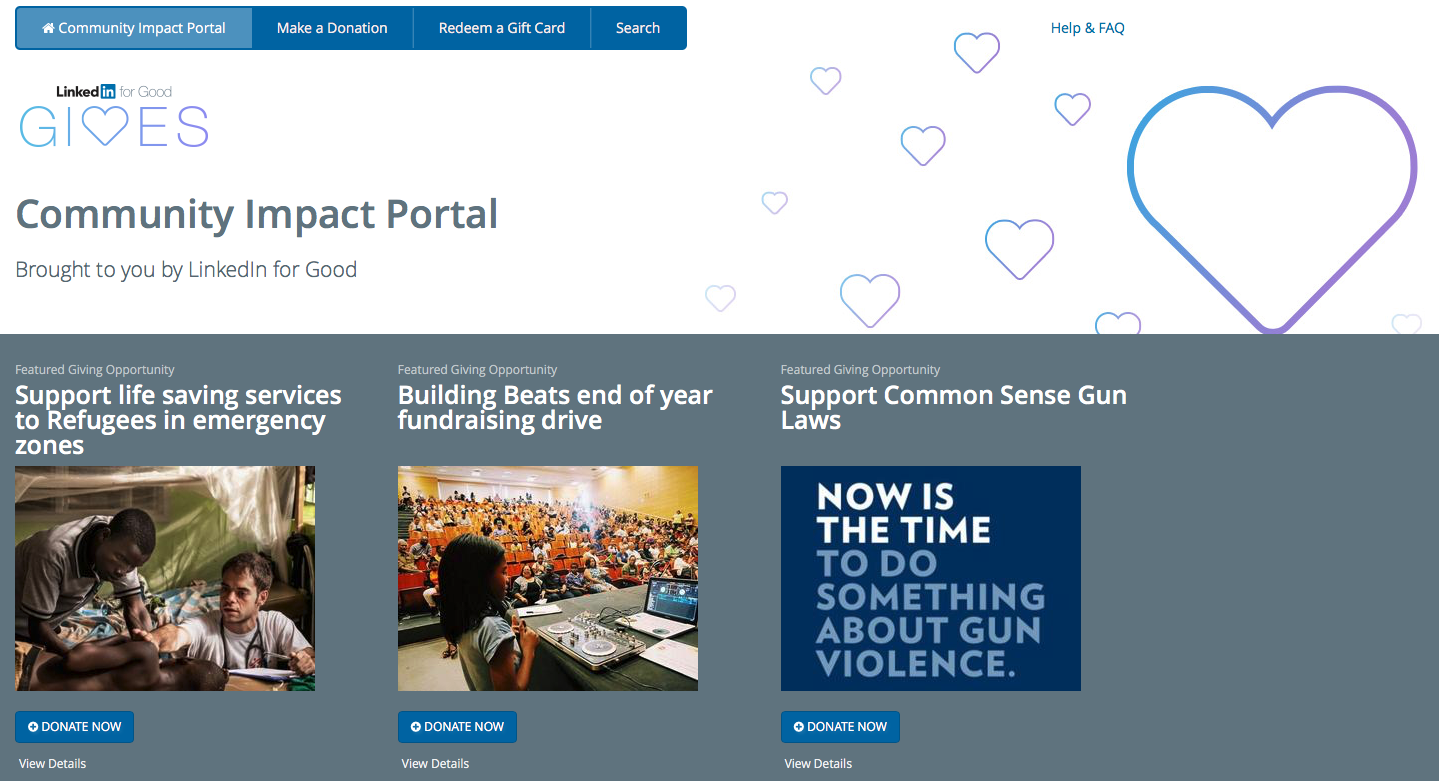 3. Business benefits from prioritizing purpose
For-profit companies are seeing the business benefits of positioning their brands "for purpose," and researchers have been quick to quantify the trend.
Korn Ferry found that purpose-driven consumer companies achieved a compounded annual growth rate of 9.85% over five years, compared to just 2.4% for the whole S&P 500 Consumer Sector. Unilever CEO Paul Polman also tweeted that their purpose-driven brands are growing 50% faster than the rest.
And we're proud to see that Benevity clients constitute 24% of the Forbes 2018 JUST 100, representing America's top corporate citizens (who also have an 8% higher return on equity compared to their peers).
No trade-off between purpose and profit – increasingly the only way of doing business. @Unilever purpose-driven brands growing 50% faster than the rest pic.twitter.com/u9N6BfdQRx

— Paul Polman (@PaulPolman) November 29, 2017
How to Take Action in 2018
High-performing companies have learned that harnessing their peoples' desire for purpose can enrich their relationship with them while also creating stronger business and social outcomes.
One Benevity client dug into their data and noticed that almost 90% of employees who left the company had never supported causes through their giving or volunteering programs. They also saw that, of those who left, employees who engaged in their Goodness program tended to have 75% longer tenures with the company.
While these findings may not point to a cause-and-effect relationship per se, they highlight a potential way for companies to boost employee engagement and retention by enabling their people to support the causes they care about.
To achieve maximum business and social benefits, purpose needs to be engrained in a company's actions and employee experience.
Total Quality Logistics (TQL), the second largest freight brokerage in North America, analyzed employee giving habits after switching from a traditional United Way campaign to what they call a "choose your charity" approach. The results showed that people's passions aligned with TQL's own longstanding support of the military and veterans, indicating that employees inherently share that value because it's part of the company's fabric.
If that wasn't reason enough to be happy with their new Goodness program, they also discovered that campaign participation ultimately grew by 19% company-wide!
4. Coming together for a cause
When it comes to maximizing impact, there's nothing quite like the power of a crowd. #GivingTuesday is a prime example of that power as the worldwide movement raised a staggering $264 million in its sixth year. We were especially heartened to see how our client community leveraged this movement to support causes that are themselves powered by the crowd. Wikimedia Foundation and Movember Foundation both ranked in the top 10 of nearly 11,000 causes that received more than $13 million from Benevity clients and their people on this global day of giving.
How to Take Action in 2018
Matching employee donations is one of the most common ways that companies support their people's passions, and integrating corporate Goodness initiatives can amplify that impact even further. For example, when biotechnology company Genentech saw smoke from the California wildfires billowing toward their San Francisco office, they sprung into action by:
Raising their employee match cap to $2,500 per person and matching another $300,000 in employee donations
Pledging $1 million to four local California charities
Offering Volunteer Opportunities for those nearby
"When a company sets up a foundation, there is a risk, in my judgment, of the foundation becoming this other thing that is not connected to the company. It has a separate board of directors. They make reasonably independent decisions sometimes. It becomes a separate thing. I don't want that for Apple. I want everybody involved. Because I think that the power that we bring, the things that we can do is because we're stronger—it's with our unity there. It's when we put all of ourselves in it." —Apple CEO Tim Cook
5. Borderless benevolence
From structural walls to legislated travel bans, borders were a hot topic this year. Yet countries seemed closer than ever before as we all witnessed a series of storms rock communities across Southeast Asia, the Caribbean and the United States.
Many people and brands were quick to announce support and aid for the millions affected, and the Benevity client community came together to raise $44 million for disaster relief worldwide. With a 70% increase in international employees using our software and a surge of international charities registering in the Benevity Causes Portal (more than 130,000 new charities from Germany, Australia and France alone!), it's safe to say that Goodness transcended borders in 2017.
How to Take Action in 2018
While many corporate giving, volunteering and community investment initiatives are tailored to the regions in which they operate, companies are increasingly expanding the reach of these programs so employees can support the causes closest to their hearts, no matter where they're located.
Hewlett Packard Enterprise was a shining example of how a company can engage their people around the world in corporate grantmaking when they awarded $200,000 to 14 employee-nominated charities in the US, UK, Romania, Bulgaria and India.
T-Mobile also activated the global Twitter community during the World Series by pledging $2 for every tweet containing the hashtag #HR4HR (Home Runs 4 Hurricane Recovery) towards Team Rubicon's hurricane recovery efforts in Texas, Florida and Puerto Rico.
This innovative approach to using social media for good was an extra boost to their other initiatives including a commitment to pledge $20,000 for each home run in the World Series and the company's initial commitment of $700,000—all of which added up to more than $2 million for Team Rubicon!
The #WorldSeries is here & @TMobile is doubling down on hurricane donations. Now every home run = $20K & every #HR4HR tweet = $2! pic.twitter.com/CGRyAONsCf

— John Legere (@JohnLegere) October 25, 2017
Today's corporate leaders are recasting their Goodness programs in ways that transcend the traditional confines of philanthropy.
They're elevating the importance and relevance of this thinking, promoting the development of an actionable strategy that helps companies and people be their best selves, and inspiring other leaders to follow suit.
And it's not for the optics, but to do the right thing—to be authentic and build the kind of environment and culture that helps people make the right decisions.
If last year taught us anything about the evolution of corporate giving, it's that those with the right ethos and leadership have become models of the behavior that is needed for us to leave the world a better place than we found it. And those who've taken a stand are showing us the way.