Bring your purpose to life
Volunteer in a click
It's easy for employees to volunteer with their colleagues, on their own or virtually — your employees can do good in a way that works for them.
Automate processes
Easily manage volunteering events and initiatives by automating everything from time tracking to sign-ups to calendar reminders.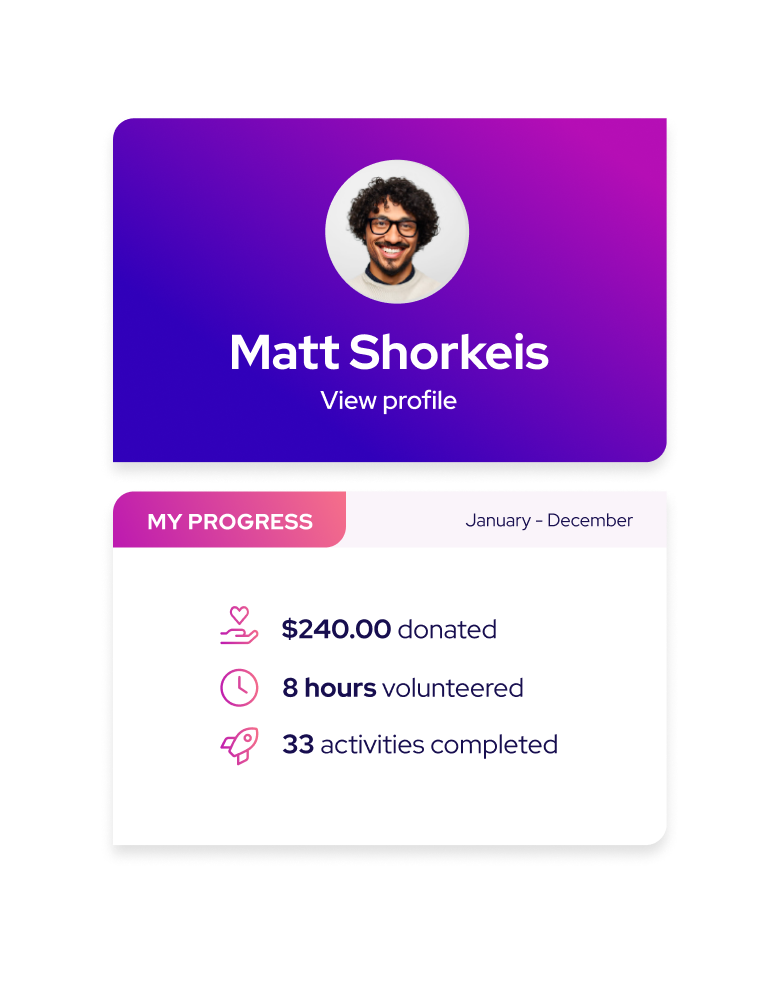 Report on results
Through personalized volunteer dashboards to company-wide, real-time reports, show how your volunteer program is building employee engagement and pride.
Simple steps to start volunteering
STEP 1

Create or choose your volunteering opportunities.
Select from a library of ready-made volunteering activities or create your own.
STEP 2

Invite your people and encourage participation.
Allow everyone to discover opportunities, invite their colleagues to join them and track their volunteer hours.
STEP 3

See results and share your collective impact.
Access reporting that will help showcase the impact on your communities and your business.
Key product features
Customize your volunteer program

Create volunteering opportunities unique to the nonprofits you're already partnering with, and enable your people to organize events around causes they are passionate about.
Personalized dashboards

Employees can discover opportunities based on their skills and interests, see upcoming volunteer activities and track their impact over time.
Team-based or individual volunteering

Let your people pick what fits them best, whether that's individual skills-based volunteering or field volunteering with their colleagues.
Instant rewards that feel right

Show your support by rewarding employees with dollars for doers or volunteer grants, which they can donate to any cause of their choice.
What makes Benevity's corporate volunteering platform different?
Easier to scale globally
It's easier to engage volunteer ambassadors and champions to help administer your program globally.
More local activities
You can use a catalog of volunteer opportunities that makes it easy for employees to find in-person or virtual activities in their local communities.
Seamless integration with employee giving
You can set up volunteer rewards automatically, so employees can donate their rewards to any vetted nonprofit and spread their impact even further.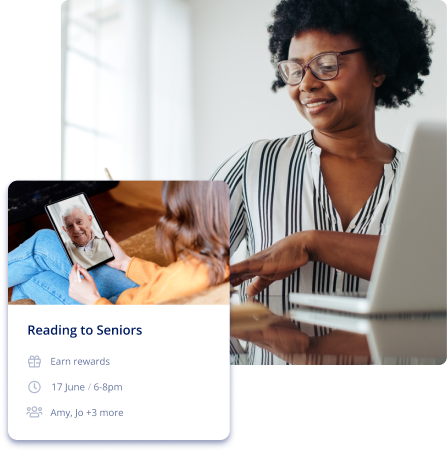 Boost employee engagement with volunteering
higher participation.* Benevity clients who offer their employees volunteer opportunities see higher program participation. What did Intel do?

*Source: Benevity client data
of volunteers also donate.* Offering both volunteering and giving leads to more engagement and impact overall. Read more about what Pfizer did.

*Source: Benevity client data
less turnover.* Companies that use Benevity to engage their people with giving and volunteering see less employee turnover on average. Read more in our Goodness Engagement Study.

*Source: Benevity client data
"The employee volunteering platform makes it easy to do something good for others. It's easy to use, I can log my employee volunteer hours, donate and have my donations matched, look at other in-field or virtual volunteer opportunities, and customer services are friendly, fast and efficient."
Elizabeth C., G2 Review
"As part of our CSR program, we wanted to give 1% of our employees' time to NGOs and to fund certain projects. The corporate social responsibility platform helps you do that, connecting us to great NGOs close to our offices. Without it, it would have been much more complicated to get in touch and to work with those NGOs."
Michel Da., G2 Review
"We believe that the best value we can contribute to society is our knowledge and expertise. That's why we have chosen this volunteer engagement platform and the skills-based volunteering features. It allows our employees to give back to society in line with their own values and in a flexible way."
Jasmine K., G2 Review
How are Benevity partners making the most of their corporate grant programs?
How Atlassian designed a skills-based volunteering program that digs deep
They ran 50 projects and rallied 290 volunteers who logged 1,300 volunteer hours in under four months.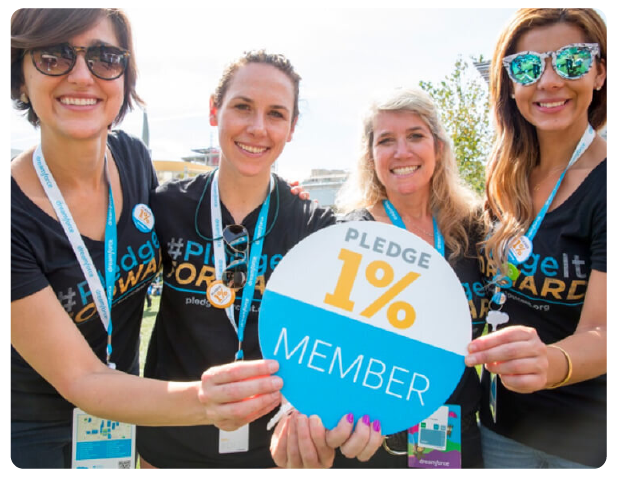 Volunteering FAQs
What is corporate volunteerism?
Corporate volunteerism occurs when companies provide their employees with time and resources to give back to communities. The company will typically organize volunteering opportunities or provide easy access to these initiatives. Many companies also offer volunteer rewards, like dollars for doers or volunteer grants to organizations their employees care about.
What are volunteering programs?
Volunteering programs manage volunteers company-wide. These programs cover everything from volunteering platform management to localized volunteer events to volunteer rewards. They are often responsible for reporting on the success of the volunteers, including tracked hours and overall participation numbers.
What are the benefits of corporate volunteering?
Offering volunteering helps to build employee engagement and purpose in the workplace, which leads to more connection and better corporate culture. Companies with a corporate volunteering program see an increase in employee retention rates and satisfaction, and, of course, do more good in their communities.
See Benevity in action!
Book a live demo
1. Company information
2. Your information
3. Your request