Infuse Purpose into Your Customer Experience
The Benevity API lets you integrate donations into all kinds of applications, including e-commerce, online banking, rewards programs, gift cards, dedicated giving sites and more.
The world's first micro-donation processing platform
The Benevity API lets you create an application or integration quickly and easily, allowing your customers to give to nearly 2 million vetted nonprofits worldwide, in almost any currency. And since Benevity powers some of the largest corporate purpose programs for so many iconic brands, you — and your customers — will be in good company.
Give your customers a richer experience with the Benevity API
With our powerful and flexible API platform, you can integrate doing good into any digital customer experience. Enable nonprofit-of-choice donations, optional donation matching and charitable gift cards into any interface, making it easy to include giving on any payment page, banking application or online interaction.
Branded e-commerce integrations
You can integrate giving opportunities or campaigns to encourage customer engagement and purchases, including:
Adding rebates and rewards redeemable for donations to a selected cause or a nonprofit of your customers' choice
Seamlessly embedding round-up or top-up donation capabilities into your website or mobile app
Rewards programs
Give loyal customers the option to donate their points by:
Converting points into donation dollars
Enabling nonprofit-of-choice donations
Adding top-up donations and corporate matching to create a deeper connection with your brand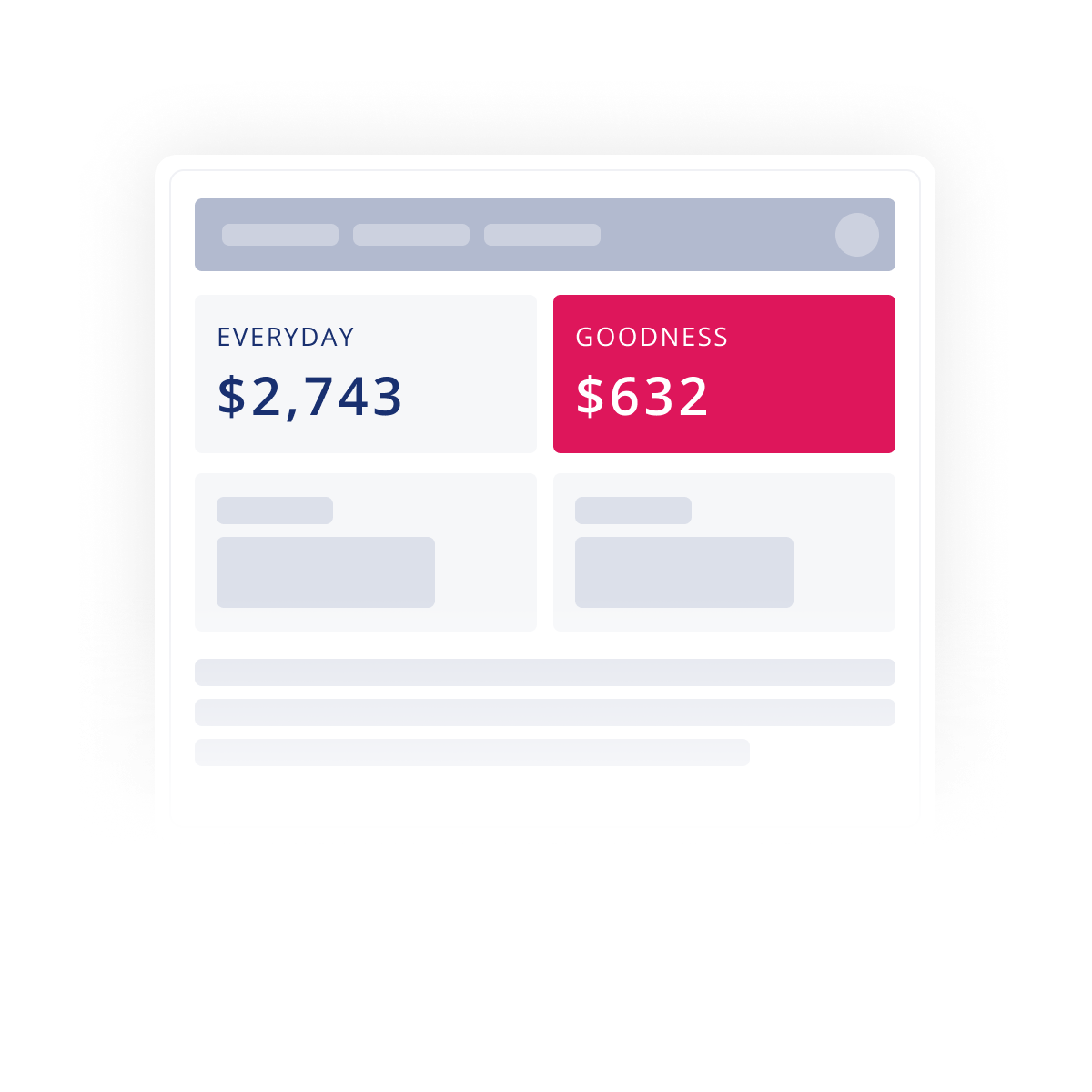 Online banking
Attract, engage and keep customers through a personal Goodness Account that can be embedded in their online banking interface.
Offer donation rewards for signing up for new products or renewing them.
Implement a round-up program so customers can donate extra cents or dollars with each transaction.
MSN's partnership with Benevity has enabled us to engage our readers around a shared purpose and greater good, and given us the tools we need as a media organization to respond to societal needs — great and small — with agility and integrity. The impact we're all making together is real.
Cody Bay, Microsoft News for Good
More Reasons To Choose Benevity
When you partner with us, you get all the features and benefits that come with the Benevity API, including:
A scalable micro-donation processing platform and REST-based API with an industry-leading developer experience.
A global cause support network in nearly every country, with complete nonprofit vetting and disbursement, so you can be sure funds are getting where they need to go, and the organizations are reputable. Most currencies are available.
A passionate Client Success team to help you grow and scale your programs.
Robust reporting and data, with options to create single or regular, scheduled reports.