How the Fortune 500 financial services company used employee volunteering data to boost engagement in their community impact programs
Running a corporate Goodness program isn't easy. You may be doing all the right things: creating opportunities for employee giving and volunteering, communicating the program to users inside your company's walls and beyond, and promoting appealing initiatives to inspire greater participation. For their part, employees may be enjoying your programs and supporting their favorite charities as an integral part of their engagement with their community and your company.
But, despite great participation and positive feedback, you may be looking for ways to raise awareness about your company's social impact programs and make them more resonant with your people. What are you to do once you've plucked all the low-hanging fruit? The answer may lie in the data.
You can't manage what you don't measure
Understanding how your employees are responding to programming is crucial for sustained growth and success. Qualitative measures such as surveys and stakeholder interviews, while valuable, can take considerable planning and outreach work, but may still miss some important trends. The good news is that quantitative data—like that available through Benevity Reporting—is at your fingertips to continually analyze. This data can help you understand the impact of your programs and strategically plan for the future, a process that is crucial for a nimble and iterative program.
A common metric is participation rate: measuring the number of employees who engage in doing good by all of the employees who have access to the program. But as Prudential Financial learned, understanding who is participating is just as important as understanding why employees aren't. This question requires a degree of nuance beyond general employee participation rates. Along these lines, a few data points to consider could be:
Which offices are participating?
Which departments?
What age ranges?
And what roles within the company?
Individual employees may face personal barriers to participation, and these can be tough to identify and accommodate at the micro level. But are there hurdles faced by groups of employees that could be addressed at a broader level? Having the right source data at hand and always asking one more "why?" is useful in identifying and addressing these challenges, as the story from Prudential illustrates.
Prudential: an admired corporate citizen
As Fortune's 2017 Most Admired Company in the Insurance: Life, Health category and named one of America's Best Corporate Citizens on the 2017 Forbes Just 100 ranking, Prudential has always had a commitment at the core of its business model—that everyone should have the opportunity to achieve financial security. In the last decade alone, the company has committed more than $1 billion to its hometown of Newark, New Jersey through impact investments, grants to nonprofits, infrastructure projects and more. Additionally, Prudential has consistently been recognized as a Points of Light Civic 50 awardee, an honor that recognizes the top 50 community-minded companies in the U.S.
Prudential CARES, the company's workplace giving and volunteering platform for their more than 42,500 employees and retirees in the United States, is delivered through Spark, Benevity's integrated workplace giving, volunteering and community investment solution for large enterprises.
Digging into the data
To power its corporate Goodness program, Prudential provides Benevity with a robust demographic file, which allows the company to understand who is participating in employee giving and volunteering, where, when and why. This is key for the Prudential CARES team to bolster involvement in the program, because the ability to assess the activities of different employee groups makes it possible to spot trends at a more detailed level.
In doing so, Prudential identified that middle management wasn't as involved as other employee groups. This had some pretty significant effects on overall participation. How? If a manager volunteers during work hours, it sends a clear signal to other team members that this behavior is accepted and encouraged. In short, it clearly demonstrates that volunteering is a part of the company culture. And if they don't, then it sends a signal in the other direction. Rather than fixating on low engagement rates at the middle management level, the Prudential CARES team flipped the question on its head: who in this group was participating, and how? The numbers quickly revealed that shorter events, offered at convenient times, were more manageable for busy individuals in this employee segment.
From data to actionable insights
Prudential offers its employees a unique engagement opportunity that gets participants into Newark for a walking tour, showing them the results of the company's impact investments on the city's efforts to revitalize the downtown core, and demonstrating the company's social mission in action. This event was developed to be quick, convenient and close to the office—a perfect opportunity for busy middle managers and their team members.

The iconic Hahne & Company building, one of the many stops on the tour, was recently re-opened in Newark's downtown thanks to a $174 million makeover, led by Prudential and L+M Development.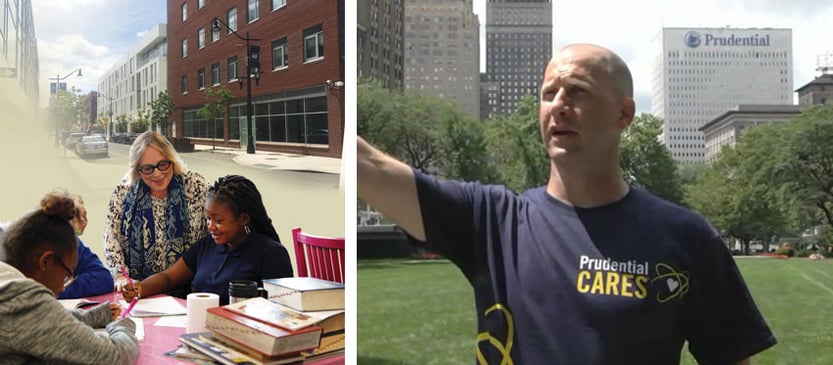 (Left) Prudential investments have helped five blocks of Halsey Street in Newark transform into a new paradigm for living, learning and shopping with 214 apartments for educators, 65,000 square feet of retail and three charter schools.
(Right) Prudential's Reuben Teague, Director, Impact Investments, guiding a tour of Newark's downtown. He is standing in Military Park, a core facet of Newark's landscape, of which Prudential was a lead investor on the renovation.
Turning insights into solutions
Recognizing an opportunity in waiting, Prudential expanded the walking tour program offering more tours and began communicating directly with this underrepresented segment of their employee base.
This targeted action resulted in a drastic 39% increase in middle manager participation in the walking tours from 2015 to 2016 and has stayed steady since, indicating that middle managers see value in the event.
While this opportunity did not entail hands-on volunteering, Prudential still provided volunteer reward currency to participants, which they could then donate to causes of their choice. Through this strategic and engaging opportunity, which is ongoing, middle management becomes educated on the full breadth of Prudential's social impact because they see firsthand the work that takes place in the company's headquarters city thanks to their impact investments. This increase in knowledge, in turn, boosts Prudential's employer brand because employees are equipped to be ambassadors of the company's overarching purpose of creating both business and social impact—to fellow employees and to clients in the community.
Learning about the impacts of the company's community investments enables employees to connect more deeply with the community and company. The result: greater awareness of Prudential's community investments, higher engagement in future volunteer events, more money going to nonprofits, and an increased sense of connectedness between employees, the company and the community.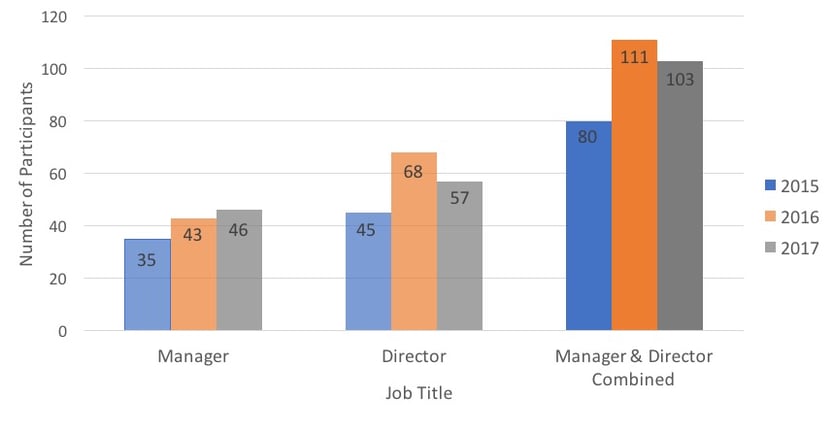 Year-over-year participation in walking tours by Prudential middle managers.
Dig deeper to boost program success
By delving into their data, always asking one more "why" and looking for creative solutions, Prudential was able to identify a quick, easy solution to better engage an important group of employees, at no extra cost and with very little administrative effort. In doing so, a leading financial services company fostered greater connectedness between their people and the company, heightening their shared sense of pride in the social impact they are co-creating in their local communities.
As the Prudential case illustrates, data is more than just numbers—but only if you can read the story behind it. Understood properly, it can offer useful insights that you can use to bolster employee engagement and your employer and social brand. And when it comes to data, you get out what you put in. The more detailed the data, the greater the insight you can act on!
Want to learn how you can make the most out of your reporting? Schedule a demo with us.