Ultimate Guide to Corporate Social Responsibility
Corporate social responsibility (CSR) is a model that businesses originally used to ensure they were making an impact in their communities.
Now, it's evolved to also include their social accountability to their employees, customers, stakeholders and members of the public.
Think of it as an internal and external commitment a business makes to both profit and purpose, and a way to showcase how and why their values are engrained in what they do (and not just a line on a website or in an annual report).

The term CSR is broad — and no two CSR programs are going to be exactly the same, with identical components or pillars.
The focus of a CSR program is usually influenced by the issues or causes the company has decided it wants to solve for or that its people are passionate about.
This could be a chain of grocery stores who's decided they want to solve for food insecurity in their communities, a SaaS company devoted to helping women learn to code, or a business whose employees have family members in the military that supports veteran causes.
How ambitious or multifaceted your CSR program is depends on several factors, including whether you're designing it from scratch or trying to scale or improve an existing one, what resources you have available and how much the leadership team has bought into the purpose (and value!) of your program.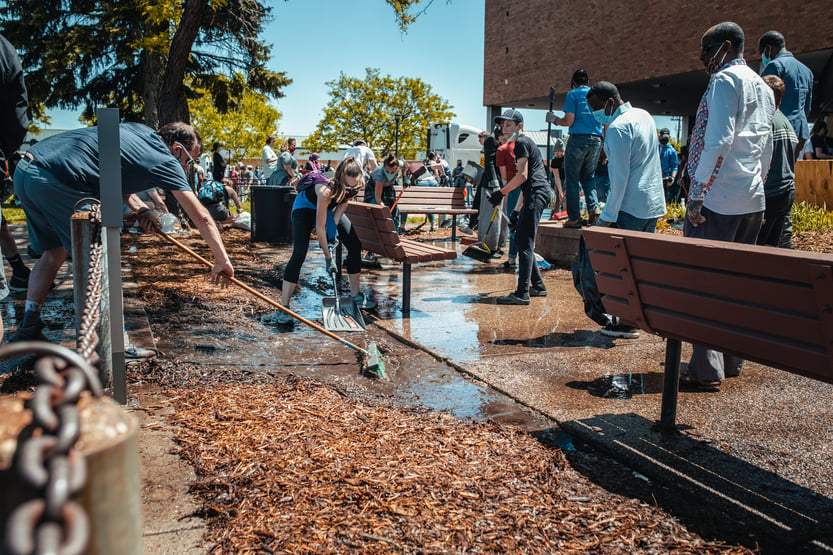 CSR can be as extensive as a comprehensive giving, volunteering, granting and customer engagement program that runs all year for a global company with 10,000-plus employees, or as simple as an annual fundraising campaign for a mid-size company with 100 employees.
CSR typically includes:
CSR increasingly includes:
Customer engagement/giving
Public engagement/giving
Positive actions
Small acts of Goodness (e.g. tracking volunteer time, creating a giving opportunity, etc.)
The benefits of CSR to your business (Why it's important for your company)
A strong CSR or corporate purpose program is closely connected to a company's ability to attract and retain the best talent.
To do that, you need to go beyond perks and help people find their purpose at work and create a sense of both inclusion and belonging.
Benevity data shows that companies who engage their people in doing good see an average of 57% lower turnover (and higher in some industries) — a huge deal when studies show that turnover costs companies hundreds of billions of dollars each year.
Purpose is the engine that drives success and builds a culture of shared values and positive actions. And the companies who invest in it see higher profits than those who don't.


How does CSR help nonprofits? And why should they care?
Strategic partnerships
Nonprofits and businesses have the opportunity to create mutually beneficial relationships and strategic programs built on common goals, which provide essential access to funding and support for issues they're both looking to solve.
When a company uses a technology solution to run its CSR programs, it's easier for nonprofits to become eligible for that program and others, apply for grants and promote their own giving and volunteering opportunities directly to employees on the platform.
Better exposure for more support
When a CSR program gives employees choice over which nonprofits to support and offers to match their donations or provide volunteer rewards, more organizations benefit overall.
This is because donations and volunteer hours are spread among many different causes that mean something to employees, rather than focused on one or two corporate-sponsored causes.
80% of consumers want brand to solve society's problems by acting and advocating on the personal and societal issues that affect their lives.
— Edelman Trust Barometer Special Report: Brand Trust in 2020


Why Corporate Social Responsibility is important? — now, more than ever
CSR programs are getting a lot of attention as a way to engage more employees and create a positive impact in your communities while boosting brand affinity.
There was a time when business leaders assumed that doing good in the world and doing well in business were mutually exclusive goals.
But now, with greater evidence that purpose and profit are closely linked, this mindset is quickly evaporating.
Social impact programs have undergone quite the evolution. While they used to be a nice-to-have aspect of doing business, they are no longer optional.

Employees, customers and investors all expect corporations to play a major role in creating positive social change, and business are increasingly focused on ESG (environmental, social and governance).
It's universally agreed (and empirically proven) that companies that successfully merge business goals with responsible Environmental, Social and Governance (ESG) practices are the most profitable, sustainable and resilient companies.
Learn more about building your ESG Profile through your CSR Program
So it's about more than social impact.
It's about holistic corporate purpose that considers and includes all stakeholders — and it's more important than ever, but it has to be authentic.
One of the best ways to build deeper, more authentic relationships with both your employees and your customers is to engage them in doing good.
CSR isn't just something companies put out into the world — it's how they interact with the world.

Did You Know?

Turnover is reduced by 57% for employees who are actively engaged in their company's corporate purpose initiatives.
The state of Corporate Purpose in 2021
The year 2020 was a watershed 12 months for corporate purpose. At Benevity, we noticed that many trends that had been bubbling under the surface over the past five or six years came to a head in 2020.
We took the time to analyze data from our platform to share what these corporate purpose trends mean for our 650 clients in a ground-breaking report. (There's also an audio version).
Here are some of the trends explored in the report:
Companies are empowering their employees to be social citizens
Grassroots passions are fueling collective movements
Giving is personal and companies can't necessarily anticipate what matters to individuals
Companies are expanding their definitions of impact
The rise of the power of the individual — people are driving program direction
Trust-based philanthropy has taken hold
CEOs are spending 50% of their time on ESG topics

How can I use the report?

DATA: You can use the data in the report to help other people in your business understand what the opportunities are in corporate purpose and what and who will the benefits are (and who will benefit).
TALKING POINTS: The report can also provide CSR leaders with some talking points or nuggets of wisdom to inspire the people in across their organization to get involved and come along on the CSR journey.
REFLECTION: Take the time to assess your mindset around the key trends. Are you embracing the shift in power? How does your program need to evolve to keep up and have impact?
6 Crucial Steps to designing your CSR program
1. Corporate Social Responsibility Strategy: Decide on the purpose of your program
Start by gathering a team who can help you brainstorm about the strategic focus of your program. You'll need to understand what you're solving for from a business perspective.
You could have each member of your team write down focus areas and opportunities on sticky notes and place them on a whiteboard.
Watch, listen or read our 5-part series on developing a CSR Strategy:
And if you have an existing program, you can also look at where your people are giving or volunteering to see what they care about.
You can then begin to plot the ideas out to understand where there's an overlap in priorities and which areas you can disregard.

Once you're in agreement on those priorities, you can move into exploring how you will bring these focus areas into the employee experience.
And while it's important to identify the cause focus areas your company and people are passionate about, they'll never appeal to every single person.
So it's important in a modern program to allow employees to support causes that matter to them personally, and to communicate that they can do that.
Next, you can rank your focus areas and priorities so you can plan what kinds of initiatives or campaigns you can run over the next year based on what you expect will have the most impact.
Not sure where to start? Get the Benevity 2021 Goodness Calendar — it's packed with 100+ cause-focused awareness dates for the whole year.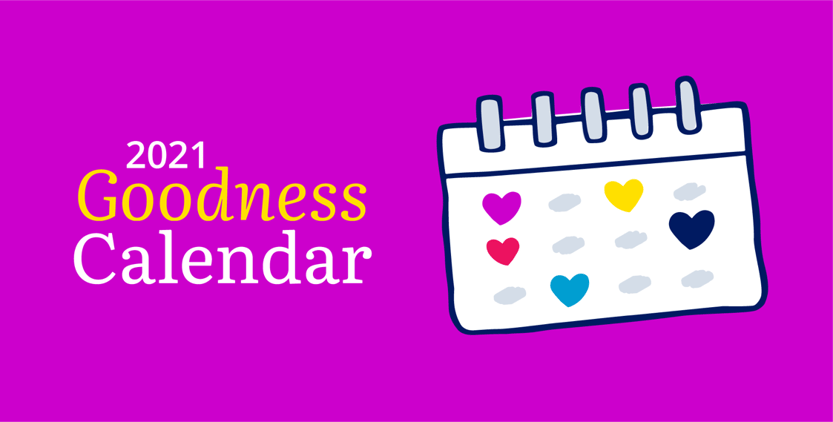 2. Circulate your ideas among your stakeholders
Once you have your priorities and focus areas figured out, you can start sharing them with your direct leadership, your partners on other teams and any other stakeholders who will be invested in the work you'll be doing.
You'll want their feedback and thoughts early so that you can adjust your focus areas appropriately — and to get them excited about the programs you'll launch!
If you'd like to test the waters with your people and what they think of your focus areas, consider gathering a small group to workshop your ideas.
3. Design and build your program (it's OK to start small!)
After getting the buy-in you need from your stakeholders, you can focus on implementing specific programs.
These could be centered on a goal, such as activating a certain number of employees around a social good initiative or a skills-based volunteering program.
These will look different for every company, but consider what that could look like and carve out a budget.
You can also consider whether your strategic program will partner with an existing community organization or initiative as part of your CSR efforts.
The organization will need to be aligned with your business's CSR goals and be doing work that falls into your focus areas.
You'll also want to speak to your legal team about whether or not it's the right move to set up a foundation, which is a decision that's unique to every company.
4. Launch your program
It's time to share your program with your employees and other stakeholders! When you launch, you'll want to communicate important information like:
Why your company is launching (or re-launching) its CSR program
The different ways people can get involved
To create more excitement around the launch and boost participation, you can involve executives or incentivize participation with prizes or matching funds if your company offers th
5. Set benchmarks and measure your impact
Maybe your goal is to engage 15% of your people the first year. Or maybe your goal is to distribute three meaningful community grants.
Whatever your plans, the technology you use will have the data you need to track how you perform to establish benchmarks for future years.
This will help you monitor your progress and provide you with the numbers you need to get your leadership excited about your CSR activities (while continuing to support them!).
6. Share that impact!
This is the time for storytelling to remind your people and your community of the good you're doing and to spread more Goodness!
Internally, you could publish and circulate blog posts about campaign successes on your company website and your social media accounts, or post messages on your instant messaging platform (such as Slack).
If your corporate purpose program uses a hashtag, encourage your employees to use it when they post about their volunteer opportunities on their social channels.
Your CSR team could present at your company's weekly or quarterly all-hands meetings to show photos or videos of recent volunteering events, or share results from major days like GivingTuesday.
You may even seek out media coverage if you'd like to showcase the impact you've had in your community!

Corporate Social Responsibility Types and Examples
What does CSR look like for business? Check out what these companies are doing
Case study 1
Splunk
How Splunk's First Giving Campaign Turned a Modest Budget Into Major Impact
Case study 2
TC Energy
How TC Energy Used Missions to Increase Impact and Engage More Employees
Case study 3
Intel
How Intel Used a 50th Anniversary Campaign to Increase Participation by 64%
Learn about other examples of successful CSR Programs:
Taking your CSR program global
Some companies start with a global program from the get-go and others take a phased approach that starts with their head office and then scales from there.
Either way, a global CSR program is probably the best cultural unifier you've got and providing a personalized and localized experience is key to successful uptake and impact.
So, you'll need to consider how to accommodate your employees in different regions and how your focus areas reflect an international company.
Here's how to make a global program a success
Offer plenty of choice when it comes to giving and volunteering:

Different people in different locations across the globe will care about different kinds of causes. Not every employee will necessarily be inspired to support the handful of nonprofits promoted by your company.
And in some regions volunteering is more common, while in others giving is the standard, so offering choice in the ways they can do good is also important.
Make it easy to give with confidence, especially in times of crisis:
Payroll giving is by far the easiest way for employees to give, directly from their paycheck. But whether your people donate via payroll, credit card or another means, they should be confident that their funds are going to end up with the nonprofits who need them.
So you'll want to research and vet nonprofits your suggesting in a time of crisis, or if your technology partner does that for you, even better.

Encourage local employee resource groups:

No one knows your local offices and different cultural nuances better than your people. So employee resource groups (ERGs) can be incredibly helpful.
Your ERGs will vary widely across different offices, but by encouraging different locations to form their own groups, you'll ensure the unique needs and characteristics of those employees are reflected in your broader corporate purpose program.
See purpose in action! Watch an on-demand webinar:
Making a Business Case for Purpose
Guidance for building approval for your corporate purpose program
Watch Now
Building the Business Case for Technology
Guidance for building approval for your corporate purpose program
Watch Now

Delivering Measurable Change With Community Investment
How to link social impact and business objectives — and get results you can measure
Watch Now


How to measure the impact of your CSR program
Different companies have different definitions of CSR.
So, there is no one-size-fits all approach to measuring impact when every organization will have its own success metrics.
You will first want to consider the main pillars of your program (e.g. sustainability) as well as the challenges you're solving for, like boosting employee engagement or hitting a certain giving goal, before starting to think about how you can measure success.
Then, you'll need to define what more ambiguous measurements like employee engagement looks like for your company.
Is it how many people participate? How much time people are volunteering per year?
Then you'll want to set measurable goals based on the considerations above.
In a lot of cases, companies are using technology to streamline the process.
Technology can help to create reports that you can present to your leadership on a monthly or quarterly basis, making it easier to track the engagement and usage of your programs over geographies, regions and time.
Working in a CSR role within an companyorganization generally means helping that business do well, by doing good. The good could be facilitating employee giving programs, volunteer opportunities or strategic granting for the community (or ideally all three).
A career in CSR - your options
The job may entail working on diversity, equity and inclusion initiatives, or on environmental goals. Each role — and its tasks — in each company will be unique, depending on needs, budgets and structures. You could be the manager running all these programs, or you could be in a more strategic role creating the vision for all the company's CSR activities.
Be surrounded by other passionate people
Whatever you do, you'll be working with other people passionate about doing good. There are lots of chances to collaborate and share ideas with people in similar positions at other companies. These are highly coveted roles, but it's worth the effort to nab one!
CSR practitioners have a strong and welcoming community of peers, who are all trying to move the space forward with new ideas and innovative programs. Unlike 20 years ago, there's now lots of support from the C-suite for CSR programs, meaning bigger budgets to work with and lots of executive buy-in.
Important skills for a CSR position
Developing cross-functional relationships
Crafting and managing multiple timelines
Demonstrating empathy and anticipating the needs of nonprofits of various sizes and capabilities — and how your company can actually meet their needs

How do I get a job in CSR?
Take an online course to augment a university degree: Look into this one at Boston College, or this one at Stanford University. There aren't currently any degree programs focused exclusively on CSR, although plenty of programs (such as economics, psychology or business) would provide solid foundations for a future career.

Find out what your company is doing and get involved: If your company is already engaged in CSR, get involved with giving and volunteering. Build a reputation as the person who likes to drive change, which could lead to an opportunity to create a role for yourself.

Apply for open roles: See a job that fits the bill? Apply and emphasize how you've already gotten involved in CSR initiatives and inspired your colleagues!

Join an established CSR network: Stay on top of the latest trends, make connections and get ideas. When job opportunities come up, you'll be the first to know.
Career paths in CSR management
Someone is CSR management will typically act as the head of a foundation, depending on your company structure, or they may be a vice president of corporate affairs or citizenship. Their direct reports would be directors of corporate citizenship or corporate affairs.
Reporting to the directors would be the CSR program managers who are administrators of your giving, volunteer and community investment activities. There may be one program manager for each activity, or one manager may look after all of them — it really depends on the size of your CSR program.
Some companies have begun creating new roles for Chief Impact Officers — a position perfect for a seasoned CSR professional.
CSR has a place in every company
The CSR landscape has changed dramatically over the last 20 years. Now, more than ever, companies are seeing the value of embracing corporate purpose by helping their employees have an impact on the world while they're at work, investing in their communities and encouraging volunteering.
And companies are seeing the benefits of their CSR efforts: boosts in employee morale, improved retention and higher profits.

Whether you're launching your program from scratch or building upon a solid foundation to take your program international, now's the time to have a positive impact on the world.