With 52 Tuesdays in a year, companies can infuse empathy, meaning and purpose into their culture all year long
It's been a week since #GivingTuesday 2017, and we're still overwhelmed by the incredible participation of companies—and their people—in this global movement.
From individual giving to companies mobilizing their workforces, #GivingTuesday broke records again. People and companies around the world harnessed the power of prosocial behavior and the reach of social media to come together around the values of giving back, raising a staggering $264 million in the movement's sixth year.
At Benevity, almost 200 of our enterprise clients got involved.
On November 28, their employees logged 45,000 volunteer hours and donated $13 million (including employer matching) to nearly 11,000 charities around the world.
Compared to the average Tuesday in 2017, these efforts measured up to a 135% increase in donation dollars and an 83% increase in the amount per donation.
The importance of #GivingTuesday in our highly socially conscious world cannot be underestimated. It represents a unique opportunity for companies to put empathy, service and generosity at the top of the agenda. However, we see greater potential for the occasion. To the world, #GivingTuesday is a moment in time; but to us, it's a powerful catalyst for a prosocial movement.

—Bryan de Lottinville, Founder and CEO of Benevity
Benevity clients catalyze a prosocial movement this #GivingTuesday
In our work with Fortune 1000 companies, we've seen #GivingTuesday play a bigger role in their year-round Goodness programs (workplace giving, volunteering and community investment) because of its ability to unify their people in a worldwide movement.
We're thrilled to see #GivingTuesday build momentum each year, and it's not happening by chance.
This year at Benevity, we saw several clients activate their first-ever #GivingTuesday campaigns, each with their own approach. Here are just a few examples:
Chris Barr, Executive Director at Biogen Foundation, says that the decision to run their first #GivingTuesday campaign this year was because of the incredible generosity of employees in support of hurricane relief, exemplifying a culture they hope to cultivate moving forward.
By offering special matching rates for employee donations centered around featured causes, Biogen nearly tripled their average daily participation in their giving program on #GivingTuesday.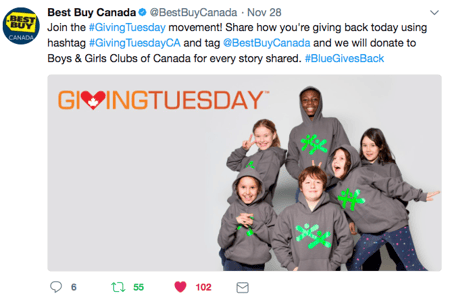 Karen Arsenault, Best Buy's Community Relations Manager for Canada, was equally excited to participate in #GivingTuesday for the first time, as giving back is a key part of their culture.
"Participating in #GivingTuesday is another way we can ensure we are making a positive impact on the communities where we do business and it's also a great way to engage and inspire our employees," says Karen.
The company raised nearly $48,000 for their employees' charities of choice as part of a 100% match for the day. They also contributed $10,000 to the Boys and Girls Clubs of Canada through a Twitter campaign that engaged Best Buy customers.
#GivingTuesday veteran Genworth Financial was proud to join the global movement again in 2017. Mollie Brooks, Corporate Social Responsibility Specialist at Genworth shared that "it's important for corporations and individuals to support #GivingTuesday because this social initiative promotes awareness for philanthropy and creates collective momentum to increase support for nonprofit organizations.
Socially responsible companies should want to participate in a movement that engages employees to improve communities."
And did they ever engage! Genworth saw a 346% increase in employees engaging with their giving program this #GivingTuesday over their daily average. They will continue to run a 100% company match on employee donations until the end of the year.
Independent agency network Project Worldwide raised their typical 1:1 employee match rate to a 3:1 match for all 2,000 employees on #GivingTuesday—with no maximum cap.
For a medium-sized company, Project Worldwide made a big impact, ranking seventh in overall donation dollars raised among Benevity's client community that includes enterprise companies with hundreds of thousands of employees.
Other tactics we saw used for #GivingTuesday include charitable gift card incentives, volunteering rewards and encouraging their people to share causes with personal networks through branded, public-facing versions of their giving sites.
Supporting personal passions on #GivingTuesday
Following the Thanksgiving holiday in the U.S., when many replenish their souls with family, feasts and festivities, a cognitive realignment of priorities can put people into a mindset that makes it easier to notice and sympathize with those less fortunate. It's easy to see why a day of intentional giving—as opposed to giving in response to the latest natural disaster or politically charged event—is so popular and why companies would want to join a movement that encourages this unique expression of compassion and empathy.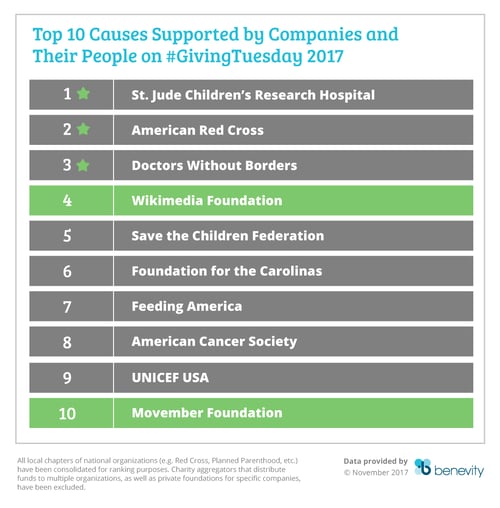 We weren't surprised to see disaster relief and humanitarian causes remain top of mind and atop the recipient charts this #GivingTuesday, but one surprising cause ranked fourth most popular this year: Wikimedia Foundation.
In a year where the phrase "fake news" filled our Twitter feeds, the nonprofit, dedicated to keeping knowledge free through crowdsourced efforts, had broad appeal with donations coming from employees across more than 50 companies.
Another charity among the top 10 ranks of popular causes this year was the Movember Foundation, also driven by social media and personal networks.
"People often choose to support causes that reflect their personal values during this day of intentional giving," says Jessica Schneider, Director of Strategy and Collaboration at the 92nd Street Y (92Y)—founders of #GivingTuesday. "It's exciting to see how a movement powered by the crowd, has, in turn, given back to causes that are powered by the crowd."
What we're witnessing is a shift toward an era where corporate "Goodness" programs take their cues from their people's passions and values. And #GivingTuesday is just the beginning…
Make every Tuesday #GivingTuesday
People and companies around the world have a lot to be proud of after #GivingTuesday 2017 and we're already excited to see what they'll do in 2018.
As you take inspiration from the many companies who led the way this year, we have a few #GivingTuesday resources you can use to plan your company's initiatives next year.
With #GivingTuesday seen as the kickoff for the charitable season, which extends through the end of the year, the global uprising of Goodness was a palpable and exciting indicator of what's to come.
And with 52 Tuesdays in a year, there's an opportunity to keep the Goodness going!
Want to know more about how you can keep the #GivingTuesday momentum going at your company? See how Microsoft uses Goodness to engage their employees all year round.