How workplace giving and grants can mobilize help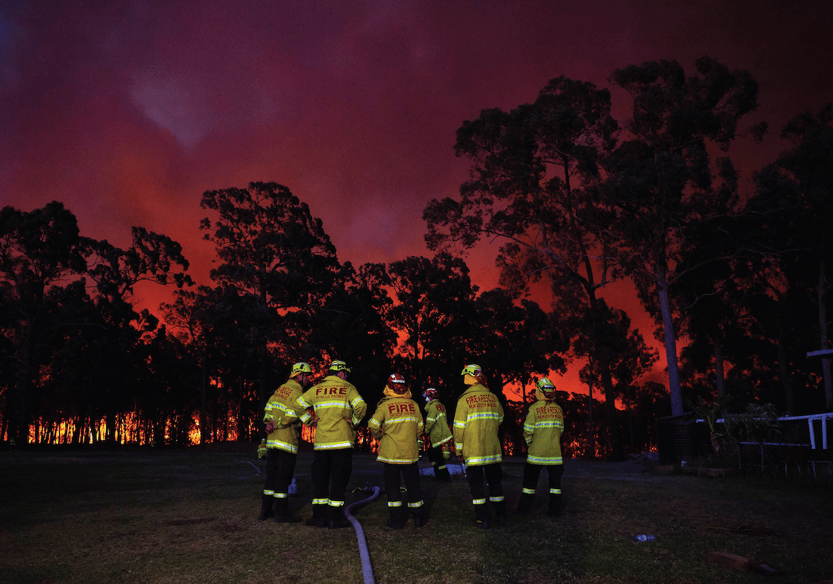 The year 2020 has presented our society with many challenges — from the wildfires in Australia to COVID-19 and the health and social impacts that followed. We saw our community respond and work to solve for those challenges as quickly as they could. Together, Benevity clients donated and granted a total of $640 million to nonprofits fighting the public health crisis in less than eight weeks!
We continue to see many of our clients step up their disaster relief efforts to mobilize rapid response from their consumers, vendors, partners, the personal networks of their people and the public at large. They did this by promoting disaster relief campaigns, along with matching in some cases, on their branded Community Impact Portal (a customizable microsite that allows external stakeholders to participate in the company's giving initiatives).
As we enter hurricane, typhoon, monsoon and wildfire season, it's not a matter of if disaster will strike, but when. Here's how to make sure you're ready.
First priority: emergency relief
Once disasters strike, they follow a predictable pattern: a period of immediate relief, followed by an extended period of recovery and reconstruction. Immediate relief efforts are generally addressed by federal governments and larger nonprofit organizations, such as the Red Cross/Red Crescent, Doctors Without Borders, the International Rescue Committee, UNICEF and so on. Federal, state and local agencies work with countless causes to evacuate, house and feed residents in affected areas.
This is also when events are featured prominently in the news and social media, and when people are moved to offer immediate support. As humans, we're hardwired to support people in need. When we witness the catastrophes on television or our phones, we desperately want to offer help.
For example, when Hurricane Katrina struck in 2005, more than $7.37 billion were donated to disaster relief groups, and nearly $15 billion were raised for the 2010 earthquake in Haiti. Every dollar counted, but as the people of New Orleans and Port-au-Prince returned to rebuild, it became apparent that the effects of the disasters had only just begun.
The long road back: recovery and redevelopment
Once the immediate threat of a natural disaster passes and relief efforts conclude, a second, more drawn out phase begins: rebuilding and redevelopment efforts that can often only be done by those on the ground who understand the local context.

Focusing your program's disaster relief efforts where your company and people can make the most meaningful impact begins by identifying locations where you will respond. For instance, companies who have offices, warehouses or distribution centers spread across a variety of locations can choose to focus their disaster relief efforts in the areas where their employees, customers, strategic partners, suppliers or vendors are located.
This makes your company's relief efforts "local," even if the event happens across the world from your headquarters.

As an example, when catastrophic floods struck Mumbai, employees at Accenture Canada were anxious to help their colleagues in India. The company quickly created a campaign to support flood victims and even promoted it with images an employee captured through the window of their Mumbai office. Not only were they able to build comradery among their global offices, they reacted quickly to a disaster that directly impacted the lives of their own people.
Consider researching in advance which local vetted charities your company would support in the event of a local emergency, so you're ready to take action when disaster strikes (and you know relief funds will go to reputable nonprofits). If your company and your employees support causes related to water and sanitation, you'll know which nonprofits are tackling those issues in local areas.
How companies can help in the long term
With natural disasters occurring more frequently, companies are starting to evaluate their Goodness programs to see how they can create more impact when disaster strikes, while also supporting the long process of rebuilding. The following are a few ways companies can boost the long-term impact of employee donations that go beyond matching gifts.

Enable recurring employee donations to local organizations: Integrated software like the Benevity platform enables employees to make recurring credit card or payroll donations to local organizations who are conducting the long, painstaking job of rebuilding. It's also the most cost-effective (and intentional) way for your people to give.

​Leverage employees' social networks to raise funds: Companies can create Friendraising campaigns, which allow users to set up their own pages to support rebuilding efforts. Friendraising allows employees to set up their own giving opportunities around specific events to raise funds from family and friends outside the company. In many cases, the company may offer to match all funds raised by the employee and their social network.

Create an external-facing portal so the public can contribute: This allows a company to engage its public community, including vendors, partners, customers and other stakeholders to make contributions with optional matching. It's a great way for companies to demonstrate their commitment to their communities and makes giving easy for the public.

When Hurricane Harvey hit Texas and Florida, QVC used their television shopping channel to promote a matching offer to the American Red Cross through Benevity's Community Impact Portal, inviting their customers to take advantage of the company's match to support the disaster relief efforts. As a result, they reached their $300,000 match cap in 48 hours and hit almost $500,000 in relief funds for the duration of their campaign! Even after their match ran out, customers continued to give through their portal.

Target community investment funding to affected communities: Companies can target community investment programs to make funding available to organizations that are doing recovery and reconstruction work in affected communities. The role of the company in helping the community get back on its feet following a disaster creates a powerful connection with residents of the area, forging a strong connection to the community — all while strengthening employer and consumer brands.

Leverage corporate grants budget to boost employee donations: Companies often donate large sums of money to help rebuild after a disaster. Using a Goodness solution like Benevity, they can easily re-deploy part of their corporate grants budget to offer special matching opportunities for employees. For example, by reallocating $50,000 of a grants budget toward an employee matching campaign, companies that already match donations at 100% can increase their matching rate and turn that money into $150,000. This is a great way to raise awareness of the company's community investment initiatives, engage employees more deeply in the company's CSR strategy and generate greater impact with the company's grant funding.


Help your people help others
We know from the experience of recent events that companies and their employees have tremendous power to help in emergency relief efforts and long-term reconstruction. While it is impossible to predict when and where disasters will occur, businesses can take steps in advance to support their users in providing a rapid response. This includes ensuring that they have access to local organizations on the ground doing the work and the right tools to easily execute campaigns when disaster strikes.
Ready to learn more? Download this eBook to learn how to plan your disaster relief strategy.
(This post was originally published on October 12, 2017 and was updated July 14, 2020.)