How your employee relief fund and employee giving program can work together
As all of us continue to grapple with the changes COVID-19 has brought to our lives and livelihoods, many people are struggling — and some of those people may be your employees. Many of our clients already have employee relief funds set up to help their people when unexpected circumstances arise — whether it's an illness, injury or natural disaster.
And just like we see in the wake of a hurricane or earthquake, right now your people likely fall into one of two categories: someone who needs support or someone who wants to support others. You can help both by connecting your employee relief fund with your employee giving program.
How does an employee relief fund work?
If you don't already have an employee relief fund, simply put it's a company-created fund that sets aside money for employees who need short-term financial help. Employees usually apply for the funding, and then their employer evaluates the application and decides if and how much the employee will receive, based on pre-determined criteria.
To do this, our clients have either established foundations or partnered with third-party organizations that administer funds on their behalf, such as the Emergency Assistance Foundation or E4E Relief. The majority of large corporations choose to run these funds through their own foundations, according to the latest CECP data.
Engage employees who are eager to help
It's not surprising that many people are in need of financial help right now. According to the Federal Reserve, in 2018 nearly 40% of American adults couldn't handle an unexpected expense of $400. That same year, one-fifth of adults had major, unexpected medical bills to pay, with the median expense between $1,000 and $4,999. With many people currently experiencing things like reduced income or a partner who's been laid off, we're seeing an influx of those who need assistance.
The good news is that we're also seeing an influx of people adopting a "we are we, not just me" mindset who are eager to help.
It's very likely that your employees are looking for ways to turn helplessness into helpfulness — especially when it comes to supporting people they know personally, like their coworkers. And there's also a good chance your employees see you as the holder of hope right now. According to Edelman's recent special report on COVID-19, "My Employer" is better prepared than their country's leaders to respond.
Many Benevity clients already include their employee relief fund in their giving programs, and more are working to set up funds now.
By creating and promoting giving opportunities in support of an employee relief fund, through Benevity's Spark platform, employees can easily donate and even have the company amplify their impact with matching.
How ADP is empowering their people to assist each other
ADP uses a third-party organization in the Benevity Causes Portal to manage their fund — in this case it's E4E Relief, which is part of the Foundation for the Carolinas. Below is the project that is available for ADP employees to donate to in their giving program.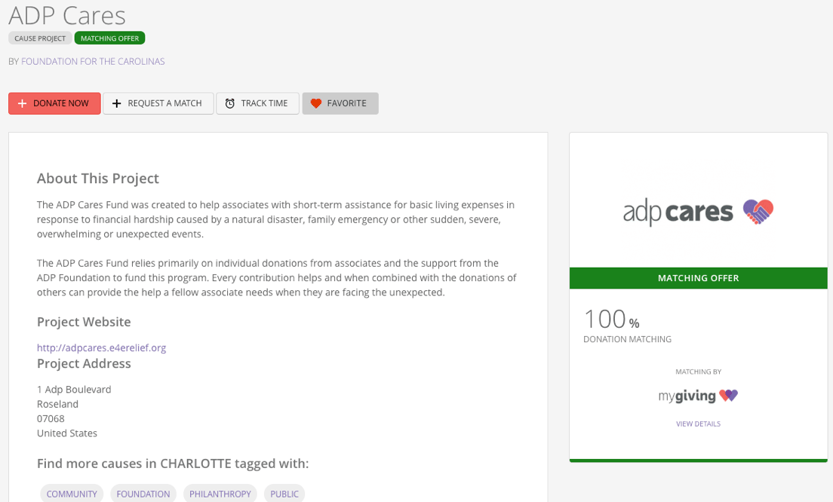 ADP has three active giving opportunities set up in their giving program for employees to donate to. This is one example: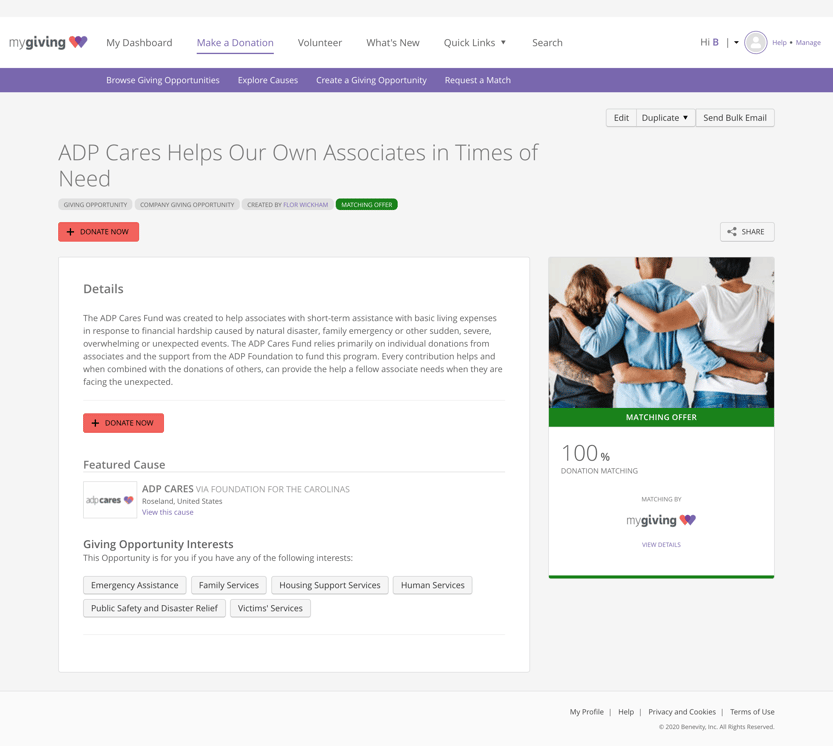 "It's phenomenal. I would definitely forward any information I could about the program to anyone who has had a tragedy. And I would encourage everyone to donate to it as it's an associate-funded program."
– ADP associate
Let your people know you're in this together
At Benevity, our mantra is to "infuse the world with a culture of Goodness" through our technology, and we've always believed that the collective power of small actions is the path to achieving it.
By creating an employee relief fund, and promoting it through your giving program, you can empower your people to do good together (and for each other) and provide a sense of belonging and connectedness in a time of uncertainty.
There is tremendous power in a "we" orientation. It strengthens connections, communities and cultures — and shows your people you're all in this together.
Have questions or interested in learning more? Let's chat.