47 Benevity Clients Make 2021 Forbes JUST 100 List of America's Most JUST Companies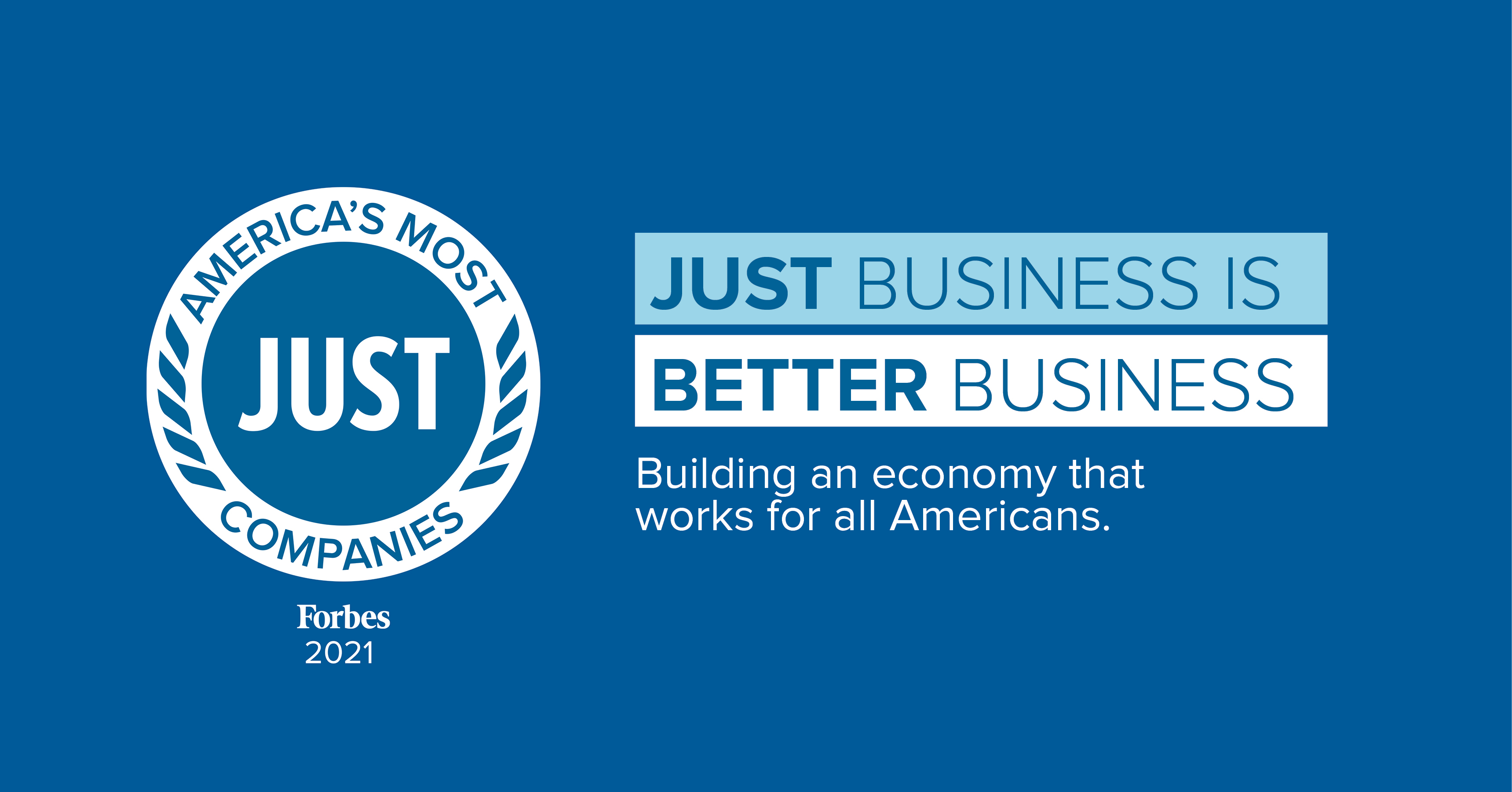 Benevity applauds companies leading with corporate purpose in 2020
CALGARY, AB – October 29, 2020 – Benevity, Inc., the leading provider of global corporate purpose software, today announced that nearly half of the leaders named on the 2021 Forbes Just 100 Ranking – which recognizes "America's Most JUST Companies" – use Benevity products and services to power their corporate purpose.
Created by Forbes and JUST Capital, the JUST 100 list highlights companies leading the way across a number of categories, ranging from employee investment, onsite health and safety, community support, human rights standards, customer satisfaction, environmental impact and more. JUST 100 leaders demonstrate that purpose and profit can go hand in hand by delivering value to all stakeholders, including employees, customers, communities, the environment and shareholders. A total of 47 Benevity clients made the 2021 JUST 100 list — up from 37 in 2018. Benevity clients also comprise 70 percent of those ranked in the top ten, including Intel who ranked #4 for the second consecutive year. Out of the 928 companies ranked, Benevity client Microsoft is America's Most JUST Company for the third year in a row.
Through rigorous, objective analysis, the Forbes JUST 100 evaluates and celebrates U.S. corporations that outperform on the issues that matter most to the American public. These issues are identified through a comprehensive annual survey conducted on public attitudes toward corporate behavior. New this year to JUST's ranking methodology is the corporate response to the coronavirus pandemic, to which more than 500 Benevity clients responded quickly to enable their employees to support COVID-19 relief efforts.
One of the key insights from the JUST 100 2020 survey showed that nearly 70% of Americans believe that CEOs should take a stand on important social issues, a 10 percentage-point increase over last year.
"We would like to congratulate and draw attention to all of the companies, and especially to our clients, who have been recognized on the JUST 100 list," said Bryan de Lottinville, Benevity Founder and CEO. "It is inspiring to see authentic leadership translating ideals around corporate purpose into tangible action that is woven into the fabric of these corporate cultures. These purpose-driven companies are proving every day that real change is occurring, and it's happening through a combination of C-Suite championship and grassroots engagement with employees and customers who are eager for their employers and the brands they buy from to reflect their highest and best values."
We at Benevity applaud JUST 100 ranked companies for being a much-needed source of trust, hope and action during an exceptionally tumultuous time in our collective history.

— Bryan de Lottinville, Benevity Founder and CEO
This momentum is evident in the record-breaking levels in purpose-oriented action from companies, including giving, volunteering, corporate grantmaking and other positive actions seen on Benevity's platform throughout 2020. One example: following the racial justice protests in the wake of George Floyd's death this summer donations to social justice groups skyrocketed more than 15x, boosting total giving by 71 percent and resulting in the highest donation volume for a single month in June at over $300 million going to 64,000 nonprofit organizations.
"2020 has tested our strength as individuals and as a society, especially as our economy and businesses everywhere have faced the challenge of balancing purpose with not only profitability, but survivability," adds de Lottinville. "From our perspective, however, there is cause for optimism. The tailwinds from the Business Roundtable, the rising prominence of ESG and the expectations of consumers and employees for social impact are starting to take hold and America's most just companies, among countless others, are setting the bar."
The tailwinds from the Business Roundtable, the rising prominence of ESG and the expectations of consumers and employees for social impact are starting to take hold and America's most just companies, among countless others, are setting the bar.

— Bryan de Lottinville, Benevity Founder and CEO
To find out more about how Benevity clients are doing well by doing good, check out these client stories.
About JUST Capital
The mission of JUST Capital, an independent nonprofit, is to build an economy that works for all Americans by helping companies improve how they serve all their stakeholders – workers, customers, communities, the environment, and shareholders. We believe that business and markets can and must be a greater force for good, and that by shifting the resources of the $19 trillion private sector, we can address systemic issues at scale, including income inequality and lack of opportunity. Guided by the priorities of the public, our research, rankings, indexes, and data-driven tools help measure and improve corporate performance in the stakeholder economy. To learn more about how data-driven insights are creating a more just future for capitalism, visit: www.JUSTCapital.com.
About Forbes Media
The defining voice of entrepreneurial capitalism, Forbes champions success by celebrating those who have made it, and those who aspire to make it. Forbes convenes and curates the most influential leaders and entrepreneurs who are driving change, transforming business and making a significant impact on the world. The Forbes brand today reaches more than 160 million people worldwide through its trusted journalism, signature LIVE events, custom marketing programs and 40 licensed local editions in 70 countries. Forbes Media's brand extensions include real estate, education and financial services license agreements. For more information, visit the Forbes News Hub or Forbes Connect.
About Benevity
Benevity, a certified B Corporation, is the leader in global corporate purpose software, providing the only integrated suite of community investment and employee, customer and nonprofit engagement solutions. A finalist in Fast Company's 2020 World Changing Ideas Awards, many iconic brands rely on Benevity's cloud solutions to power their purpose in ways that better attract, retain and engage today's diverse workforce, embed social action into their customer experiences and positively impact their communities. With software that is available in 20 languages, Benevity has processed more than 5 billion dollars in donations and 32 million hours of volunteering time, 210,000 positive actions and awarded one million grants to 251,000 nonprofits worldwide.
Media Contact: Amanda Orr│Kickstart for Benevity│1.323.601.5734│press@benevity.com