See What's Currently Shaping Employee Giving
Each year at Benevity, just before the biggest giving months of the year, we release data showing the top charitable causes that enterprise companies and their people are supporting through our platform … and the results are in!
Last September, we first reported a major shift in giving, kicked-off by the 2016 US election. Employees were rapidly responding to newsworthy events with their time and money, supporting more human rights causes than ever before. This event-triggered giving was happening quickly and seamlessly through Benevity's workplace giving, matching, volunteering and community investment platform.
As it turns out, that trend was no isolated occurrence. Since then, we've seen a big boost in giving to immigrants' rights organizations — particularly following the news of family separation at the U.S. border. Donations to RAICES skyrocketed, with the organization moving from #13,433 in May to the #2 recipient of funds disbursed through the Benevity platform in June.
Other causes linked to immigrants' rights also saw significant donation increases within the same timeframe, with KIND Inc. moving from #3,994 to #12, Save the Children Federation Inc. going from #88 to #13 and Florence Immigrant and Refugee Rights Project Inc. going from #1,594 to #18.
Announcing the current top 10
Without further ado, here are the top 10 charitable causes supported by our enterprise clients and their employees so far this year!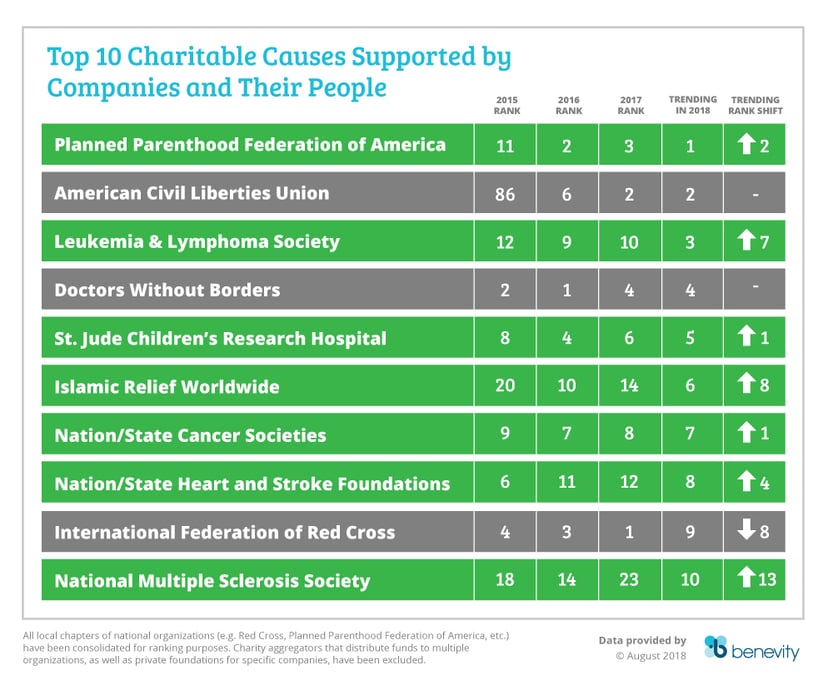 We're heartened to see that the trends continue to be driven by companies backing their people and their passions. To us, this chart is less about the specific charities and more about the fact that people want to give to the causes that are most relevant to them, timely to support and have a far-reaching societal impact. Half of the top 10 are causes taking front and center seats in immigration rights and healthcare debates, as well as those responding to the devastation caused by natural disasters around the world.
Now you know. What's next?
So, now you know the types of causes that many people care about. The question is: what will your company do to help empower more people to support them? Read this blog by Sona Khosla, VP Marketing at Benevity, to discover the three key trends that are shaping how companies engage more people in doing good and maximize their social impact, all while fostering purpose-driven workplace cultures.
Check out our latest ebook, 3 Trends Shaping Today's Top CSR Programs to learn more about how leading companies are maximizing their impact by putting their people at the center, driving greater employee engagement and social impact as a result.