Nicole Strangman, Benevity Relationship Coordinator, shares why she led a grassroots reconciliation campaign to engage fellow Benevity-ites during Aboriginal Awareness Week.
June 21 is National Aboriginal Day in Canada and reconciliation is at the forefront of my mind. As a member of the Métis Nation of Alberta, I have a vested interest in the betterment of the current state of indigenous people, both in Canada and abroad.
This year I decided to take the movement to my workplace and engage my colleagues in a week-long celebration of indigenous culture and reconciliation. I was pleasantly surprised that when I asked to write this blog, it quickly became apparent that my colleagues were interested in more. More information, opportunities to donate, and ways to participate in reconciliation. Armed with the support of our leadership team, a small working group from across the company was formed to create a full week of activities, mirroring Calgary's Aboriginal Awareness week from June 18 – 23 this year.

Nicole Strangman, Benevity Relationship Coordinator, and Dr. Gabrielle Lindstrom, indigenous educator and member of the Kainaiwa First Nation, speak at an Aboriginal Awareness Week Panel at Benevity HQ
Why do we celebrate National Aboriginal Day in Canada and Aboriginal Awareness Week in Calgary?
For a population who were subjugated and disallowed from participating in any gatherings, taking part in our traditions and speaking our languages, National Aboriginal Day allows us to stand, be proud and be heard. It is also an opportunity for us to engage with our non-indigenous neighbours, sharing our culture and challenging them to experience something new.
For my family, it allows us to gather with other indigenous groups in a way we could not for 100 years. It wasn't until Métis people were recognized as an indigenous population with the addition of section 35 of the Constitution Act in 1982 that we were able to openly celebrate our culture. My Nimosom and Kokum (grandfather and grandmother) were encouraged to hide their Métis status when my great uncles were removed from their parents' care and placed into a residential school, as the risk of their children or grandchildren being removed from their family was hanging over them.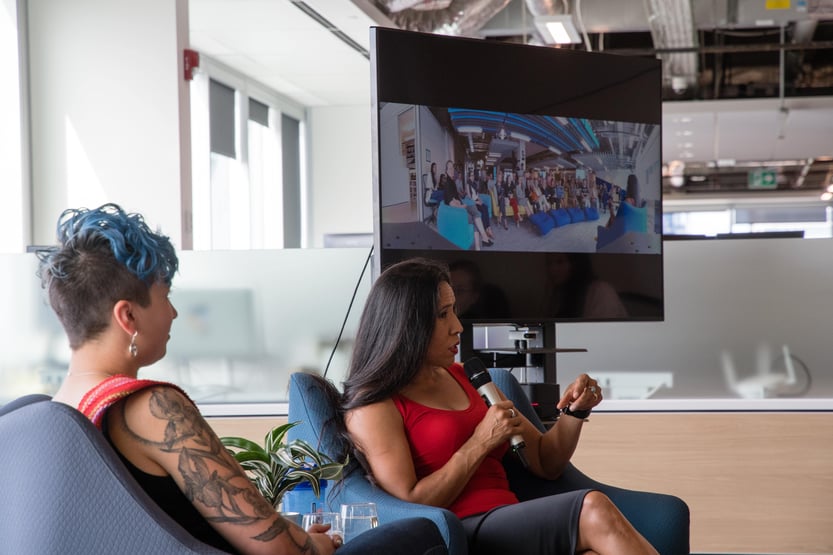 Dr. Gabrielle Lindstrom, indigenous educator and member of the Kainaiwa First Nation, speaks at an Aboriginal Awareness Week Panel at Benevity HQ
What is reconciliation and why is it important?
Reconciliation is an aboriginal-led movement that asks Canadians to acknowledge and learn about our shared history, and the pain and suffering that occurred from the treatment of indigenous populations. It encourages open dialogue and challenges perspectives and prejudices. It does not end with indigenous people. Rather, it does (and should) include all other cultural groups who have been issued a formal apology from the federal government for their treatment. Reconciliation with the indigenous population is particularly important to Canada, as according to Statistics Canada, their populations grew by 42.5% between 2006 and 2016, which is more than four times the national birth rate.
With the advent of social media, these populations are no longer unaware that they are among the lowest social stratum in their countries. First Nations groups are gathering to stand for their rights in greater numbers, with environmentalism and human rights as their agenda. Some recent examples include the Dakota Access Pipeline protests, which drew huge numbers of Canadian First Nations people, and the Idle No More movement. This highlights the importance of reconciling with these groups to ensure that they are included in more consultation if there are projects that affect their communities, and to ensure that their rights as indigenous people are being recognized.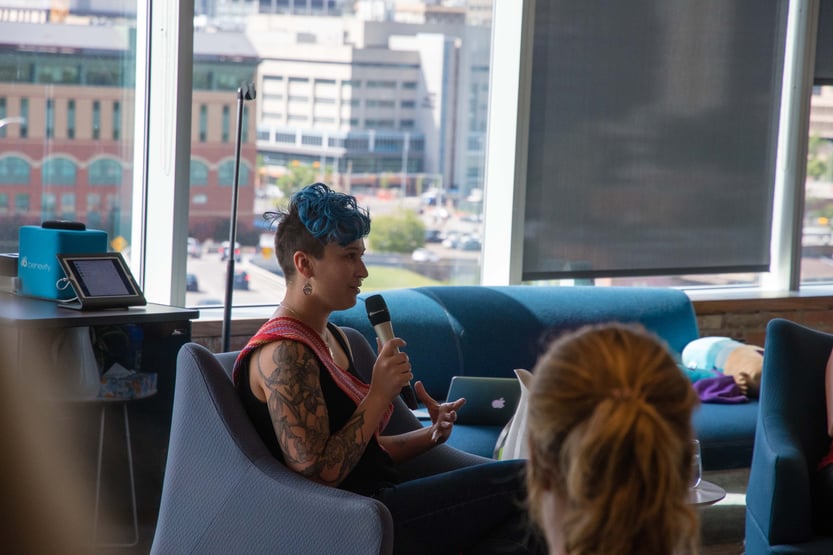 Nicole Strangman, Benevity Relationship Coordinator, speaks at an Aboriginal Awareness Week Panel at Benevity HQ
What this means for me
Although our awareness campaign at Benevity is grassroots and will only reach a small audience, the impact that it will have in terms of broadening the perspectives of my colleagues is a significant part of my journey to reconciliation. We have volunteer and giving opportunities, and resources for learning about current indigenous issues and histories available all week. Yesterday we invited Dr. Gabrielle Lindstrom, an indigenous educator and member of the Kainaiwa First Nation, to speak about reconciliation and what it means for Canadians.
As a Métis nation member, I have struggled with cultural identity, despite my family's attempts to rekindle our cultural practices. Métis people were oppressed for 100 years and we lost so much during that time. There are fewer than 1000 Michif speakers, we do not have many places to gather or live as a community, and we still face many misconceptions from both indigenous and non-indigenous groups about what it means to be Métis. Fact: it does not mean I have one indigenous and non-indigenous parent—we have our own rich and unique culture and history, and there are even settlements in northern Alberta.
I grew up in a small northern town, with an even smaller indigenous population. At times I was ridiculed for being indigenous, others for not being indigenous enough. It seemed as though I would not find a place where I fit culturally, however, when I moved to the city I was able to become involved in the urban Métis community. It's in Calgary that I have met my role models and each year I am proud to attend the Aboriginal Awareness Week events and celebrate.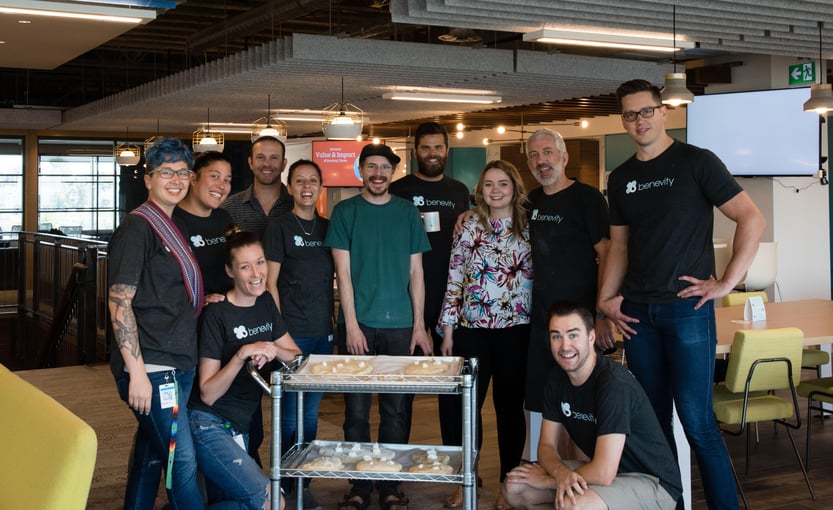 Benevity-ites came together to learn how to make bannock
How can I be a part of the reconciliation movement?
Reconciliation is about including everyone in the conversation, acknowledging the wrongs committed in our history and actively engaging in bettering our society. There are many ways that you can get involved whether you organize events at your workplace, or attend a Powwow with your family or friends.
As a first step, I would encourage you to educate yourself on the history of the treatment of indigenous people. You can do this by reading some of the content on CBC Indigenous, watching some TEDx talks, or watching a few documentaries on the National Film Board of Canada's website.
If you would like to get further involved, there are many organizations that have targeted initiatives for indigenous issues, such as the Aboriginal Friendship Centre of Calgary or the Elizabeth Fry Society, where you could volunteer or learn more.
It is my hope that with reconciliation that I will be asked "what are you passionate about?" before "what [nationality] are you?".
Sources:
http://www.statcan.gc.ca/pub/89-659-x/89-659-x2018001-eng.htm
http://www.cbc.ca/news/indigenous/truth-and-reconciliation-commission-by-the-numbers-1.3096185
http://www.rcmp-grc.gc.ca/en/missing-and-murdered-aboriginal-women-national-operational-overview