Want to Fight Climate Change and Make an Impact? Here's Where to Donate.


Knowing how to start taking action on climate issues can feel overwhelming — but donating to vetted nonprofits doing the work is one action we can all take. Benevity has partnered with four of the world's most influential climate advocates to highlight high-impact nonprofits leading the change. Here's why you should support these causes (and how your donation will help).
Climate change remains one of the most pressing issues of our time — for the planet, and for the people who live on it.

In order to heal our planet, we must come together to support the nonprofits on the frontlines of climate action. Yet, in 2021, only 3.2% of donations on the Benevity platform went to environmental causes.

It's not because people don't care. We do! But as we were slowly learning how to reduce, reuse and recycle, the planet moved at breakneck pace from global warming to climate change to climate crisis. And it has left many of us feeling like it's too big and too late to fix. How can one person possibly make a difference?

One person can't fix the whole planet, but 8 billion armies of one can make a difference. We just need to break it down into bite-sized pieces, and there are experts ready to help us do it — nonprofits who are doing important research, with high-impact and innovative plans of action to reverse the trends we're seeing.

One of the single biggest opportunities we have in front of us today is for all of us — individuals, companies and governments — to invest in healing our world, by supporting the organizations on the ground who are having an impact.


Donating Is
Simple
To help take action, we've invited some of the world's most high-profile and passionate advocates for sustainability and climate justice to share their favorite nonprofits addressing climate change. Join them by donating to make a positive impact.


Invest in Clean Energy With Mark Ruffalo
Emmy-Winning Actor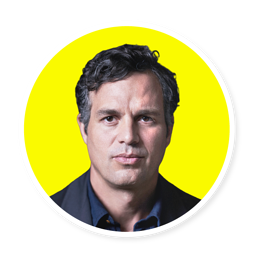 Mark Ruffalo is an Emmy winner and one of Hollywood's most sought-after actors, easily moving between stage and screen. He is also the cofounder of The Solutions Project alongside Stanford scientist Mark Jacobson and clean energy entrepreneur Marco Krapels.
These are the nonprofits Mark Ruffalo supports.

"I am a proud Board member and donor to The Solutions Project because we fund and help tell the stories of more than 100 grassroots grantees solving the climate crisis. Our grassroots partners are mostly women of color–led organizations advancing solutions like community-owned solar, green infrastructure and community land trusts that are building wealth, restoring healthy environments and reducing emissions.
I am especially inspired to support PUSH Buffalo in Buffalo, NY, which is tackling the housing crisis and the creation of good green jobs by training the community to install solar panels for affordable housing. I am also honored to support Native Renewables, a Navajo and Hopi organization that is empowering their community in Arizona and New Mexico to achieve energy independence. They created a clean energy career ladder and training program for people to replace diesel generators with solar in the thousands of homes without electricity. Native Organizers Alliance is another grantee near and dear to my heart because it works across dozens of tribal nations to protect sacred sites and protect the vote.
Finally, I support Stand.earth, who I worked with on the Drop Your Dirty Bank campaign to end the funding of fossil fuel extraction and the continued brutalization of First Nation people."


Learn More About the Climate Causes Mark Ruffalo Supports


The Solutions Project provides grants to grassroots innovators and backs up each grant with media training and connections to influencers. They also share tools and knowledge that help to create climate-resilient communities.
Native Renewables provides families on the Navajo and Hopi reservations with access to off-grid solar power. They also offer educational opportunities to Indigenous communities on the potential and benefits of renewable energy.
PUSH Buffalo creates strong neighborhoods with quality, affordable housing. Their goals include developing leaders and solving energy challenges using solar power. They also want to take what they've achieved in Buffalo and replicate it in other American cities.
Native Organizers Alliance supports grassroots-driven social change to advance health and welfare. They organize training, strategic campaign planning and support for Native communities. Everything they do is rooted in awareness of the environment and in harmony with the natural world
Stand.earth designs strategies for protecting the planet, in areas that include biodiversity, air, water quality and climate change. They campaign to conserve forests, protect oceans, reduce pollution and change corporate behavior.


Invest in Carbon Reduction With Christiana Figueres
Former UN Executive Secretary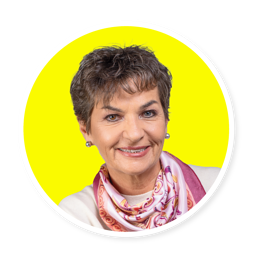 Christiana Figueres is cohost of the climate podcast "Outrage + Optimism" and coauthor of "The Future We Choose: The Stubborn Optimist's Guide to the Climate Crisis." From 2010 to 2016, she was Executive Secretary of the UN Framework Convention on Climate Change, leading the process that secured the landmark Paris Agreement on climate change.
These are the nonprofits Christiana Figueres supports.

"I am pleased to propose a diverse group of powerful organizations, all of which have a very different but important role to play in stewarding us towards a regenerative future: from providing cutting edge analysis on policy and investments (Carbon Tracker); raising the voices of young climate activists (Restless Development), empowering social entrepreneurs (Ashoka UK and Ireland), motivating citizens (Count Us In) and holding those in power to account (ClientEarth). These groups represent just some of the kaleidoscope of approaches we need as we embrace the complexity of the climate crisis and the solutions we urgently need.
I know each of these groups — their work has helped my own. Many others in the wider climate community benefit from their exceptional work and dedicated efforts."


Learn More About the Climate Causes Christiana Figueres Supports


ClientEarth advises policy-makers, trains legal professionals and enforces and shapes laws. They use the law to defend habitats, reduce pollution, promote environmental justice, protect forests, tackle climate change and protect life on Earth.
Restless Development supports young people solving the world's biggest challenges, including the AIDS virus, false news and misinformation and global decision-making. Their work also includes campaigns for green jobs and climate activism.
Ashoka UK and Ireland is part of the world's largest community of empowered social entrepreneurs. They connect social innovators, thought leaders and other changemaking pioneers while empowering young people to solve problems and drive positive change.
Count Us In (Future Stewards Foundation) is building the world's largest community of people and organizations who are taking practical action on climate change. Their inspiring mission is to significantly reduce carbon pollution through the actions of governments, businesses and 1 billion people.
Carbon Tracker applies groundbreaking research to map investment opportunities and risks in energy transition and a low carbon future. They help companies to consider the impact of technological advances and changing policy.



Invest in Climate Justice With Zamzam Ibrahim
Youth Activist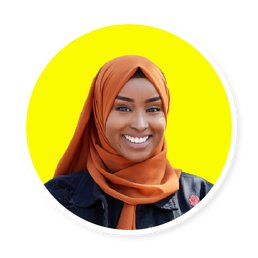 Zamzam Ibrahim, the Vice President of the European Students' Union, cofounder of Students Organising for Sustainability UK, Vice Chair of the Muslim Leadership Foundation and the former National President of the National Union of Students, UK, is a leading voice in Europe on tackling climate and racial injustice.
These are the nonprofits Zamzam Ibrahim supports.

"On this day, we as young people are growing up in a world so radically different to the one our parents grew up in. For our parents' generation, climate campaigning was mocked and not taken seriously. But now the climate crisis is never off our screens, from mudslides, heat waves and floods. This is why I believe that young people are playing and will continue to play a fundamental part in reversing the damage done to the planet through collective action.
The charities I have selected are grassroot; they recognise the solution is a collective one. They highlight systemic inequalities that exist and the disparities from community to community. Climate justice is based in understanding and recognising that to build a future that is just and sustainable, you need to bring everyone along on that vision."


Learn More About the Climate Causes Zamzam Ibrahim Supports

Friends of the Earth is dedicated to protecting the natural world. They are committed to solving the environmental problems we face and fighting for environmental and social justice. They push for change on causes that matter.
Students Organising for Sustainability UK (SOS UK) delivers sustainability webinars, workshops, campaigns, research and consultancy. They support student involvement in environmental causes, justice and well-being. Their inspiring work with students is unlocking the power and potential of young people to bring change.
Green New Deal Rising is laying the foundations for a future with clean energy, new jobs in new industries, empowered communities, protection for nature and global justice. They are fighting to stop climate change and for a better world.

Invest in Climate Education With Adam McKay
Writer, Director and Producer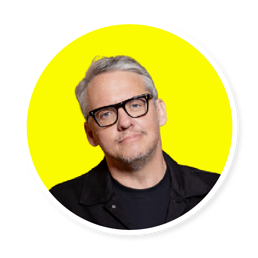 Academy Award–winning writer, director and producer Adam McKay made his name in the comedy world, where he served as head writer for SNL and later wrote and directed numerous iconic comedies, such as "Anchorman: The Legend of Ron Burgundy," "Talladega Nights: The Ballad of Ricky Bobby" and "Step Brothers." His latest feature, "Don't Look Up," is one of Netflix's most successful films and received four Oscar and BAFTA nominations, including Best Picture and Best Original Screenplay. Adam is a vocal advocate for supporting climate action.
These are the nonprofits Adam McKay supports.

"Investing in solutions for the climate emergency goes far beyond the word 'investing.'
It's surviving.
It's protecting. Protecting our future both immediate and distant.
It's imagining. Imagining the impacts of runaway global warming and answers to the massive challenges it presents.
The solutions will involve all aspects, levels and dimensions of human society and new ways of thinking that will seem almost strange to us by today's standards.
The groups I chose to raise funds for reflect a mixture of true grassroots movements with innovative thinking of the highest order.
All of these organizations understand the urgency of this moment to their core. They have taken a frightening time and turned it into inspired action.
Now is not the time for dusty institutions and traditional charities. These groups are active, innovative and driven.
I'm honored to support them any way I can."


Learn More About the Climate Causes Adam McKay Supports


Climate Emergency Fund supports the climate movement's bravest activists. They support organizations who are transforming climate politics, demanding change and protecting the world.
Action for the Climate Emergency gives young people the tools, training and resources they need to take action on the climate emergency and possible solutions. They are building a powerful community of student climate advocates.
Indigenous Environmental Network protects the Earth from contamination and exploitation by respecting and adhering to Indigenous knowledge and natural law. They educate and empower Indigenous people to develop strategies for the protection of our environment.
Sunrise Movement is campaigning to stop climate change and create millions of new jobs. They understand the urgency of policy change, the importance of people and the power of community.


So let's do it! Give $10 or $10,000. And then tell everyone about the organizations you supported and why. Share an article, start a conversation and spread the word about how easy it is to support the nonprofits on the frontlines of climate action. These actions will also have a positive impact on other global issues we care about, as climate change is at the root of many humanitarian issues, including poor health, food insecurity and access to clean water.

Most of all, know that you can be part of the change we need. With action, comes hope. And with both, a healthier planet will be within our reach.