Benevity Founder and CEO Bryan de Lottinville welcomes attendees and kicks off the discussion about the role of business in a for-purpose economy.
Key insights on a for-purpose economy from Benevity's annual client conference
Imagine over 400 of the most inspiring people from some of the world's most iconic companies, in one room, talking about the power of purpose. That was Goodness Matters 2019, and we were blown away by the passion, energy and willingness from the Benevity client community to think big — really big — in a time when it's needed most.
We've reached a pivotal point where 75% of North Americans now cite "my employer" as the most trusted institution, by a large margin. So, the big theme of this year's client conference was Imagine, and we were so inspired by all the companies who are already beginning to reimagine "business as usual." Here's a look at the top trends from Goodness Matters 2019…
1. The power of purpose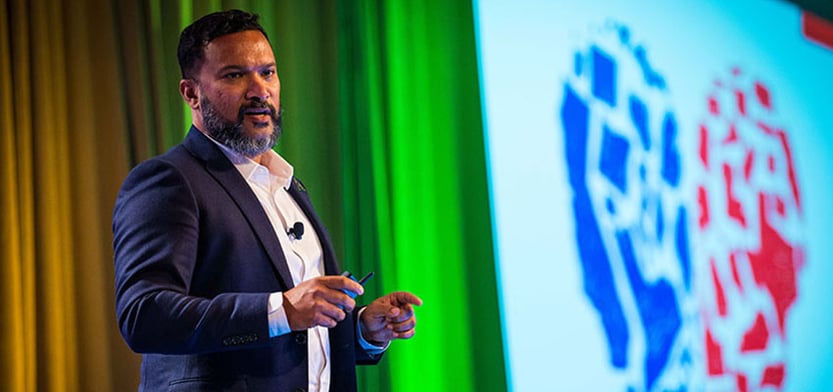 Afdhel Aziz, Founder and Chief Purpose Officer of Conspiracy of Love, talks about the Power of Purpose.
We are officially in a for-purpose world, and it's about time! We kicked off the conference with that message from our Founder and CEO, Bryan de Lottinville. With the whole world watching — employees, consumers and now investors — a company's corporate purpose could very well determine whether they survive and do well over the long term. Bryan pointed to Blackrock CEO Larry Fink's recent letter to business leaders, which doubled down on his 2018 statement that profit and purpose are now inextricably linked. How's that for pressure? But it's a good thing! Because the work that CSR leaders have been doing for years is now more valuable than ever before. Doing good is no longer just a CSR thing, or a marketing thing or an HR thing. It's now a CEO-level discussion and quickly becoming part of a company's DNA. This presents a challenge (and massive opportunity!) that will require all of us to think differently.
"I believe you need to let your values drive your value." — Afdhel Aziz, Founder and Chief Purpose Officer of Conspiracy of Love
As we heard from Afdhel Aziz, Founder and Chief Purpose Officer of Conspiracy of Love, corporations have seven times the resources of government and nonprofits combined, not to mention strength in numbers when it comes to people — so the power is in those companies and, by extension, you! He challenged everyone in the room to stop thinking of themselves as leaders of corporate social responsibility and instead think of themselves as catalysts of corporate social opportunity. It's time to shift our mindset from transactional to transformational, and he said "to do it right, I believe you need to let your values drive your value."
Companies walking the walk:
T-Mobile: In their lightning-round talk, Beret Kline and Teresa Towey, CSR Program Managers at T-Mobile, shared how they're going beyond traditional "corporate giving," with their incredible #GivingTuesday campaign as an example. On Nov. 27, they engaged everyone with the help of (almost) everyone in the company. Employees, customers and literally anyone else had the opportunity to raise funds for Feeding America, as well as their own personal causes, through the T-Mobile app, social media and employee Giving Accounts. The results? Over a million customers raising $5 million to help feed people in need, with over 17,000 employees getting involved on top of that (a 77% higher participation rate than their 2017 #GivingTuesday campaign) and 67% of those people were front-line workers! How did they do it? By creating a cultural movement of sorts, through strong internal partnerships with everyone — marketing, PR, social media, front-line managers and the company's CEO — with a shared purpose to "Be bold. Think Big. Make a Difference."
Charles Schwab: Charles Schwab is another great example of a company that's transforming its thinking around volunteering to create a highly visible, scalable and impactful program. They see 10-20% program growth every year, thanks in large part to a super-engaged leadership team. When executives are passionate about your programs, "it tells people it matters and it's who we are as a company," said Amanda Lenaghan, Senior Program Manager at Charles Schwab. So Charles Schwab has an executive sponsor on each of its Volunteer Week projects, and in the hours before the projects go live, employees literally huddle around their computers, jumping to register on the first day. And once Volunteer Week is over? 89% of participants commit to doing more good, and they do — as volunteers, donors and even nonprofit board members.
2. It's time for a broader definition of impact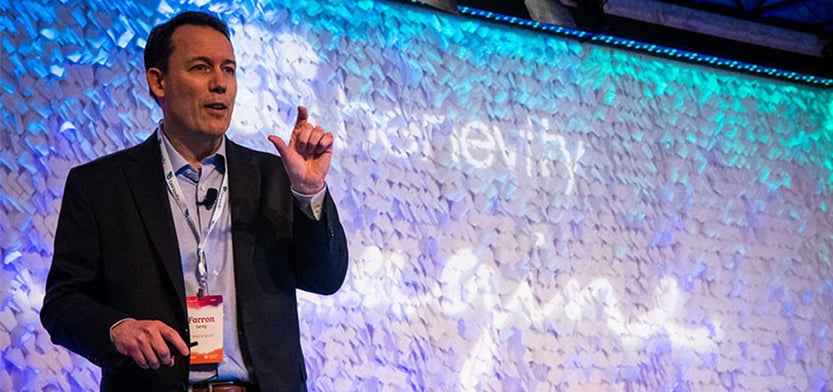 Farron Levy, CEO of True Impact, moderates a client panel on the definition of "impact" and why it might be time to redefine it.
If we want different (and better!) results for people, companies, culture and society, we need to think less about outputs and more about outcomes. And that requires a shift in the way we think about and measure impact. This is a message we heard several times throughout the conference, from Bryan, the nonprofit leaders on our Benevity Nonprofit Community Council and our client community.
The conventional approach to thinking about impact is that we need to put large dollars towards large charities to solve large problems. And while that's not a bad thing, Bryan challenged all of us to take a broader view of impact that will help us take that leap from transactional to transformational.
"We believe that small grants to small groups really do change large world problems." — Tricia Stevens, Manager of Charitable Giving and Ethical Campaigns at LUSH
When it comes to measuring impact, Farron Levy, CEO of True Impact, shared why he believes we should focus on two metrics: outcome and cost per outcome. These two metrics help us realize the real purpose of measurement, which is to prove — and improve — value. And, as Farron explained, it all comes down to cultivating an investor mindset, rather than an administrator mindset, where you're investing in nonprofits whose missions connect with yours and focusing on the outcome that matters most, while leaving everything in between up to the experts: the nonprofits.
Companies walking the walk:
LUSH: LUSH is a great example of a company that is truly investing in nonprofits to move the needle on issues that matter to their company and their people. Tricia Stevens, Manager of Charitable Giving and Ethical Campaigns at LUSH, talked about how the company funds small grassroots organizations, like indigenous groups, who are creating direct impact in their communities. They believe a paradigm shift is needed between the people who have the money and the people who need it, so they take a trust-based approach where they let the nonprofits decide how the money is best spent. "We believe that small grants to small groups really do change large world problems," Tricia said.
Albertsons: We heard Christy Duncan Anderson, Executive Director at Albertsons talk about their Hunger Is program and how they started out simply measuring the money they granted. Then they moved to measuring the number of meals that funding equated to before finally shifting to an investor mindset where they're measuring how many kids have access to breakfast every day. And they hyper localize it, to show that in Seattle alone they're feeding 65,690 kids, or enough kids to fill CenturyLink Field, every day.
Assurant: Shawn Kahle, VP of Corporate Responsibility and Community Engagement at Assurant, ran a nonprofit organization for five years before joining Assurant and said it was the smartest thing she ever did, because it opened her eyes to what nonprofits really need. She knew she needed to think differently, and that meant taking an investor mindset that goes beyond "granting" to create a broader strategic CSR framework that includes grants, volunteering, open giving and matching, and then collecting, measuring and sharing data with all the stakeholders in a better way. She says it's about being intentional. It starts with asking nonprofits for the metrics you actually need and will use, to relieve some of the burden on them, and then taking both qualitative and quantitative impact metrics that prove the outcome to all of your stakeholders. "All of us have the responsibility to speak about return on investment, but it's a return on investment of the time, of the depth of the relationship, of the lives changed," she said.
3. An army of one is the most powerful army of all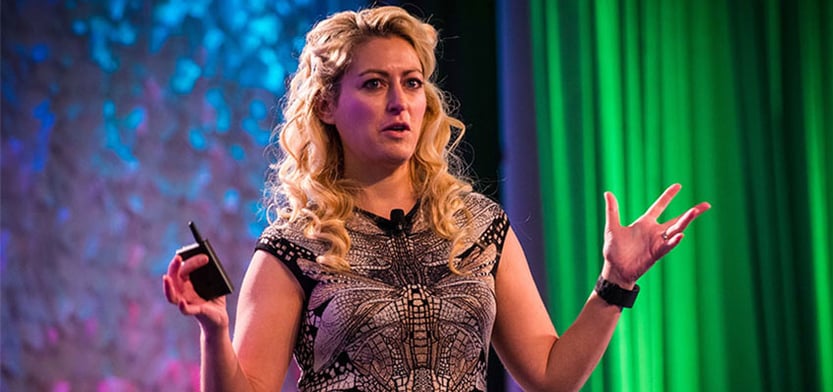 Keynote and game designer Jane McGonigal shares how empowering people to do good creates a gameful mindset and builds self-efficacy.
When we think about the world's biggest challenges — things on the scale of famine, disease, water crises, unprecedented natural disasters, religious and racially motivated attacks — it can be hard to believe that our individual actions can have an impact. But if we are truly going to leave the world better than we found it, we can't underestimate the power of small actions and the role of individuals. When we empower every single person to become an agent of change in their own lives, a cultural shift happens. And that is where change happens.
It's why choice and personal resonance are key. It's why we believe in everyday actions through Benevity's newest module, Missions, opening up grants to grassroots organizations with broader participation from employees and customers, and the power of small individual or team actions to galvanize impact toward issues and raise all the boats. It's why every hour, dollar and action make a difference. And we're heartened to see our client community invest in this idea of an "army of one" more and more.
"It gives people not only a sense of pride in where they work but a shared purpose." — Kayla Mottola, Senior Specialist at TripAdvisor
As we heard from our keynote speaker and renowned game designer Jane McGonigal, when we're working towards a common goal, we feel like we have allies in this big world. And in a technology-empowered context, we have the opportunity to make doing good less about the transaction and more about the experience, which results in literally building brain pathways for hope and self-efficacy around every corner — the belief that I, one person, can change the world around me for the better. With the ultimate goal of course being all 7.7 billion people on the planet feeling connected as allies, through Goodness, by allowing each of us to be the change in the world. Or what gamers might call the most epic win of all time.
Companies walking the walk:
TripAdvisor: We heard Kayla Mottola, Senior Specialist at TripAdvisor, speak about how they've created a balance between focus and choice, where they support displaced populations as a strategic company cause while also providing open choice to their people to support any cause they care about personally (including religious and political organizations!). It was important to TripAdvisor that their people feel empowered to act as owners of the program, and they engage several employee groups, including employee champions, ERGs, business units and social committees in running their program. What they've found is that despite having complete open choice, there's huge organic support from employees for the company's causes. "It gives people not only a sense of pride in where they work but a shared purpose," Kayla said.
4. The future of Goodness is inclusive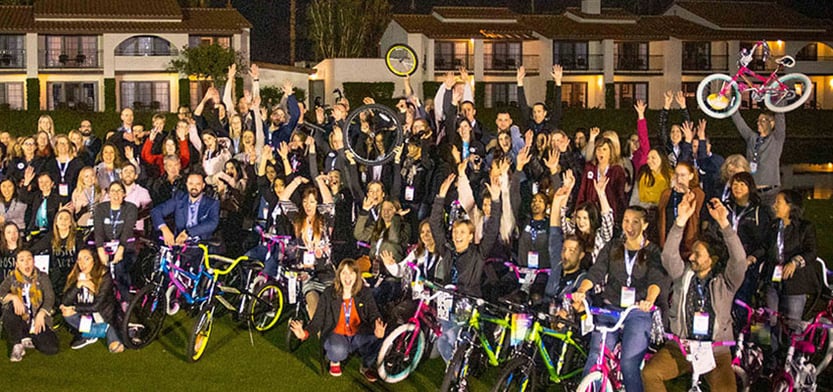 Attendees volunteer together, building 120 bikes for foster kids in the Palm Springs area.
Inclusion is not a new topic, but the urgency of the discussion is changing. Virtually every large company is working on this issue right now, but it has to be about more than just hitting certain numbers. Companies need to build a corporate culture that is inclusive and create a sense of belonging at its very core, where diverse people can all thrive. That's where you come in! We're seeing more companies using Goodness to create a sense of purpose, meaning and belonging, and doing it in an inclusive way.
An impressive 77% of our clients are taking an integrated, and inclusive approach to their Goodness programs, offering more than one way for their people to get involved, whether it's through giving, volunteering, grants or positive actions. They're empowering their people to lead the way, too, through user-generated content, Friendraising, or acting as volunteer ambassadors. And they're making sure that everyone can do good anywhere, any time, via things like skills-based and micro-volunteering, mobile access to giving and tracking volunteer time and more global programs than ever before. In fact, Benevity OneWorldTM was the fastest growing feature in 2018, with our international user base growing almost 400%! And some companies are going even further, putting Missions at the core of their D&I strategies or allowing their people to support more types of causes, including churches and schools.
Companies walking the walk:
First Tech Federal Credit Union: Nicole Frisch, Senior Director of Community Engagement at First Tech Federal Credit Union, shared how First Tech created an inclusion and belonging strategy that did more than just check the boxes with the same disappointing results. The company knew its strategy had to be authentic, actionable and employee-owned and driven. That's where Missions came in. Missions allowed them to focus on inclusion first, which then allowed them to build a culture of belonging and create space for diversity to thrive. The results were overwhelming. In just three weeks they saw 45% engagement, and people have continued to engage beyond the pilot period. "People truly wanted and needed this," Nicole said.
TripAdvisor: As we mentioned above, TripAdvisor took a bold leap in opening up their nonprofit eligibility to include churches, schools and political organizations. When you consider that 45% of the $440 billion donated annually goes to religious and educational organizations, this represents a huge opportunity to engage more people in a truly inclusive way.
5. Authenticity is key
Our Brands of the Future client panel discusses the importance of brands taking stands in authentic, meaningful ways.
There's a movement happening, with more and more companies standing up to address big social issues. As Whitney Dailey, VP of Marketing/Research & Insights at Cone Communications (and moderator of our Brands of the Future panel) pointed out, we never would have seen brands taking stands on this scale 10 years ago. But with Cone research showing that 79% of Americans believe companies should be standing up against social injustices, there's more expectation that they not only participate in the conversation but also provide solutions.
As we see more companies using their clout, reach and voice to model some of the behaviors we all need to exhibit to make the world a better place, it's not surprising that Cone dubbed 2018 the year of companies making social justice announcements. Businesses are uniquely positioned to become not just a force for good, but the force for good. But it has to be authentic! That means weaving purpose into your cultural fabric so that Goodness is who you are. And engaging your people is so critical. For all of us! Especially when it's not just "Business" that people cite as the most trusted institution, but "My Employer."
Companies walking the walk:
Levi Strauss & Co.: For decades Levi's has led the way when it comes to taking a strong cultural approach to Goodness that permeates everything they do, and most importantly, it comes from the top down, bottom up and sideways. Their CEO, Chip Bergh, was one of the most outspoken corporate leaders in 2018, speaking up against gun violence, climate change and voting rights. And for Levi's, Larry Fink's message that profit and purpose are inextricably linked seems to be proving true. Alexis Bechtol, Senior Manager of Community Affairs at Levi's, said 2018 was also one of their most profitable years, with 14% year-over-year growth.
Bonus: Imagine!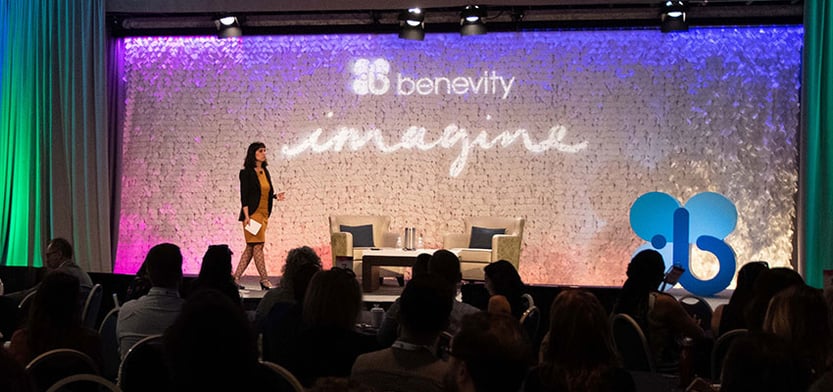 The theme of this year's Benevity client conference: Imagine.
All of the insights we've talked about here come back to one thing, the theme of this year's Goodness Matters: Imagine. At this pivotal point in society, with so much expected of companies, we need to think differently and imagine a different approach and a different (and better!) outcome.
In our Game Changing Brands panel, we heard from leaders at Microsoft and RBC, two companies who have been investing in Goodness for 37 and 50+ years respectively. Despite having paved the way with best practices, and creating highly successful programs, they understand that it's necessary to continue to experiment and change course even in a well-oiled structure.
Companies walking the walk:
Microsoft: Karen Bergin, Global Director of Employee Engagement at Microsoft, shared how Microsoft's new CEO Satya Nadella encouraged everyone to flip their mindset. Instead of thinking "I have to go to work," he wanted people to think, "how can I use this company as a platform for the change I want to see in the world." To do that, Karen's team took the approach of being "learn-it-alls" rather than "know-it-alls", to take smart risks and fail, but fail fast, and move on. With every bold step they take, Microsoft is getting closer to its mission to "Empower every person and every organization on the planet to achieve more."
RBC: Tanya Bell, Senior Manager of Citizenship Engagement at RBC, talked about the rise in prioritization of the employee experience at RBC. Employees were put at the center of their program, and that is exactly why they need to continue to evolve it, Tanya said. "People change, so programs need to change, and you need to make space for that." The latest evolution is the launch of Missions, which allows RBC employees to complete small, positive actions that can lead to big impact.
Okta: Okta is applying the same innovative approach to Goodness that they apply to technology. Anna Currin, Program Manager of Employee and Community Impact at Okta, calls it "agile CSR." It's all about dreaming big, going for it, and then using data to direct and redirect. So when she started at Okta and came out flying with a big, multi-faceted campaign only to see disappointing participation, she took her learnings and went back to the drawing table. What she learned is that, despite having unlimited time off, employees didn't feel like they could take time to volunteer. So she came up with "3 Good Days," which gave employees three days to use specifically for volunteering, and had their managers promote it. That year, they went from 40% to 60% engagement. Anna knows this agile approach means they might have to change course a lot, but says, "we're all in!"
What does all this mean?
We've seen amazing things from business this year, and we're just scratching the surface. Can you imagine the cultural impact we can create when all companies come together to create a network effect of Goodness?
We can imagine. And we hope you can too!
Check out the 2019 Corporate Goodness Award (Goodies) winners to see how leading companies are harnessing the power of purpose — and their people — to change the world.