Bring your purpose to life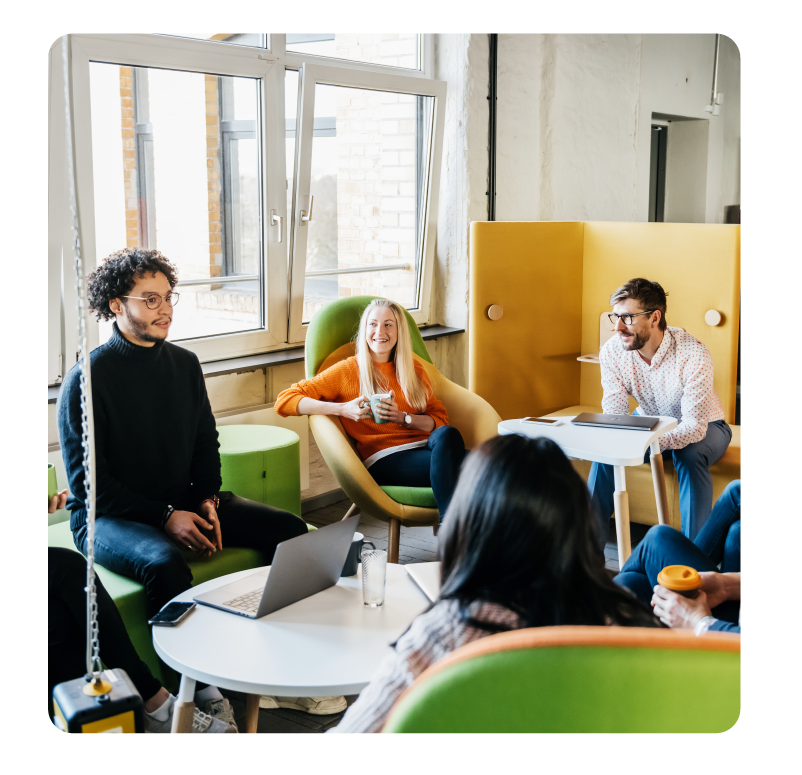 Empower your ERGs
It's built exclusively for employee and business resource groups, so it's easier to create, manage and grow employee-led groups on one platform instead of four (or more).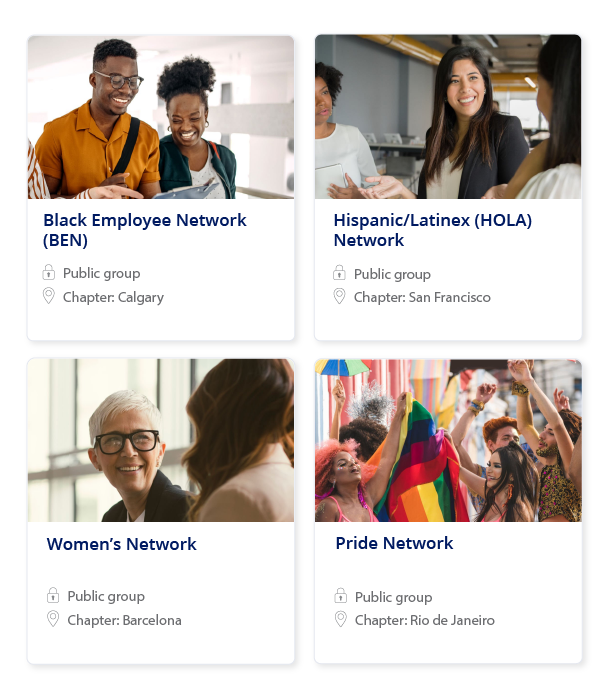 Advance diversity and inclusion
Get a central, inclusive place where everyone can belong, learn and act on issues that matter to them — and even help inform your DEI strategies.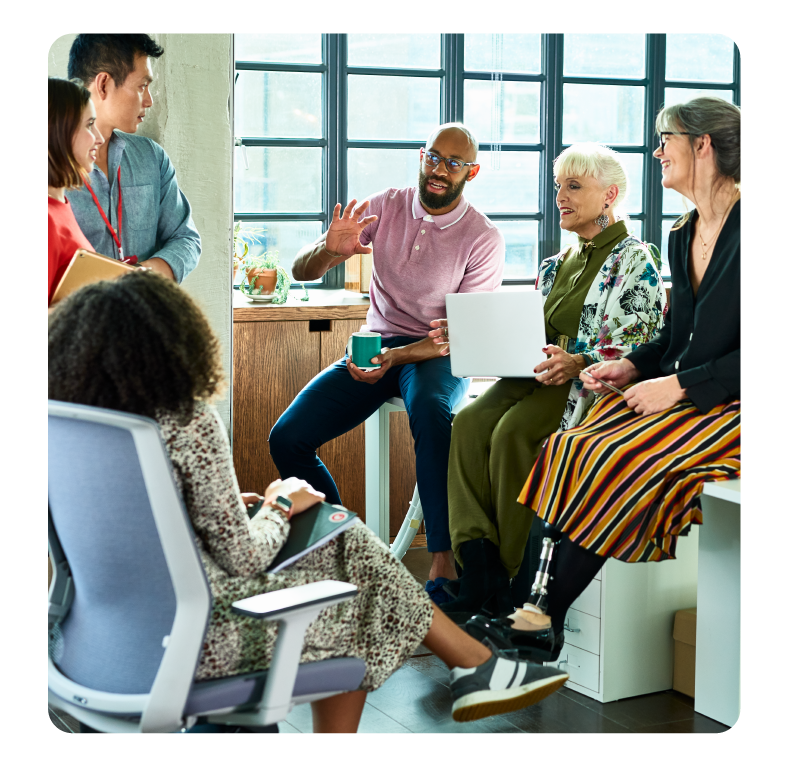 Retain top talent
A good ERG programme is one of the best ways to keep your people engaged. High engagement leads to higher productivity and profitability plus lower employee turnover.
Finally, a dedicated tool for ERGs
STEP 1

Create and manage ERGs in one place
ERG and BRG leads can recruit new members, start discussions, share engaging content, promote events and take social action, all within a dedicated space.
STEP 2

Invite more people to participate
Employees can search a catalogue of inclusive groups to find one that matches their passions and experiences, and then join with just one click.
STEP 3

See results and share your impact
HR and DEI specialists can access detailed data and analytics on group engagement, membership, issues gaining traction, event attendance and more.
Key Product Features
Centralised community

No more static intranet pages or unorganised instant messages. Just one rich, asynchronous social community that empowers groups to have more impact.
Content that engages

Educational resources and articles, rich media, events, quizzes, polls and surveys all help keep members engaged and active.
Business and social impact

Affinity Groups integrates seamlessly with Benevity's giving, volunteering and micro-actions solution — taking employee engagement and impact to the next level.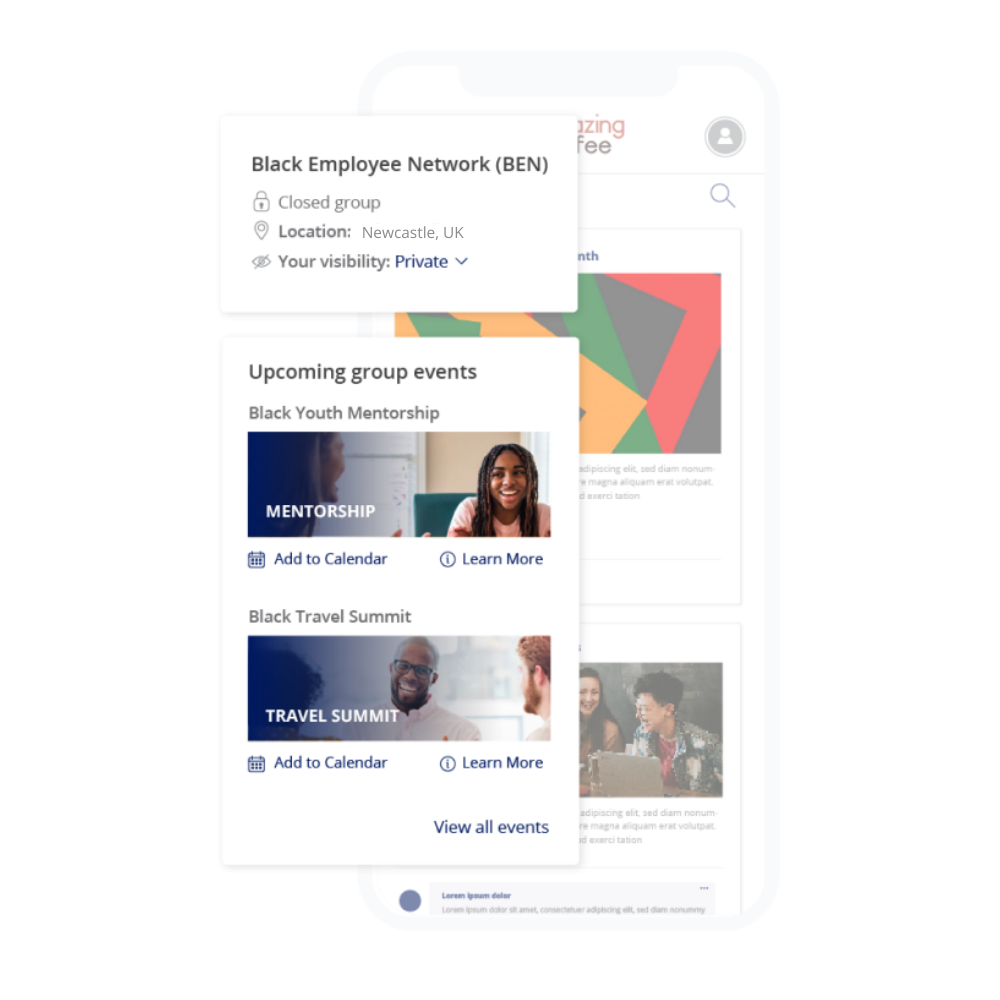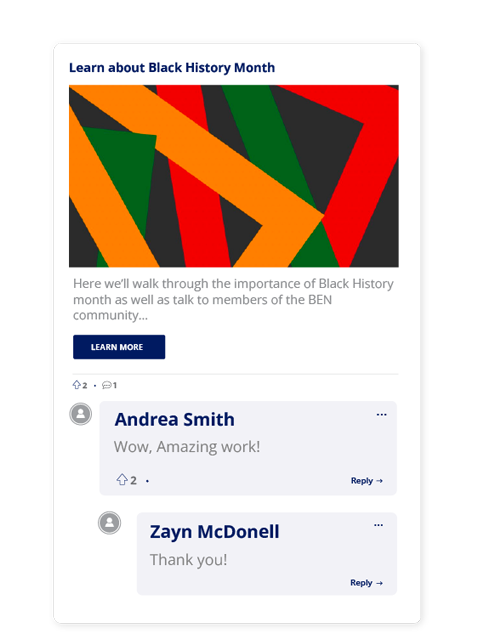 What Makes Benevity Affinity Groups Different?
No need for multiple tools and channels
Custom-built exclusively for their needs, Benevity Affinity Groups helps ERGs and BRGs organise, socialise, educate and drive change in one spot.
Drives cultural change
No one has more influence on company culture than your people. Yet most employee-led groups don't have the tools to co-create impact and inclusion. Benevity Affinity Groups is that tool.
ERG + CSR reporting
Benevity Affinity Groups is the only ERG software that integrates with CSR programmes so that you can measure the collective impact of both programmes on your business and communities.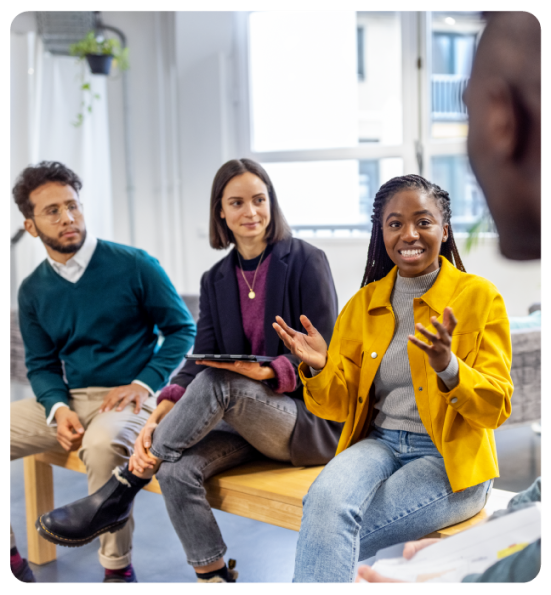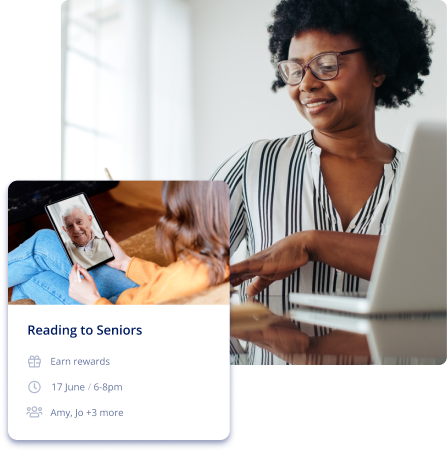 less turnover is experienced by companies with high employee engagement.
"The separate channels we had before — intranet, chat, email — was all very disjointed. So having one organised space where everybody can find everything, and everybody can connect, makes it feels less scattered and a lot more cohesive."
Stephanie Moe, Director of Diversity, Equity and Inclusion,
AAA Northern California, Nevada & Utah

Affinity Groups FAQs
What is ERG software?
ERG software enables employee resource groups (or business resource groups or affinity groups) to run and manage their groups more easily and efficiently. It gives both ERG leaders and members a dedicated place to organise, socialise, educate and drive change. And it gives HR, DEI and executives the ability to measure the cultural and social impacts their ERGs are creating.
How does Benevity Affinity Groups work?
Benevity Affinity Groups is built exclusively for all the work ERGs do. It acts as an internal, private-label social network where employees can discover, join, create, manage and participate in employee-led groups, with less need to use multiple channels like chat tools, emails, intranets, spreadsheets, etc.
Does it integrate with our CSR or corporate purpose programme?
Yes! Benevity Affinity Groups integrates seamlessly with our giving, volunteering and micro-actions solution. That's important because the power of these groups isn't only to foster a sense of inclusion and belonging among people who share affinities. It's also their ability to educate, share information and create awareness of issues that their peers don't necessarily appreciate yet — and those peers could become allies or even accomplices for good.
This integration makes Affinity Groups the only ERG software that can help amplify your impact goals and drive greater inclusion, both inside your company's four walls and out in the world.
How can ERG software improve our business?
ERGs are transforming workplaces from companies to communities. It's happening from the bottom up and building purpose-driven brands from the inside out. When your ERGs are equipped with software that makes their work easier and more efficient, the results are a more meaningful employee experience that leads to higher retention, a more equitable company culture that advances inclusion and impact efforts, and higher productivity and profitability.
See Benevity in action!
Book a live demo
1. Company Information
2. Your Information
3. Your Request