How PayPal innovated to engage more employees worldwide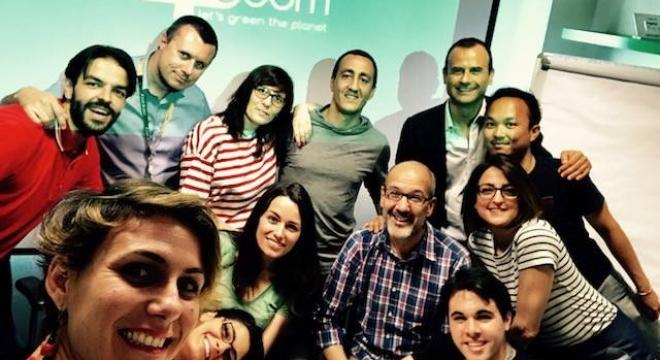 Missions: the gateway to employee engagement
Progressive companies like PayPal are continuously pushing the limits of their workplace giving, volunteering and community investment programs (what we call "Goodness" programs). They know that rallying more of their global team members around doing good is the key to creating next-level impact for both the company and the communities where their employees live and serve — and they have a thing or two to share about dreaming big and keeping that shoot-for-the-stars mentality.
Recently, we had the opportunity to speak with the changemakers in charge of PayPal's burgeoning social innovation program about how they plan to take it to even greater heights. After hitting an awe-inspiring 150% year-over-year growth, PayPal Gives leaders Rachael Claudio (Manager, Global Employee Engagement & Philanthropy) and Julie Vennewitz-Pierce (Director, Global Employee Engagement & Philanthropy) found themselves asking the question:
How can we empower our team members to create even more social impact and support their passions in a personalized, purposeful way — regardless of location?



"Established in 2015, PayPal Gives encompasses giving, volunteering and grants, and it has over 18,000 users globally. With employee-led "GIVE Teams," their program supports charities and causes in communities around the world through a variety of employee-driven initiatives."


A uniting passion
The PayPal Gives program was designed with their employees at the center, and Julie and Rachael are continually exploring new ways to tailor it to their people's interests. Through an employee survey, they found that a majority of their team members across the company's worldwide locations share a passion for sustainability. So, when they heard about Missions, Benevity's employee engagement product, they thought it could be a perfect way to innovate.
Based on principles of behavioral science, Missions makes learning and doing good top-of-mind and fun. Through gamified, easy-to-complete activities like riding a bike to the office instead of driving, using less plastic, turning off lights, and other small actions, employees can take steps in their daily lives that add up to big impact. With environmental sustainability at the forefront of their employees' minds, Missions — which includes more than 200 sustainability-focused activities — was a natural fit to complement PayPal Gives' existing employee engagement and social impact strategies.


"When we heard about Missions, we felt it could be a great way for us to engage more employees in our program around causes and issues that were most important to them on a personal level by helping them take tangible, positive actions."


— Julie Vennewitz-Pierce, Director,
Global Employee Engagement & Philanthropy


Goodness Innovators
Ever the trailblazers, Rachael and Julie were eager to experiment with Missions to see if it would, in fact, help their employees adopt new positive behaviors at work and in their lives. Would Missions truly inspire employees to take small actions that make a real difference — for both the individual and the company?
Missions' sustainability-focused content library made it easy for PayPal to rally their team members around causes that held personal meaning to them — like reducing waste and carbon emissions and conserving water and energy — and to help more employees learn more about the positive actions they can take to make a difference in the world.



"We were interested to know whether the behavioral science of Missions and the competitive feature that it offers would help spur engagement," Rachael shares. "It was a new kind of program for us and, in the end, we were excited to see that Missions resonated with employees."


Raising awareness
Because Missions quantifies the impact of participation on both a personal and a company-wide level, PayPal was able to show employees that their everyday actions truly make a difference. "I think people often have a hard time understanding how their daily actions actually do make an impact on the environment, and Missions provided a new way for us to demonstrate that to our team," shares Julie.
As it turns out, Missions was a great way for employees who were passionate about sustainability to track and see the impact they were already creating through their daily actions, which often encouraged them to continue or take more of these actions. It also served as a gamified and engaging way to raise awareness of the program as a whole and to inspire employees who weren't as focused on the environment to learn more and get involved, spurring new participation.


"Just by seeing your colleagues participating and socializing positive actions within the company, Missions increases awareness and engagement."


— Jai, PayPal employee and Missioneer


Engaging beyond borders
Additionally, with an ever-expanding global workforce, another PayPal Gives goal is to engage more employees on a worldwide scale while providing localized, resonant participation opportunities for team members across locations. Rachael and Julie were eager to see how Missions could help them do exactly that.
"We love that Missions gives us the opportunity to run a company-wide sustainability campaign, but that it's also something that could be run locally at a grassroots level. So, for example, if our team in Milan wanted to run their own campaign within that office, they have the ability to do so," shares Rachael.
In fact, 64% of PayPal employees who participated in Missions were from outside of their California headquarters, with international participants spread across Europe, Asia, Australia, the Middle East and South America.


"Missions is one of the few tools that really does
resonate globally."


— Rachael Claudio, Manager, Global Employee Engagement & Philanthropy



By allowing everyone to participate in small, tangible ways that matter to them, Missions helped the PayPal Gives program become even more inclusive regardless of location, background, ability or other factors — which aligns with the company's core values. Whereas someone may not have had the time, money, capability or prior interest to participate in giving or volunteering, Missions provided a new, accessible way for employees to take part in the program, helping everyone feel included.


"The actions we take as part of Missions create a sense of personal satisfaction, and our level of well-being can increase by participating in these activities."


— Hamant, PayPal employee and Missioneer

Big impact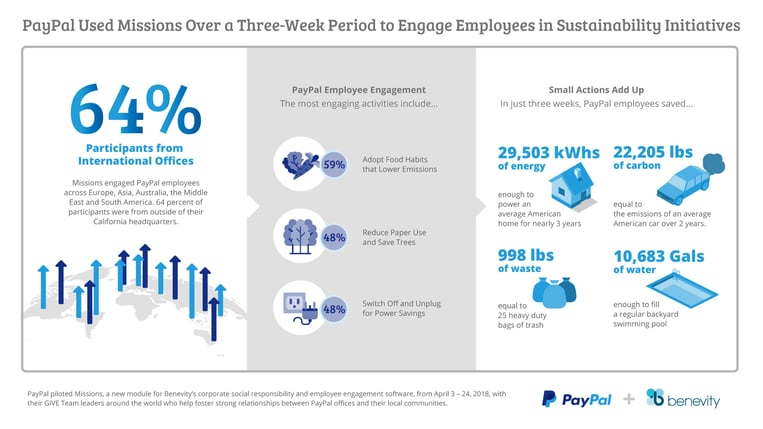 The PayPal Gives team was thrilled with the level of engagement in Missions they saw from participating employees — both in their headquarters and across their global offices — as well as the impact they made.
"For us, one of the best parts of the Missions software was the reporting that we got — the hard numbers that show you the impact of the positive actions employees are taking," Rachael explains. "So, for example, employees could see exactly how much waste they were eliminating, how much water they were saving, how much energy they were conserving — as individuals and as a team."
The data they gathered showed tangible and impressive results:
In just three weeks, participating team members saw an estimated savings of 998 pounds of waste, 10,683 gallons of water, 29,503 kWh of energy and 22,205 pounds of carbon.

64% of PayPal employees who participated in Missions were from outside of their California headquarters, with international participants located across Europe, Asia, Australia, the Middle East and South America.

Employees who participated in Missions were most engaged with activities to adopt Food Habits that Lower Emissions (59%), Reduce Paper Use and Save Trees (48%), and Switch Off and Unplug for Power Savings (48%).
Forward momentum
For PayPal, Missions serves as an innovative entry point to help pique employees' interest in their program and drive greater participation. When employees realize they can easily take part in doing good through small actions that fit their passions, interests and abilities, this often acts as a gateway to greater involvement with other facets of the program — like giving and volunteering. (Across our participating clients' campaigns we saw a 64% increase in employee donations when Missions was paired with giving and matching opportunities.)
With PayPal's program continuing to experience meteoric growth, engaging more employees across their dispersed workforce in nuanced and compelling ways is a priority going forward. And Missions is helping them do exactly that, one positive action at a time.