Trust software that's built exclusively for employee resource groups (ERGs)
While 90% of Fortune 500 companies have ERGs, most don't have a dedicated tool or space to host them. With Benevity Affinity Groups, all your ERGs will live — and grow — in a place that's designed to encourage participation and drive impact. It includes:
A

searchable catalog of ERGs

for employees to explore and join the groups they're passionate about.
Home pages for each ERG

with feeds that display engaging content like resources, activities and discussions.
Detailed reports

and analytics that help program managers and DEI specialists measure engagement and impact.
70
%
of companies say the DEI work employees do is very or extremely critical, but most don't give ERGs tools to cocreate impact
Get (and keep) your people engaged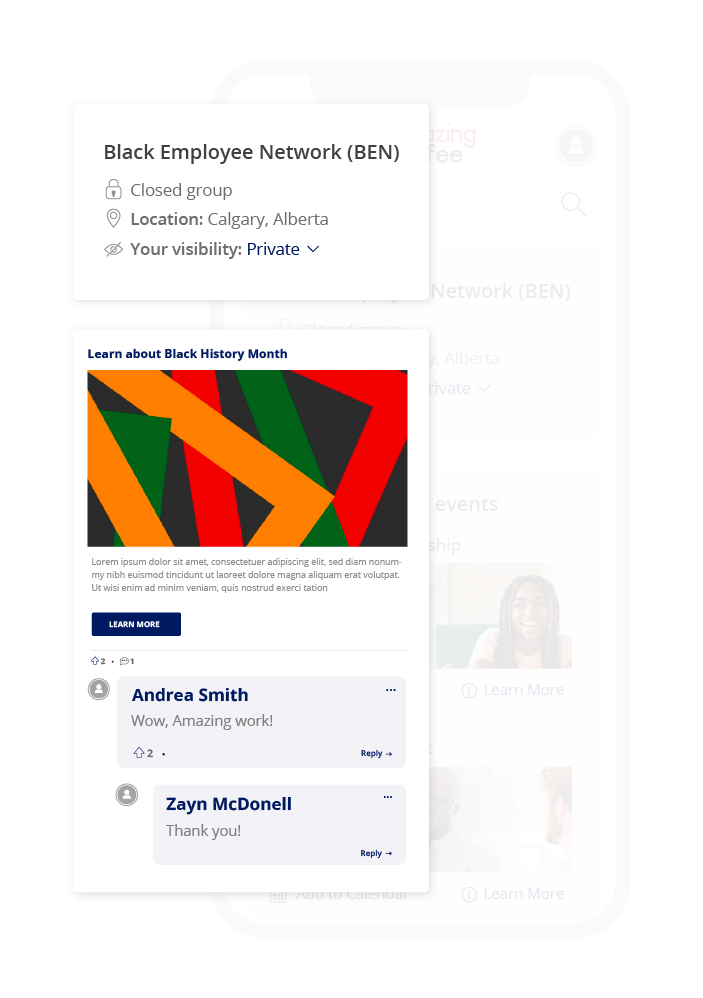 Engaged employees are not only more likely to stay, but they contribute to 21% greater profitability. Benevity Affinity Groups helps create a workplace experience where people feel valued — translating into happier, more engaged employees.
Group privacy measures

give equity-seeking populations the peace of mind to share truthfully and authentically.
Rich media posts

including videos, images, documents and GIFs ensure content is easy to consume and sparks discussion.
Built-in admin and communication

tools empower ERG leaders to manage their groups and gain insights for improvement.
Organizations with above-average gender diversity and levels of employee engagement financially outperform companies with below-average diversity and engagement by
Turn talk into action

DEI leaders are challenged to create a more diverse workforce, and they can rely on ERGs for fresh ideas and actionable input. Benevity Affinity Groups has crowdsourcing tools built in, so you can easily translate thoughtful conversations into employee-led action.
Educational resources

and training that focus on building awareness and inspiring positive change can be highlighted.
Quizzes, polls and surveys

, hosted directly within each group, collect valuable feedback that informs DEI strategies.
Events

like workshops and rallies can be promoted in a central hub to increase attendance and build momentum.
90
%
of workers said they are more likely to stay at a company that takes and acts on feedback.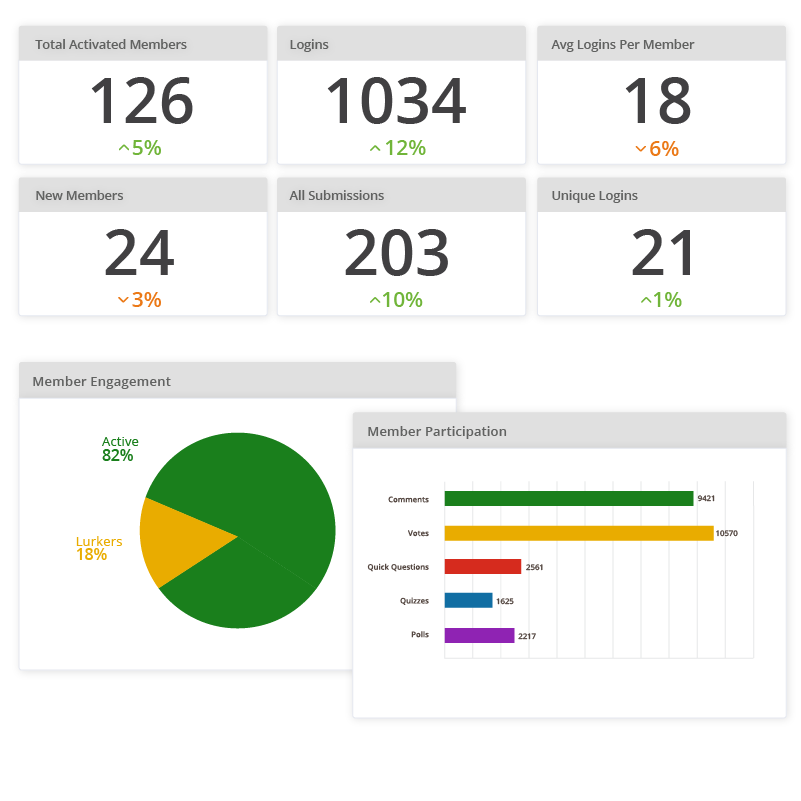 Having instant access to ERG data is critical to understanding the impact of each group and how well they're meeting goals. When reporting is shared with DEI executives, they can correlate key findings to metrics like recruitment, retention, promotions and diversity.
Access reports for valuable insights on:
Group activity levels

Membership data

Key issues gaining traction

Event attendance
ERGs as
a recruitment tool
:
70
%
of U.S. respondents 18 to 24 years old and 52% of respondents 25 to 34 years old reported they would be more likely to apply for a role at a company who had ERGs.
Source: Harvard Business Review
Integrate with your CSR program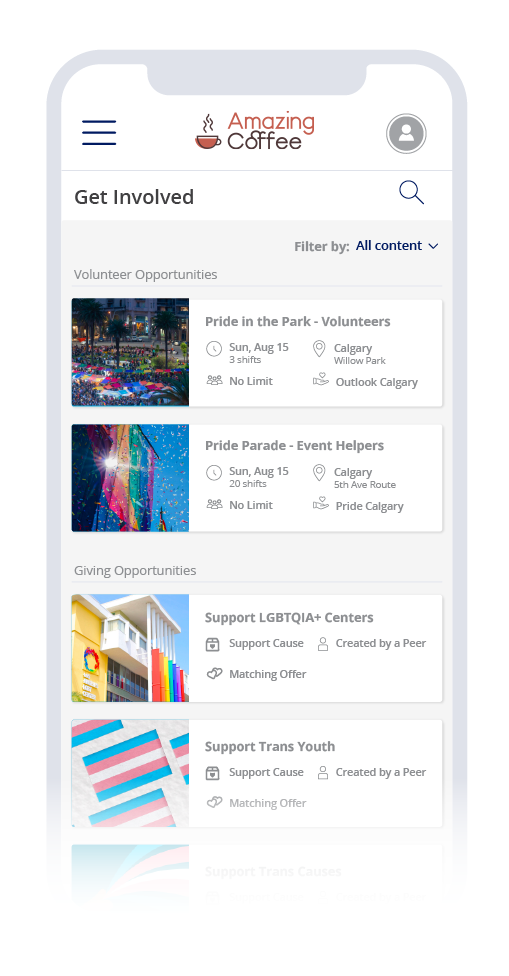 A successful CSR program is driven by engaged employees, so it's no wonder leadership often relies on ERGs for support. Benevity Affinity Groups integrates seamlessly with Spark, Benevity's leading CSR platform for workplace giving, volunteering and positive actions. This connection takes employee engagement to the next level, powering collective action while boosting program participation.
Now, ERGs can make a greater impact on the issues they're most passionate about — right from their group pages.
Highlight

giving opportunities

that resonate with each ERG to channel funds to the right places.

Rally group members to participate in the

volunteer opportunities

that matter to them.

Promote

positive action challenges

that make a difference to the people and causes ERG members support.