How Charles Schwab turned Volunteer Week into a cultural movement
Schwab Volunteer Week has become a key part of Charles Schwab's culture, growing from a one-day event in seven cities to a week-long volunteer fest for 7,000 employees in 170 communities.
How did they create that kind of scale with a small team? At Goodness Matters, Benevity's annual client conference, Charles Schwab's Senior Program Manager Amanda Lenaghan shared their secrets to success. Watch the video or read the written version of her presentation below.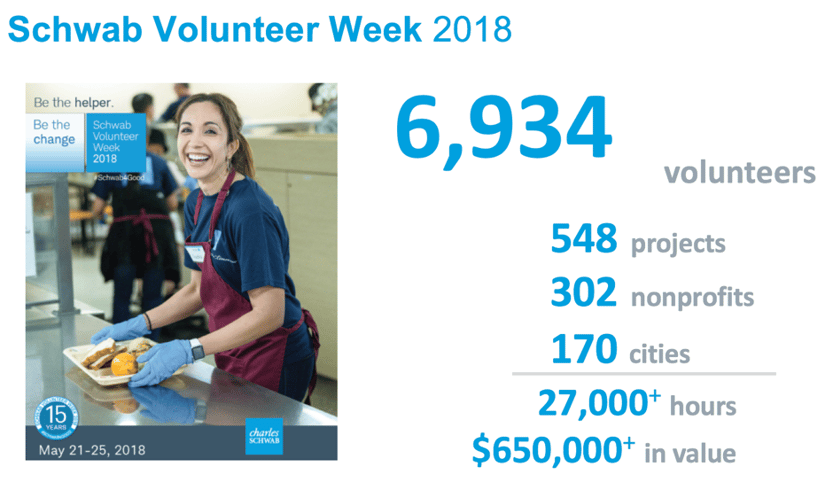 One week every May, teams of Charles Schwab employees go out and volunteer together. We call this Schwab Volunteer Week and we've been doing it for 15 years now.
What started as just one day in seven cities, has quickly spread to engage nearly 7,000 employees across 170 cities in one week — that's almost 40% of our workforce.
It's an incredibly popular program. So popular, in fact, that if you came to our offices a month earlier, when we launch registration on the Benevity platform, you'd see employees huddled together around a computer hitting refresh on the registration website because they know registration is about to go live and the project they want to volunteer on together could fill up fast.
And it's not just a handful of employees who do this. We have 5,000 employees who register in the first 24 hours of Schwab Volunteer Week going live.
We think that's pretty incredible, and it signals to us that volunteering together has really become part of our culture — and it makes sense! Volunteering is so unifying for employees. It helps them to look beyond themselves and connect to a broader mission and sense of purpose.
Charles Schwab employees huddle together moments before the launch of Schwab Volunteer Week.
Since many companies have these days or weeks of service, I want to share with you the strategies we've used to build visibility, scale and greater impact in our program.
Visibility at Schwab starts with leadership. Chuck Schwab, the founder of our company, established our purpose to champion everything we do through our clients' eyes. That service-oriented approach translates very clearly into our community engagement and employee engagement work, and it's an authentic part of our company.
Our leadership support trickles down, with all leaders at Schwab engaging in volunteerism. In fact, all 500 of our Volunteer Week projects have an executive sponsor, and that's important because it sends the message to our employees that this work really matters, and it's who we are as a company.
Once you've got that internal visibility, how do you create buzz? We start with some creative branding work and create a tagline. Last year it was "Be the Change."
Then we put together fun events around that moment of registration launch to celebrate together. We also build social media campaigns and encourage our employees and nonprofits to spread the word to their networks. In 2018, we engaged nonprofits by asking them to share their cause and the work we'll do together, using our #Schwab4Good hashtag, and awarded grants to the nonprofits who built the most social engagement.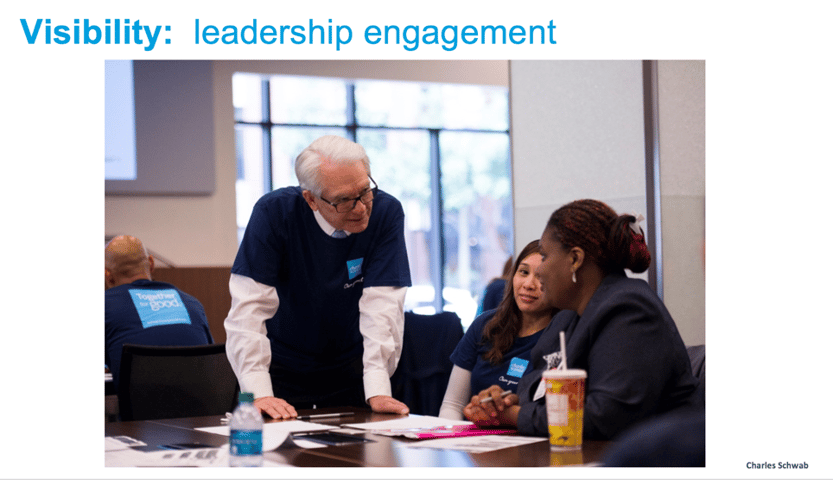 The company's service-oriented approach starts with their founder, Charles Schwab.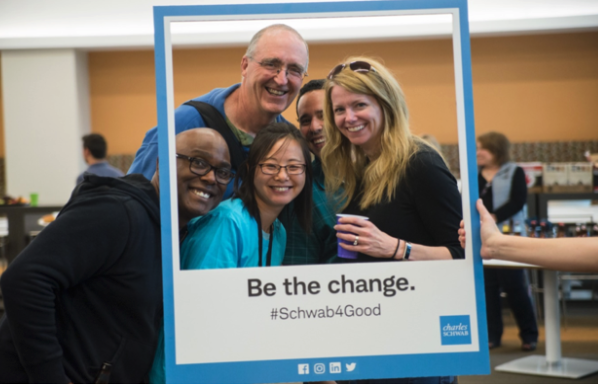 Employees celebrate the launch of Schwab Volunteer Week. The 2018 campaign tagline was "Be the Change."
Building a highly visible program leads to growth. At Schwab, we see 10 to 20% growth every year with our program, and I often get asked how we accommodate that growth with a small team. One of the keys for us has been growing and investing in our Schwab Community Ambassador Network.
We currently have over 100 employees leading our philanthropic and volunteering efforts across our various locations, and we literally couldn't do it without them. One of those ambassadors is Elmer Rodriguez. He's a 23-year veteran with the company, based in Denver.
Elmer knows the passions of the employees in Denver better than anyone else, and he's well connected in the local nonprofit community, so he's able to create locally relevant projects that are going to drive the most engagement there during Volunteer Week. Elmer and his team are responsible for getting 1,300 employee volunteers out in Denver alone, so that gives you a sense of how this network is really key for us to be able to drive scale.
That also means it's important for us to continue to invest in these employee leaders. We host an offsite leadership summit each year, where we bring co-chairs of Schwab's Community Ambassador teams together.
This past year in Austin, we listened to servant leaders, including the first lady of Texas and the founder of a nonprofit who's addressing homelessness in an entirely new way.
It's a grounding way to kick off our program planning each year. We listen to their insights and to the nonprofit needs in the community, and we use that to inform how we're building our 2019 plans — as a team.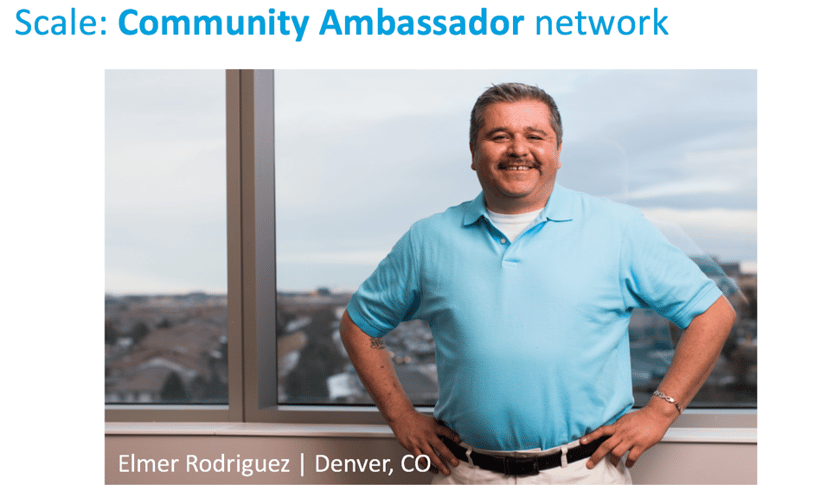 Elmer Rodriguez is one of over 100 passionate employees that comprise the Schwab Community Ambassador Network.
The other key to scaling our program is our nonprofit partners. During Volunteer Week, we're working with over 300 nonprofits, and a few of those are national organizations, like the Boys & Girls Clubs of America, where we can work with one national contact and put together a locally relevant project in any city where Schwab has offices.
That's powerful for us as a small team because it provides efficiency, and it's also meaningful to be able to connect employees to a cause that's really core to our mission and is one of our signature partnerships.
Building a highly visible, scalable event like Schwab Volunteer Week only matters if you're making a difference. That's why we assess our impact through post-event surveys, to both employees and nonprofits, and use these data to surface ideas and insights, inform program refinements and, ideally, drive some innovation in our work.
We know from what employees tell us that this has really become a key component of our culture. We're thrilled to share that 99% of our employee volunteers say it's helping build stronger ties in the community, 97% say it fosters teamwork and 96% say it makes them more likely to recommend Schwab as a great place to work.
That's important to our business because it helps to attract and retain top talent. What's equally important is that we have this incredible platform of service that serves as a launch pad for engaging our employees in their communities year round.
I'm really proud that 89% of employees who participate in Volunteer Week say they plan to engage long term as a result of that one interaction — as volunteers, donors and even board members.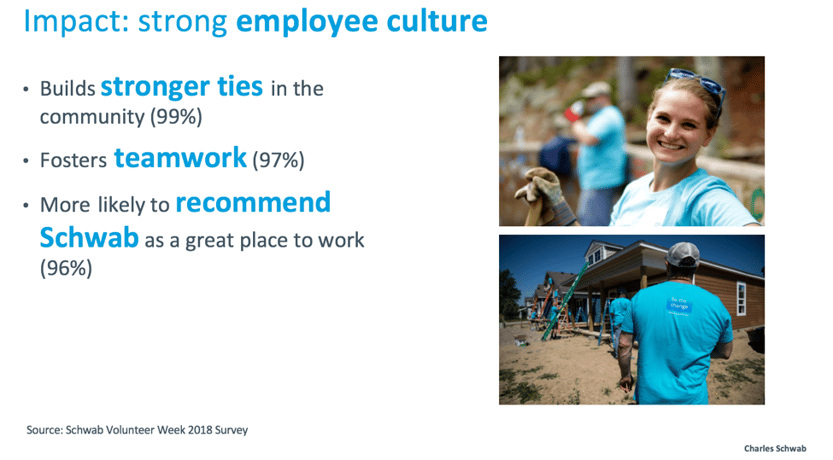 Nonprofits tell us Volunteer Week helps them save resources and serve more people. In 2018, our projects through Volunteer Week helped serve over 32,000 citizens across the country.
We use this opportunity of surveying 300 organizations to listen to our partners and, in doing so, one of the things we consistently heard a few years back was that nonprofits really needed more pro bono support. We thought, what if we take this day of service model that works really well at our company and apply it to providing pro bono solutions to nonprofits?
That's how our Schwab Pro Bono Challenge program was born. It's a skills-based volunteering program that invites local nonprofits to work with experienced Schwab employees across different disciplines, like marketing, IT, HR, etc., on specific challenges. These much-needed skills can then help those organizations do even more good.
And it's now grown to provide over $2 million in nonprofit consulting, as well as serve as a leadership development tool for our organization. What I really love about this program is that it creates new ways of thinking and has really been a driver of innovation for us.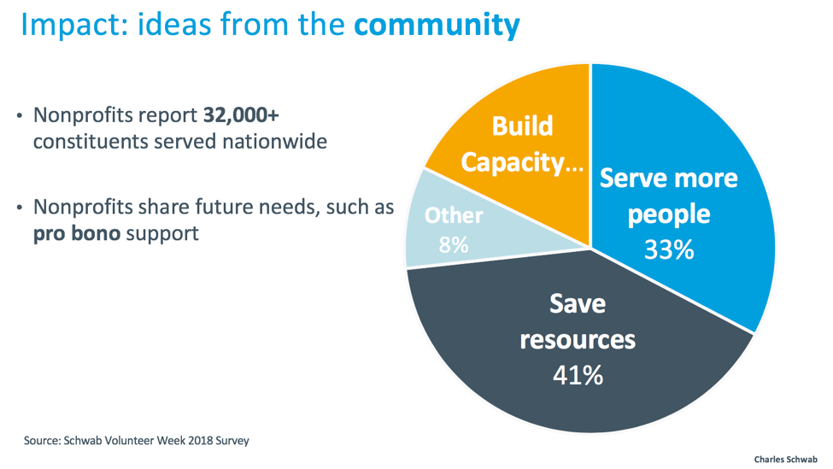 It's my hope that all of us can use these incredible programs to make a difference long after the volunteering event is over. A highly visible and scalable volunteer program can be leveraged as a catalyst for driving purpose in our organizations and for creating sustained impact for our communities.
How can you adopt a more flexible, inclusive approach in your own volunteering program? Check out our Employee Volunteering Guide.
Find out more about Charles Schwab's philanthropic and volunteer efforts.