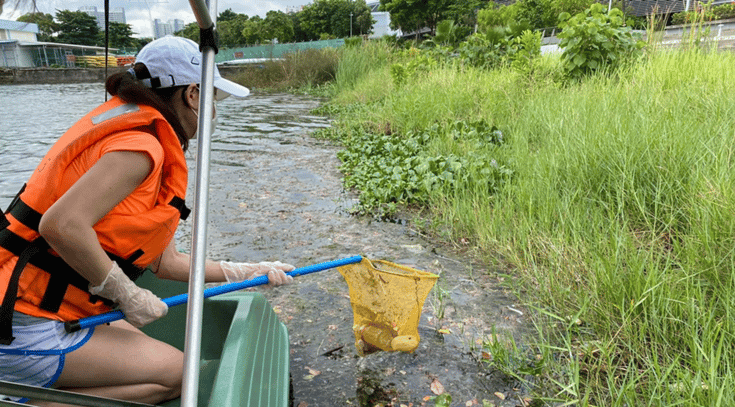 How Waterways Watch society turns first-time volunteers into life-long advocates
Waterways Watch Society is a nonprofit organization that promotes awareness, protection and appreciation of the water reservoirs in Singapore. Every year, around 8 million tons of plastic ends up in the ocean, the majority of which enters through rivers and coastlines.
The nonprofit's main mission is to bring people together to clean up the waterways, inspire stewardship for the environment and for people to take ownership of their actions.
How do they do it exactly? They organize fun outdoor activities with a purpose! Volunteers take part in excursions in kayaks or pedal-boats to fish out litter from the waters, and go on walks or bike rides to clean the shores.
We recently spoke to Patrick, one of the coordinators at the organization on how the nonprofit works with corporate social responsibility groups (corporate employees) and school students to achieve their goals. He also filled us in on how they form long-lasting relationships with all the volunteers. Here's a summary of the interview.
Nowadays, a lot of volunteers have what we call "Oh, my goodness moments," when they see trash that isn't theirs and dispose of it correctly. That makes me really happy, knowing that my job is done and I have fulfilled my goal of helping them adopt an environmentally-friendly mindset.
Thank you for speaking with us today Patrick. Can you please tell us more about your role?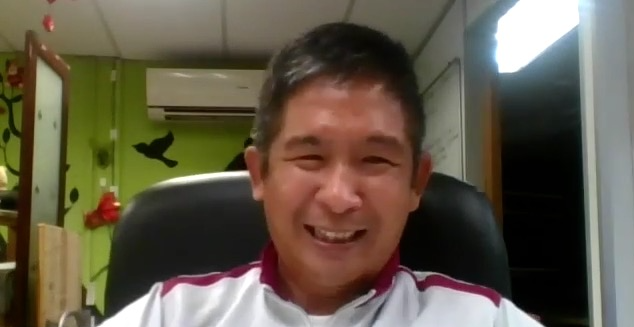 My name is Patrick and I'm the assistant program manager and also education facilitator here at Waterways Watch Society. I'm in charge of overseeing the corporate social responsibility programs (CSR) which includes the clean-up program we have for corporate team bonding events. I am also in charge of our Values in Action program, which we arrange with schools.
What are the main goals of your program?
The main goal of our program is to spread awareness about keeping our waterways and reservoirs clean, not just for people residing in Singapore, but for everyone around the world. We want to educate individuals on how fragile and fundamental the Singaporean water resources are, and that if we don't act now, our drinking water is at risk.
Volunteers come here to collect the trash washed up in our waters, but our mission is to also make them aware that no one should be polluting our drinking water in the first place. All in all, we want people to do the end result by cleaning up, but we also want to solve the problem at the core, which is to spread awareness about the pollution and for people to take ownership for their own actions. And of course, we want to recruit as many volunteers in our programs.
What are the main benefits of working with companies in their CSR programs?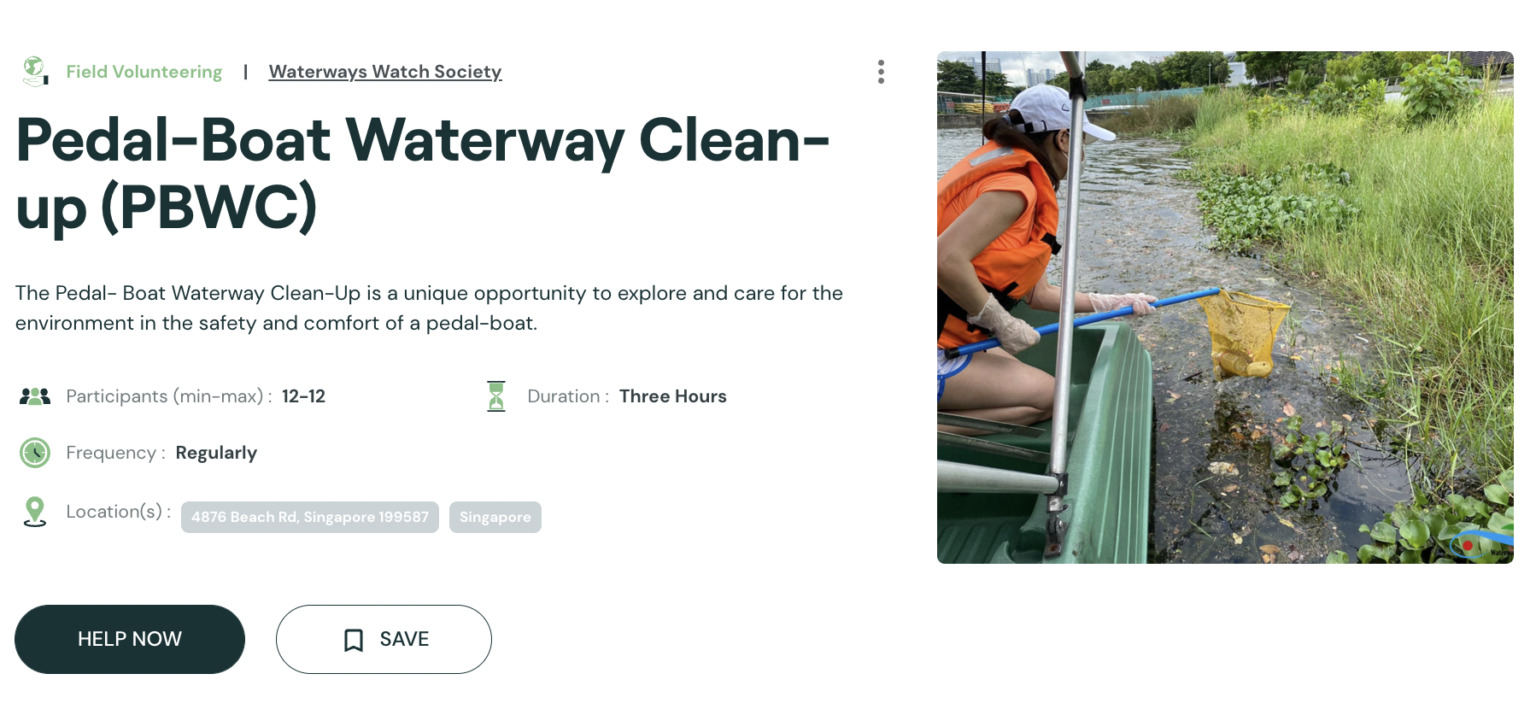 We've noticed that people who have been in the workforce for quite some time tend to not really take notice of environmental issues because they are so busy with their daily lives: commuting to work, working all day and then going home to take care of their families. The day then re-starts all over again and there's just no time in between.
For example, many of them are unaware that the reservoirs are in fact our drinking resource, they still think it's coming from the open sea, so it's great to educate them on that aspect.
The wonderful thing about interacting with corporate volunteers is that we get them to connect with environmental issues firsthand because many have lost touch with what is really going on around them and on our planet.
What has been the impact on employees from the CSR programs?
It gives us a great sense of achievement to share our mission with them. At the start of every activity, I always ask them, "when was the last time you actually picked up trash that didn't belong to you?" Personally, before I started at Waterways, I would see rubbish on the ground and not pick it up because it didn't belong to me, therefore it was not my responsibility. I would just walk past it and ignore it, but that certainly is not the case anymore.
Nowadays, a lot of volunteers have what we call "Oh, my goodness moments," when they see trash that isn't theirs and dispose of it correctly. That makes me really happy, knowing that my job is done and I have fulfilled my goal of helping them adopt an environment-friendly mindset. A lot of volunteers tell me that they are now more aware and responsible, not only for litter but also for protecting our drinking water sources.
At the end of the day, the corporate groups are for sure much more appreciative and are able to re-connect with the planet again, something they have lost touch with. They show a lot of passion which I really admire, and I'm glad I am able to help them re-connect again.
How do you re-engage with corporate groups?
Many individuals decide to sign up for more regular programs after their initial corporate volunteering day, so we see a lot of employees coming back again and again to volunteer, at least 3-4 times a year.
We have a lot of employees who actually come back to our nonprofit and sign up individually as members. Some employees who have since left their company then encourage the corporate social responsibility committee at their new workplace to volunteer with us, which is fantastic! We love word-of-mouth marketing and when employees spread the word so that more corporate members join us.
On a typical day, how much trash is picked up?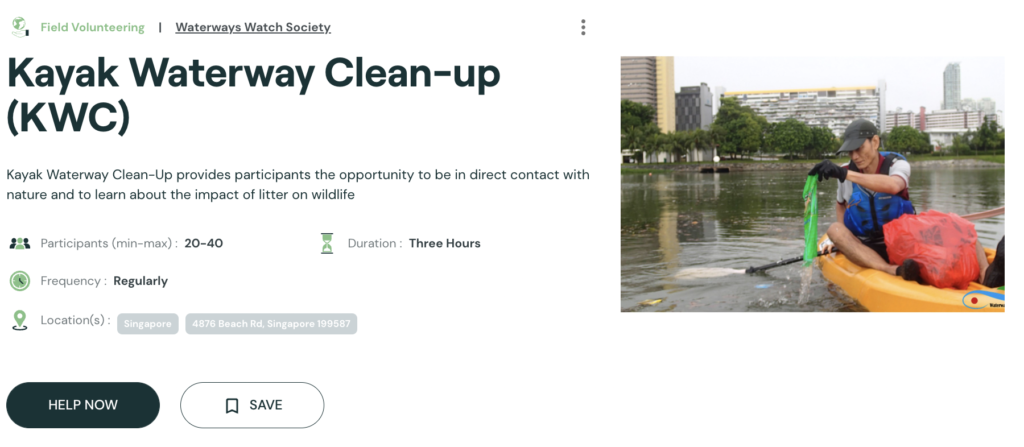 It depends on the day, the average tends to be between 20kg to 30 kg, that's around 4-5kg of litter collected per person. However, there have been times where we exceeded the average, for example, this one time we collected nearly 100kg from a single group activity!
What I normally do is I always ask my participants, what is the ideal amount of trash we should be collecting after every cleanup? Some give a specific amount, whereas others state the more the better. But as a matter of fact, the ideal amount of trash you should be collecting is zero, because that is the root of the problem that we are trying to eradicate.
Our ultimate goal is zero trash, which may be quite impossible, but nonetheless, we are trying our best to keep Singapore clean. That's why we are here, right?
How do the volunteers work with each other at your nonprofit?
Since we started 30 years ago, we have a lot of regular volunteers who we call veterans. They now work as mentors for the new volunteers and help them get prepared and set up for the activities. We also have our internal admin group that engages with new volunteers and conducts the orientation.
During lunchtime, we encourage the volunteers to bond with our staff and share their thoughts. When we are out on the water patrols, we all interact with one another. Volunteering is not just about doing the job itself, but it's also about networking and getting to know other people who share the same passion and want to achieve the same mission.
How does Alaya help you achieve your goals and reach more volunteers?
As Alaya is such an international platform, our mission to spread awareness does not end in Singapore. People from other countries can discover our nonprofit and even look up to us as a role models and mentors in the field. We want others to follow us as an example and establish the same mission in other countries. And of course, we always want more people to come down and volunteer.
On the whole, we want to spread awareness and for the world to be more sustainable and responsible because at the end of the day, this is the land that we live on and we need to protect it.
What do CSR events normally look like?
At the start of the program, I provide an introduction to our nonprofit: our mission and how we together can reach our goals. I give a presentation on the Singapore waters, how we can keep our waters clean and safe, and outline today's major threats. We then take the boat out for the activity to collect trash. It's a great activity because the volunteers can really see how much trash is being dumped in the water and the pollution it's causing.
What are some of the challenges your nonprofit experiences?
One of the major challenges that we experience as a nonprofit is that we actually receive a lot of signups, which can get a bit overwhelming at times. During the COVID-19 pandemic, we had a large amount of interest, because many people were stuck at home with not much to do. They would search for random things to do online and sign up for programs. While a lot of people attended our online Zoom orientation, unfortunately, many of those attendees did not physically show up to carry out the volunteering activity.
So although we receive high engagement (which of course is great for us), sadly, many people do not fully commit which contradicts what our society is aiming to do: being physically here to volunteer. Trash cannot be picked up virtually, you have to be present to make a difference. So I think people need to be more aware that if they want to go out and do something to make a difference, they need to have to put their heart and soul into it, which stems from volunteering.
Thank you so much for speaking with us today! Are there any last thoughts you'd like to share with us?
My number one goal is for the world to be more appreciative of our planet and more environmentally conscious. Climate change is happening and it's happening now. We thought that it was quite far away in the future and not going to happen anytime soon, but it's coming sooner than we expected.
We are at the start of seeing extremely erratic weather patterns in Singapore, and it's getting kind of scary. Singapore is an island, and if we continue like this, the glaciers will melt and most of the country will be underwater. Climate change is a huge threat to us, and at the same time we are still battling with managing our water resources.
So a message to our friends in Singapore and our residents, let's hope to build a better country and a greener environment, so that our children and children's children can all continue to enjoy what we have.
How to engage with corporate volunteers for your nonprofit
Alaya by Benevity supports nonprofits like Waterways Watch Society to connect with corporate social responsibility groups looking to take part in volunteering activities.
Through our network, your nonprofit can gain more support by posting the following type of activities:
Field-volunteering

– recruit volunteers for additional support at your nonprofit, create an appeal catered to your needs, e.g. cleanups, meal prep, farm work, etc.
Skills-based volunteering

– access employees for pro-bono support. Get professional help in translation, marketing and web design
Goods donation – create appeals for donations such as books, canned food, clothes, etc.
Donations

– receive monetary funds from corporations worldwide
Create your first activity today by telling us your needs, and we'll take care of the rest: