TELUS Proves a Purpose-Driven Company Culture Can Be a Brand Differentiator
Companies like TELUS have found that weaving giving, volunteering and grantmaking into the fabric of their company culture has far-reaching benefits like:
Broadening participation — TELUS saw team and community members log more than one million volunteer hours in one year!
Increasing visibility for their CSR program, bringing it to the attention of company leaders to garner support for continued growth
Serving as a powerful brand differentiator by creating stronger ties with both their employees and the community
Watch as Katie Griffiths of TELUS shares the results of infusing Goodness into their business's DNA, and gain insights on how to position your CSR program to be even more core to your company's success.
Interested in seeing how our solutions can support you in growing year round employee engagement? Schedule a demo.
About Katie Griffiths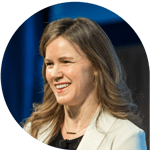 Throughout her career, Katie Griffiths has experienced both sides of the charitable sector, working for non-profit organizations in a development capacity, and as a corporate community investment professional. Through Katie's leadership as Manager, Community Giving Program Office, TELUS team members and retirees are provided year-round opportunities to enable positive social outcomes in communities across Canada and around the globe.
About TELUS

TELUS, best known as Canada's fastest-growing national telecommunications company, has over 53,000 team members across ten countries. TELUS is proud be one of the most engaged companies in the world, with a strong passion for driving their giving philosophy We Give Where We Live.