Partnering with volunteers to end homelessness: PATH San Diego
People Assisting The Homeless (PATH) is a nonprofit organization based in California, United States, with a mission to end homelessness in the state. The organization started in the 1980s, distributing food and clothing to people living on the streets of Los Angeles, and as homelessness grew, so did their organization. Fast-forward 40 years, PATH is present in 60 cities throughout California - including Los Angeles, San Jose, Santa Barbara, and San Diego.
The nonprofit organization relies heavily on the dedicated efforts of volunteers to accomplish its mission. Volunteers work closely with PATH on a daily basis, supporting and engaging in a variety of tasks to fulfill the mission and help achieve the goal of ending homelessness.
We could not do half of the things we do without the support of our volunteers. They are crucial to the work that we do. They are the heart of what we're doing - they support us in so many different ways and are always willing to just jump in however they can.
We recently sat down with Hayley Bratt, the Community Affairs Coordinator at PATH San Diego, to gain insight into their mission and learn more about their approach to engaging and collaborating with volunteers to support the San Diego community.
PATH's mission and approach to ending homelessness
How long have you been working here and what inspired you to start?
I just celebrated my one-year anniversary with PATH. This opportunity kind of just fell into my lap, I had just graduated from college and was looking to do something meaningful in my life. A former co-worker of mine told me about a position open at PATH and I applied, and now here we are.
San Diego is a huge part of my identity. I am a local and I have lived here my whole life, I have so much love for this city. Over the past two decades, I've seen the issue of homelessness become more and more prevalent in our community. The people experiencing homelessness are our neighbors and need help. Just because they no longer have a roof over their head does not mean they have stopped being our neighbors. This led me to do my part. I know that this is a huge issue to tackle, but I am determined to contribute in any way.
What's your nonprofit's mission?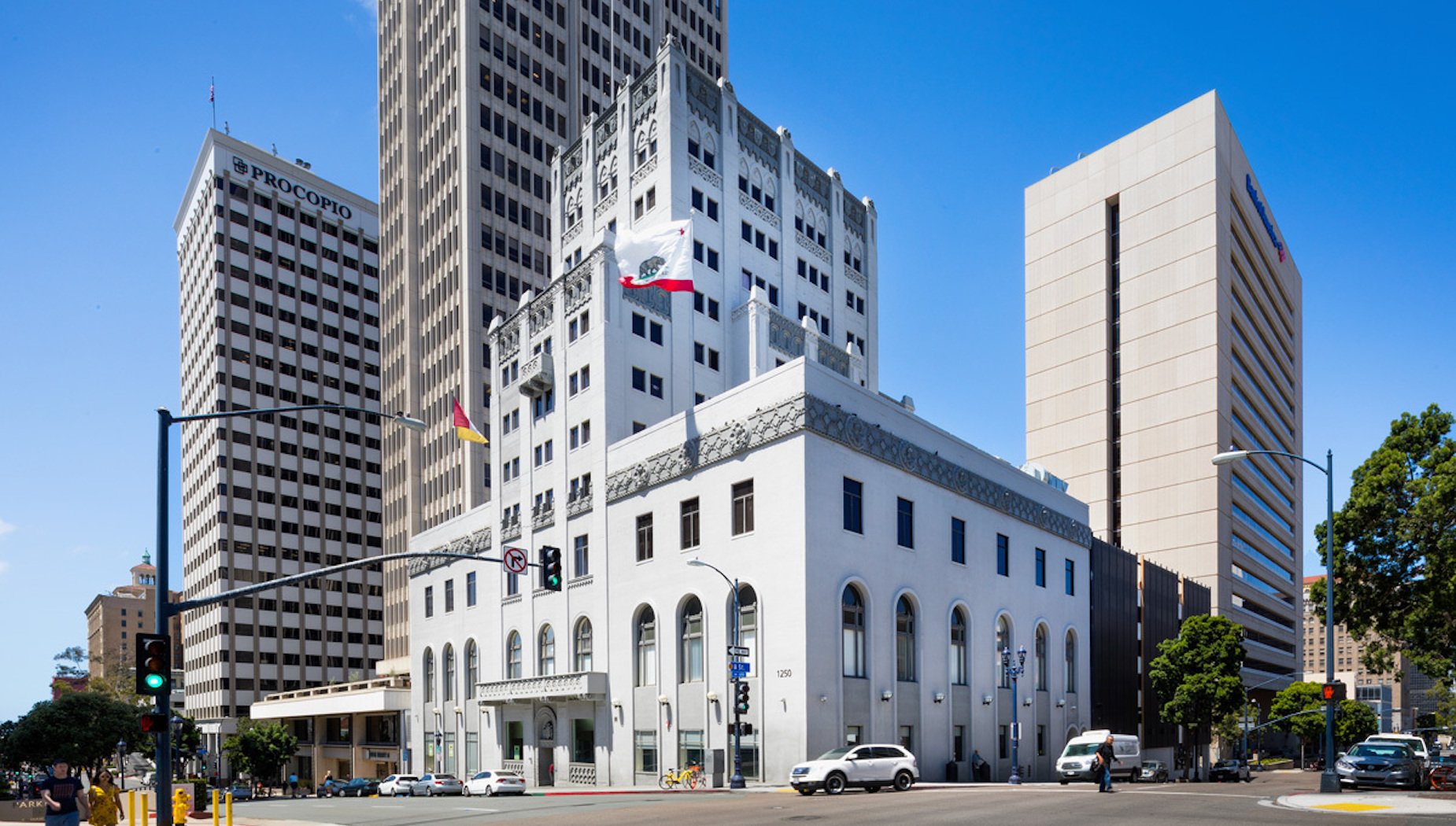 Our mission is to end homelessness for individuals, families, and communities by building and providing affordable housing, as well as offering a variety of different support services. We recognize that there is so much more that goes into the long-term prevention of homelessness than just housing, which is where all our different supportive services then come in. For example, we have housing specialists, employment specialists, and mental health specialists.

We are an incredibly complex organization made up of various departments and programs all simultaneously working together towards the same goal. And we're tackling a very complex issue, so a lot goes into it.

At PATH, we take a very humane approach here, meaning that we recognize the clients we serve as our San Diego neighbors because they are. We believe in meeting people at the stage they are in and we try to take each individual person on their own journey, whatever that may look like for them. We are committed to making a positive impact on the lives of our clients.
How do you get support for your nonprofit?

The main ways we get support are through volunteer efforts, donations, & resource donations. We have some incredible donors who've been supporting us for years and we also heavily rely on the support of the San Diego community of course. We cannot do what we do without the support of the community.

We receive resource donations that are not just monetary to keep us afloat, notably food donations, where our kitchen prepares meals, including breakfast, lunch, and dinner, for our shelter residents every day of the year. The majority of the food that they're preparing comes from local donations from grocery stores. We have various community partnerships in place with grocery stores such as Trader Joe's and Walmart and they donate food and supplies to us every week. We cannot operate without these partnerships, as 80% of the food our kitchen prepares is through donations.
Collaborating with volunteers to end the homelessness crisis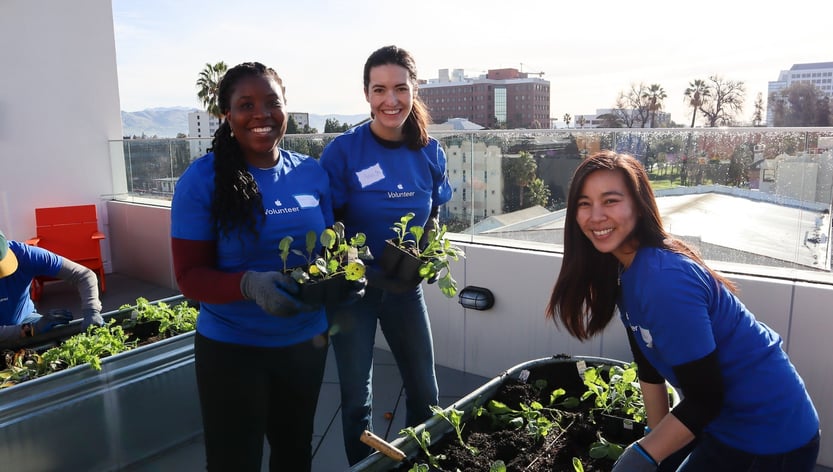 How do you attract volunteers to support your organization?
There are so many different ways in which we receive volunteers. We work with all types of groups and we're very lucky because the San Diego community is incredibly giving. As you can see, we work with corporate groups, and we also work with different schools: high schools, middle schools, elementary, and then a lot of the colleges nearby. We receive interns from these colleges every semester and host large-scale volunteer events to further engage with the community.

What's really interesting is that a lot of times we don't even get just people from San Diego volunteering. For example, this summer we had tourists coming in from different parts of the country. There was this once school group from Colorado; they were only here on vacation for a week or two. They heard about our nonprofit and wanted to help in some way. It was incredible, I was blown away! I think it's just crazy that people even want to spend their vacations trying to give.

And then we also have volunteers coming in from churches and religious groups, and then volunteering websites, our own website, and of course, from Benevity.
How do you work with corporate volunteers?
Corporate volunteers support us with many different resource drives & volunteer activities and events. A lot tend to come out and support our dinner service program, which consists of working in our kitchen at our main San Diego site and helping our chefs prepare dinner for our shelter residents before directly serving our clients. It's really incredible that our corporate volunteers are able to support our organization in this way. We are so grateful!

Given that our cafeteria only re-opened a few months ago for in-person dining, it's been so impactful as the pandemic definitely shifted the community feeling and culture here. Now we're dining in person together again, it's helping to rebuild that community feel we've been missing. And the fact that corporate volunteers are able to be a part of that is so meaningful
What are the benefits of working with volunteers?
There are so many benefits, we could not do half of the things we do without the support of our volunteers. They bring in a certain type of energy into our organization that is so needed. Seeing all the kindness and compassion our San Diego neighbors have for one another means the world to us.

They are absolutely crucial to the work that we do. They are the heart of what we're doing and they support us in so many different ways and are always willing to just jump in however they can.
How many volunteers do you need normally?
It depends on each site in California. As a ballpark monthly figure, I would say around 60+, if not more, but it does also depend on the month. For example during the holiday season, we need more support as we host different events like Thanksgiving food drives and holiday season drives, so we definitely need more volunteers then.
How do volunteers help you reach your goals?
Volunteers are incredibly fundamental to our organization. They are an integral part of our operations, and we couldn't accomplish our mission without them. For example, every week, volunteers help us pick up food donations, which is vital for providing meals to those in need. Without their help, we would not have the capacity to transport the food on our own.

Additionally, volunteers assist us with daily dinner service and provide companionship to our residents. Without their presence, we would be stretched thin and unable to provide the same level of service. In a nutshell, we would be lost without our volunteers, they are absolutely crucial to our everyday lives here.
Connecting with new volunteers on Benevity
What kind of volunteer opportunities do you post on Benevity?
We currently have a field-volunteering opportunity listed on Benevity. For that activity, we need support from volunteers to help our chefs prep food before directly serving meals to our shelter residents. Volunteers then often sit down and chat with our residents during their meal.

I think our society can turn a blind eye to those experiencing homelessness, so it's so meaningful to see our volunteers sit down with them, look them in the eye and say "I see you and I want to listen." It has such a huge impact! Afterward, they help with clean up and make sure everything is tidy.
We also have a care kit drive for a goods collection which is a huge initiative here at PATH. Essentially, they are hygiene kits in plastic bags filled with essential hygiene items such as shampoo, shower gel, toothpaste, toothpaste, hand sanitizer, etc. We need volunteers to help collect supplies and then assemble these care kits

When we have corporate employees also come to volunteer, we scatter everything across the tables, play some music, and then create kits assembly line style. Everyone has a really good time putting these kits together!
What's the impact of receiving volunteers from Benevity?
Working with Benevity has been a truly remarkable experience for our nonprofit organization. We are incredibly grateful for the support provided by the team in connecting us with dedicated volunteers on a regular basis. Our volunteers play a vital role in our mission and the ability to connect with new individuals through the platform has been incredibly valuable.
The platform is user-friendly and easy to navigate, which has helped us to reach a broader audience and bring in more volunteers. As a smaller organization, our community affairs department may not always have the resources to actively seek out new volunteers. Benevity has been a valuable partner in supporting our efforts to bring in new and dedicated volunteers, and we truly appreciate the support.
What would you say to other nonprofits looking for support?
If you are a nonprofit organization seeking support, my advice would be to not underestimate the power of your community. In San Diego, there is always a willingness to help and make a positive impact.

The key is to connect with them by communicating effectively. Clearly outline your organization's mission and the specific ways in which you are working to give back to the community. And lastly, being transparent about your goals and how individuals can get involved is crucial in attracting support and meeting your goals.
Connect with volunteers through Benevity
Benevity enables nonprofits like yours to connect with a community of passionate volunteers and access resources to help you achieve your mission (for free). Here are some examples of volunteer opportunities your organization can list on the platform.
On our platform, you can create the following types of volunteer opportunities and donation requests:

• Field-volunteering: Connect with a vibrant pool of field volunteers ready to provide hands-on support for your initiatives, from cleanups and meal preparation to farm work.
• Skills-based volunteering: Access a network of skilled professionals offering pro-bono expertise in fields such as translation, marketing, and web design, including virtual volunteers.
• Goods donation: receive items such as IT equipment, canned food, and clothing.
• Monetary donations: raise funds for your cause through global monetary donations.

Join the Benevity network today by simply submitting your volunteer needs using the form below: