Q&A: How one team realized big results through a scaled, localized solution
Equinix is a US-based company that connects the world's leading businesses to their customers, employees and partners inside the world's most connected data centers in 44 markets across five continents. They launched an international giving and volunteering program with Benevity in 2016, and the results have been impressive. Their 2016 one-month annual Impact Month campaign saw donations jump by 50%, while participation grew by 62%, and volunteer hours increased by 72% year-over-year versus 2015 (before they rolled out their international program).

We spoke with Equinix's Director of Corporate Citizenship, Sujata Narayan, about the business and social drivers behind their program, how they made it work, its impact and the value of local champions to an international Goodness program.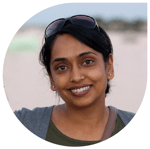 Sujata Narayan – Director, Corporate Citizenship, Equinix, Inc. As the leader of Equinix's global corporate citizenship strategy, Sujata oversees corporate philanthropy, employee giving and volunteering. She holds dual master's degrees and has extensive experience in program management in the nonprofit sector.
What motivated Equinix to establish an international Goodness program?
Two factors inspired our program. First, Equinix has had the great fortune to be a very successful company. With that success has come the desire to pay it forward and support the communities where we operate. It's the right thing to do. Second, we saw the business need to increase employee engagement. We were looking for the productivity gains and other business impacts that engagement has been proven to provide. However, over time, our motivation has evolved and transcended employee engagement to be about helping our employees connect to purpose and belonging. That focus has shifted how we think about and coordinate our program.
How so?
We want to tap deeply into what inspires and enlivens our people. We do that by encouraging them to bring their whole selves to work and to express themselves wholeheartedly through service, creative expression and wellbeing. In that process, they experience a greater sense of belonging. By focusing on our people's purpose and cultivating their sense of belonging, employee engagement just happens. Instead of a dangling of a carrot, our approach feels more authentic. And the feedback we are getting from our employees is that they like the way we are doing things.
"Our motivation has evolved and transcended employee engagement to be about helping our employees connect to purpose and belonging."
Who were the initial drivers of your program?
Our then SVP of Real Estate had the insight and foresight to start the Equinix Impact program. He did a great job of garnering both financial support and the endorsement of our C-suite. The program benefited tremendously from being located in the Office of the CEO, reporting into the CEO's Chief of Staff. This organizational structure gives us a direct line into the C-suite, which is very helpful in terms of securing ongoing funding and support. Ultimately, however, it's our employees who have grown the program through a grassroots movement.
Did you look at other solutions before you went with Benevity? What made you choose Benevity?
Yes, we looked at other solutions. But we really liked Benevity for several reasons.
We really wanted to realize maximum impact for the causes we support. So, we liked Benevity's approach of aggregating donations to cut the costs and administrative burdens on nonprofits. It was clear from the first time we spoke with the folks at Benevity that you have a holistic understanding of both business and nonprofit needs and have developed a really innovative solution to address both.
Then there was ease of use. We knew a simple user experience would help drive participation so, we looked for the the solution with the most user friendly interface. It was Benevity.
Finally, we did our homework and determined that Benevity's Spark solution was the most advanced, yet was significantly less expensive than other solutions. You can't beat value like that.
What challenges have you faced in providing localized experiences for your people in so many countries?
Different countries and regions have different cultures around volunteering and giving. We have needed to learn about those differences in order to best tap into our employees' passions.
Further, in some countries, the nonprofit sector is not as present or is differently structured — for example, GONGOs [government-organized non-governmental organization] in China. So, we had to get innovative in how we support our local employees in those countries.
Finally, prior to the implementation of Benevity OneWorld, the opportunities for international volunteering and giving were much more limited. And we couldn't offer a consistent employee experience across all locations. Benevity's OneWorld helped us achieve that, and now our program is truly global with employees meaningfully engaged in Equinix locations all around the world.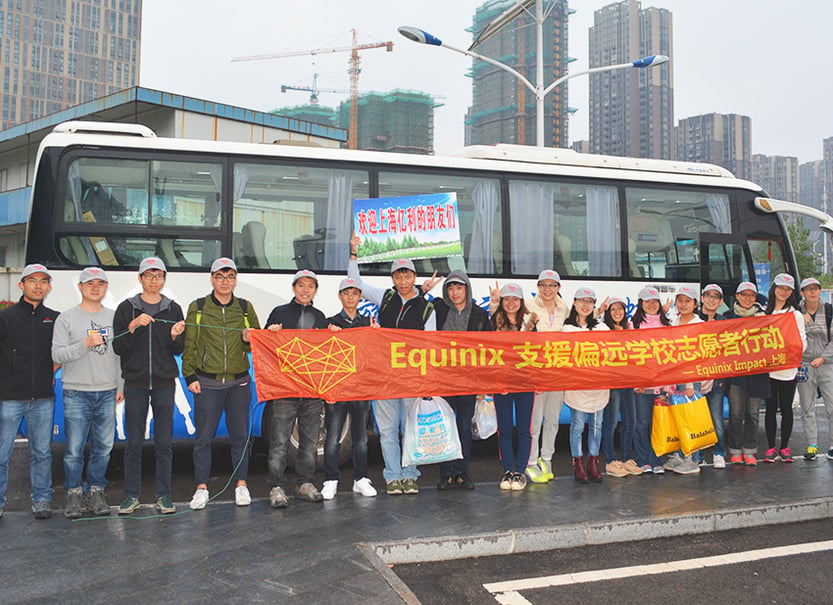 Employees from Equinix's Shanghai office traveled 250 km (one way) to distribute supplies for underprivileged children living away from their families.
So, you have to account for regional differences?
Yes. In the U.S., employees love to volunteer and donate money. In places like Singapore and Hong Kong, employees prefer to volunteer their time — they love the community-building aspect of volunteering. In Europe, employees seem to really love to participate in walks and races to fundraise for a beloved cause. And in Brazil, our employees like to volunteer and donate products in-kind like food and diapers for children. They are less apt to donate money.
"Thanks to our local champions - and great software — we run a program on four continents with just one administrator!"
We understand "local champions" are vital to your international program.
Absolutely! Our local champions are our people in locations all around the world that really make our global program happen. Thanks to them — we have approximately 70 of them — we run a program on four continents with just one administrator! They handle and coordinate volunteer events from start to finish. We simply provide the marketing materials, messaging and funding. They do the rest, from identifying opportunities to recruiting volunteers to building relationships with nonprofit partners. They are our hands and feet on the ground. We couldn't do this work without them.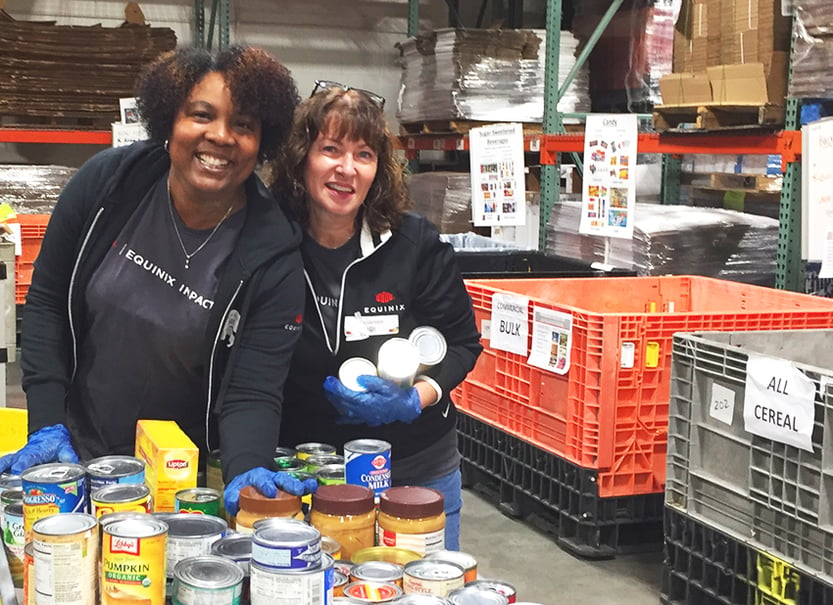 San Carlos, CA Equinix employees pitch in a local food bank.
How did you cultivate your local champions? How do you work with them?
We started with the premise that Equinix Impact should be a grassroots movement focused on our employees. We put out a call to action to employees and asked who was interested in getting involved, and about 70 people raised their hands. We held a series of calls, webinars and lunch and learns to solicit feedback and inform people about the program. This evolved, and we now supply our local employee coordinators with various resources and materials — including funding, marketing, communications — to support their efforts.
You really empower them.
Yes! We recognize they are an extension of our corporate office, and no one knows the communities better than they do. There was no way we could coordinate compelling events from a central location. And a peer inviting another peer is always going to be more impactful and intriguing than a corporate-sponsored event.
What are your local champions' most common questions or support needs?
Most of the time they want to know what types of programs we support, and we're happy to tell them that the sky is pretty much the limit — with some exceptions. They also often need financial support, and we're happy to provide them with it.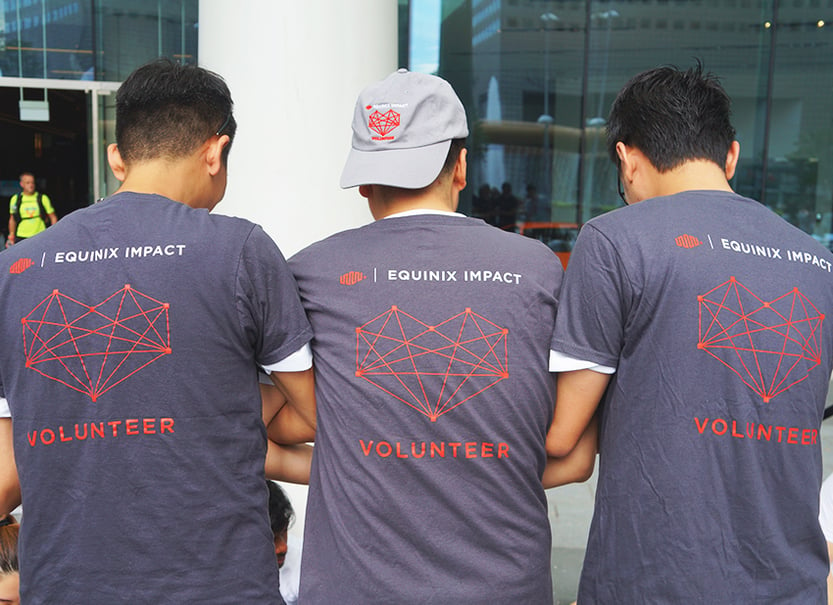 Equinix Singapore team members gear up for the annual Climb for Rainbows event supporting children with chronic illnesses.
How do you recognize your local champions?
We make sure to recognize our local champions through articles and shout-outs on our corporate internet. We also give them lots of swag. T-shirts matter! We ship them to our champions and volunteers all around the world. And we give them gift cards on the Impact Exchange for helping us coordinate local events. In the end though, it seems many of our local champions feel like the best thing we can give them is ongoing support to coordinate more events!
"Our employees are passionate about getting involved. And the C-suite is happy that the spirit of service pervades Equinix's culture."
What impacts have you seen on the company?
Over the last three years, we've seen tremendous growth in employee volunteering and giving. Simultaneously, we have also seen increasingly positive results on our employee satisfaction survey. We believe there is a correlation between those two trends. And watching the program organically double in size year over year is an indication that it's being well received.
Any employee feedback on your program?
We continue to receive feedback that employees are very excited about the programs that we've rolled out and are passionate about getting involved. And they tell us they really appreciate the openness of our program. They can volunteer and donate to any charity, and we'll support them. We let employees drive their passions and are here to empower them.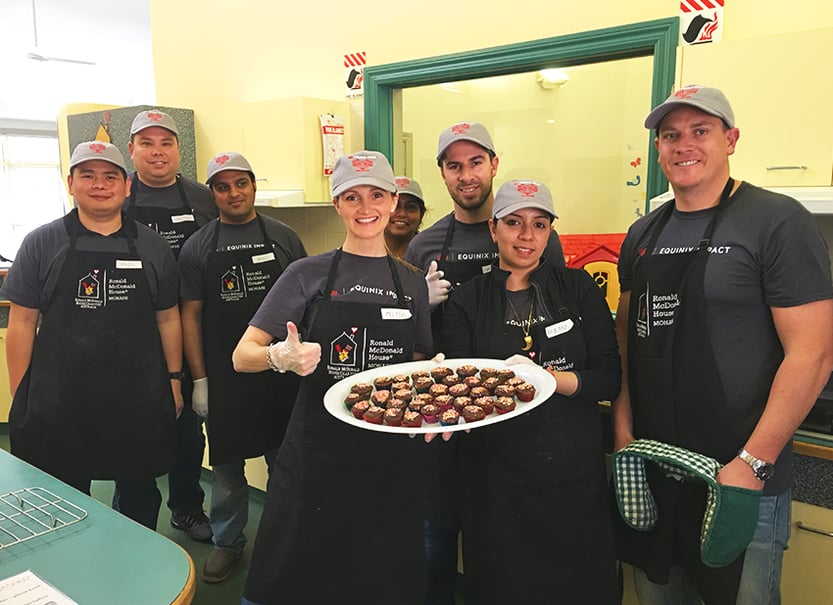 Employees from Equinix's Melbourne, Australia office prepare food at Ronald McDonald House, Monash.
What about feedback from the C-suite?
Our C-Suite is happy to see how Equinix Impact and the spirit of service have pervaded the company's culture. They have now included a volunteerism component at our annual gathering of the top leaders at the company. Many C-suite leaders also include volunteering in their annual off-sites, so that tells us they see the morale and team-building benefits of give-back activities.
Any final words?
The Spark platform is the backbone of our program. Without it, we couldn't deliver a consistent employee experience. It has enabled us to be truly global and yet, at the same time, have localized impact.
We wanted a solution that was cost effective, innovative and global, and Benevity fit the bill on all fronts! We also appreciate Benevity's excellent customer service. We've been happy since we implemented Spark in 2016!
Equinix's five quick tips for running a global Goodness program.
Don't fear rolling out your program globally, but don't expect everyone to engage the same way.
Empower the local champions and get out of their way. Nobody knows their communities better than they do.
Always start from yes. Work hard to find a reason that something can't be done.
Remember that empowerment is vital to engagement. These programs are about engagement, so it's incumbent on us (the stewards of the program) to empower employees as much as we can.
Executive sponsorship can be effective, but peer recruitment and engagement tends to win every time.
More from Equinix:
At our Goodness Matters client event, MacKenzie Kaplan talked about how Equinix used their international giving program to develop leadership skills within their company while building digital libraries in developing countries.
Get our new ebook!
The Benevity Guide to Global Goodness has vital tips to help you design a successful international giving and volunteering program. It could be just the ticket to help your employees make big impacts with global causes while you drive employee engagement and promote diversity and inclusion.
Get the Benevity Guide to Global Goodness >
Get the How to Compare International Employee Giving and Volunteering Solutions >