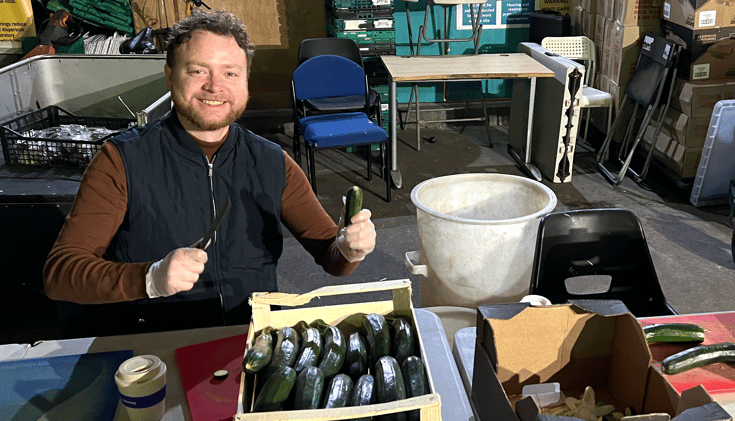 How Food for All Works With Volunteers Around the Clock
Food For All is a UK food relief charity based in central London that serves people in need. The nonprofit is an entirely volunteer-run organization, relying on the support of dedicated volunteers to prepare and serve thousands of meals every day to the homeless, elderly, and households living below the poverty line in the UK. During the Covid-19 pandemic, the charity also delivered meals to individuals isolated at home.
Committed to sustainability and zero-waste, the nonprofit uses surplus vegetables from supermarkets (that would otherwise be thrown out) to prepare their meals. The charity also relies on donated surplus fruits and other food items, all of which is redistributed to people they support through food deliveries and meal handouts.
Volunteers are key to how the organization works, but the most important thing is that people are coming here to help out and volunteering out of love. They're just giving from their heart, so that's what the whole process is about. It's giving people meaningful engagement that would benefit many people.
Their open-door policy means anyone can come help out in their kitchen or deliver meals to those who need it. Volunteers who are unable to help in-person can still get involved by providing administrative support remotely. The charity operates in 18 locations around the UK and are expanding their reach to other cities.
Our team at Alaya recently went to volunteer at Food For All in London for the day, where they helped prepare meals and see how the nonprofit runs on a day-to-day basis. They also got a chance to speak to site manager Para to learn more about their mission.
Here's a summary of the interview.
Hi Para, thank you so much for having us today! Could you tell me more about yourself and your role at Food For All?
I am a volunteer here at Food For All. As a matter of fact, we're all volunteers here because nobody is getting paid. We all do it out of love, because the word amateur is coming from the word amor. So when you do something out of love, then it has real substance to it.
We're also companions, which comes from the word pan, which means bread, so essentially we're people who share bread with each other, it's just about sharing food within the community.
How did Food For All first start?
We started in 1988 in a restaurant. When it closed at nighttime, I took all the food that was leftover, cooked something up with it and brought it to those who needed a meal. And then as time went by, we realized that there's so much food getting wasted, there's actually a scandal amount of food ends up in landfills which pollutes the underground water system.
So we divert the food from landfills and give it back to people who need it. Nowadays, more and more people are struggling financially and also struggling with eating healthy meals and getting nutritious food such as fruits and green vegetables.
How many people are you feeding on a daily basis?
Usually it's about 3,500, but during the pandemic it was over 5,000 people. We had loads of people volunteering to deliver food to the elderly and people in isolation, so that was really nice.
How do you distribute the food?
We currently drive to Kentish Town, Camden and Kings Cross. That's where the majority of the homeless and elderly people come for their meals. We also have bikes and rickshaws going to different places, sometimes delivering to day centers, night shelters or community groups.
Do you drop off to individuals as well?
During the pandemic, we had a team of volunteers on bicycles delivering meals to those in isolation every day. These people could not physically leave their house due to Covid, so they had to stay home to keep safe.
What are the main challenges that you find on a day-to-day basis in order to achieve your goals?
The main challenge is just to get out and do it, however, there are some challenges with the supermarkets, as sometimes they prefer to dispose of the food in the landfill instead of giving it to us, so we really have to convince them to donate their disposal.
How does corporate volunteering work at your nonprofit?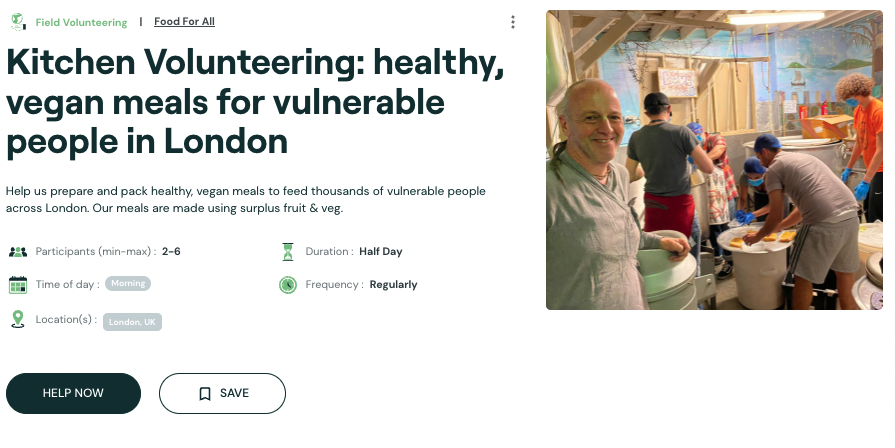 We have people come forward every day to volunteer and we have someone here who organizes the volunteers, e.g. what day they're working, their tasks for the day, which company, and also health and safety procedures. The other day we had a group from Apple come in and today we have another corporate group volunteer.
They are doing what's called corporate social responsibility. In other words, they don't have to do it, but it's a social responsibility, it's nice that they are out here doing good.
How fundamental is volunteering in the organization?
Volunteers are key to how the organization works, but the most important thing is that people are coming here to help out and volunteering out of love. They're just giving from their heart, so that's what the whole process is about. It's giving people meaningful engagement that would benefit many people.
How often do you need volunteers?
Everyday. They normally start at 8 am, but the main cook tends to arrive earlier to sort everything out and get the day started.
What are the different types of volunteering that occur?
We have all various types of volunteers with different skills to help support Food For All. For example, we have someone with great social media skills who runs our accounts, and another individual who helps keep our website up and running.
We also have a truck driver that volunteers here at Food For All. In fact, last week we drove over to Ukraine to deliver food. His company donated orders and equipment to us and gave him two weeks off so he could go to Ukraine. Essentially, we're just finding people who are able to do something or have the opportunity to do so.
What kind of volunteering Activities do you post on Alaya?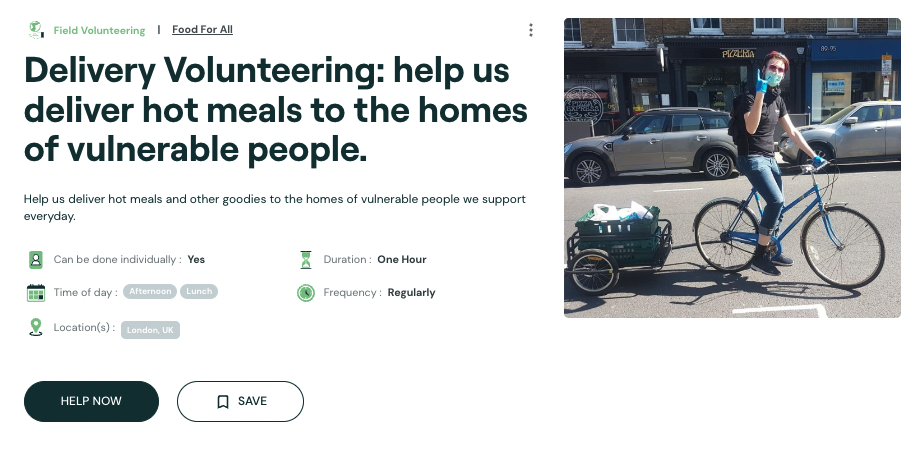 We have all sorts of Activities listed, as every individual has some sort of skill that can help our nonprofit, from distributing meals by car or bike, to chopping vegetables and washing the containers, to more admin work such as organizing corporate volunteer days and maintaining our website. Anyone can come and support us in our mission, and we welcome everyone.
Thank you so much for having us Para, we've really enjoyed helping out here today!
Recruit volunteers for your nonprofit with Alaya by Benevity
Alaya by Benevity connects nonprofits like Food For All with employees looking to do good. On our network, your nonprofit can reach more volunteers and gain more support by posting the following Activities:
We connect nonprofits like yours with corporate employees around the world who are looking to donate their skills, time and funds.
Choose from one of the following activity types to gain support for your organization:
Field-volunteering

– get hands-on support for all types of volunteering, e.g. preparing food, delivering meals, sorting donated food items, etc.
Skills-based volunteering

– access skilled professionals who can translate content, run financial audits, review legal documents, etc.
Goods donation

– collect food, toys, books, furniture, etc.
Donations

– receive monetary funds from corporations worldwide



Join the Alaya network and create a volunteering opportunity to become a part of our global community. Simply tell us your needs, and we'll take care of the rest: