How T-Mobile engaged millennials through creative giving campaigns
Engaging millennial employees and customers is becoming more important than ever as this young, socially-conscious cohort will soon comprise half of the entire workforce and a significant chunk of the consumer market. And T-Mobile is taking on the challenge to engage millennial (and non-millennial) employees across retail stores, call centers, and regional business offices nationwide.

At Goodness Matters, Benevity's annual client conference, Beret Kline and Teresa Towey, of T-Mobile and the T-Mobile Foundation, shared how they engaged their employees, customers and biggest T-Mobile fans, many of whom are millennials.
Their GivingTuesday campaign alone generated $500,000 in donations in a single day — and helped the company achieve a 77% year-over-year increase in their Social Impact program participation.
Let's hear directly from Beret and Teresa on how T-Mobile and the T-Mobile Foundation engage millennials for good: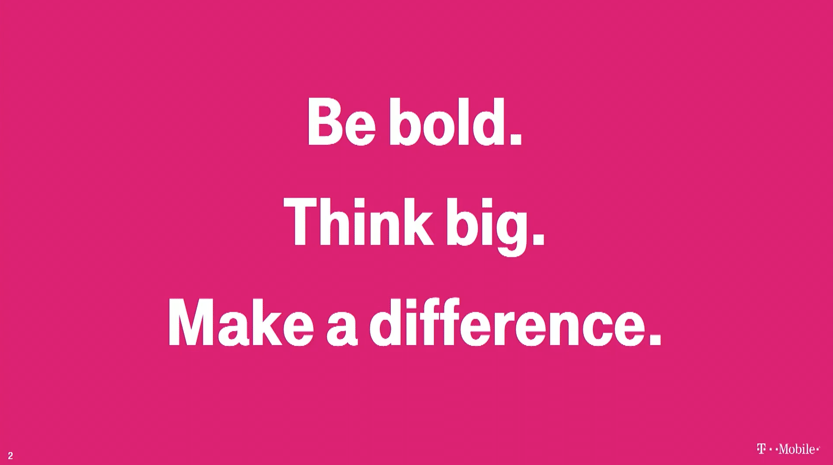 Shortly after CEO John Legere joined T-Mobile in 2012, he issued the company's Un-carrier Manifesto, in which he promised to shake up the wireless industry by disrupting the status quo, truly listening to customers, and doing what they say. T-Mobile made a promise to be bold, think big, and make a difference.
The Un-carrier philosophy of being bold and taking risks has served as a guiding principle for our social impact work, informing how we interact with our customers and employees. As we empower customers and employees to do good, we remember to be bold and think big. We'll share a couple of specific stories, but first, a bit more detail about our key audiences.
First, our employee base throughout the US is made up largely of frontline employees — those that work in our retail stores and customer care centers. Plus, we know many of our employees, and customers are millennials!

Based on that, we knew we needed to think carefully about how we engage with and motivate millennials. We all know the research from Deloitte and Cone, which tells us that millennials want to work for and buy from companies who do good. But there's another important point that's influenced our efforts more recently.
Deloitte's 2018 study showed a significant shift in millennials' feelings about businesses' motivations. Millennials believe business success should be measured on more than just financial performance – things like making a positive impact on society and the environment, creating innovative products and services, and valuing diversity and inclusion.
We paired the knowledge of what millennials want (companies that do good and are fundamentally good) with the fact that this generation has fully embraced digital communication and information sharing, and we launched campaigns and initiatives to empower and engage our millennial workforce and customer base:
GivingTuesday
To celebrate GivingTuesday 2017, the T-Mobile Foundation gave every single employee $28 in their Benevity Giving Account (a multi-use account where employees can add giving funds or receive rewards from their company) to donate to a cause of their choice.
The response was exactly what we'd hoped for, with employees saying things like "I am proud to be working for such an amazing company" and "This is true magenta spirit in action. Love this company!"
Since our employees loved this opportunity to give back so much, we did it again for GivingTuesday 2018 with our GivingOnUs campaign which invited employees, customers (and everyone else!) to join T-Mobile and the T-Mobile Foundation in this global day of giving. We engaged customers through T-Mobile Tuesdays, our weekly customer appreciation program that gives away free stuff like donuts, gas discounts and tacos.
For GivingTuesday week, we gave customers the gift of #GivingOnUs. They could open the app, click a button, and T-Mobile donated 10 meals to Feeding America on their behalf.
They could also play a game in the app for a chance to win between $100 and $1000 to donate through Benevity's Community Impact Portal, a public-facing site where your brand can connect with customers, friends and family. More than one million customers played the game on that single day!
Outside of the app, we engaged everyone else – customers and non-customers alike – on social media. For every use of the hashtag #GivingOnUs on GivingTuesday, T-Mobile donated an additional 10 meals to Feeding America.
Through these two external activations alone, we donated five million meals to Feeding America on GivingTuesday. Lastly, we engaged employees by giving every single employee $27 (or more!) in their Benevity Giving Account, from the T-Mobile Foundation.
Our goals in giving employees money to donate were twofold:
To engage our frontline employees who we know want to give back, and


To engage new employees in the Benevity system for the first time to raise awareness of our social impact initiatives.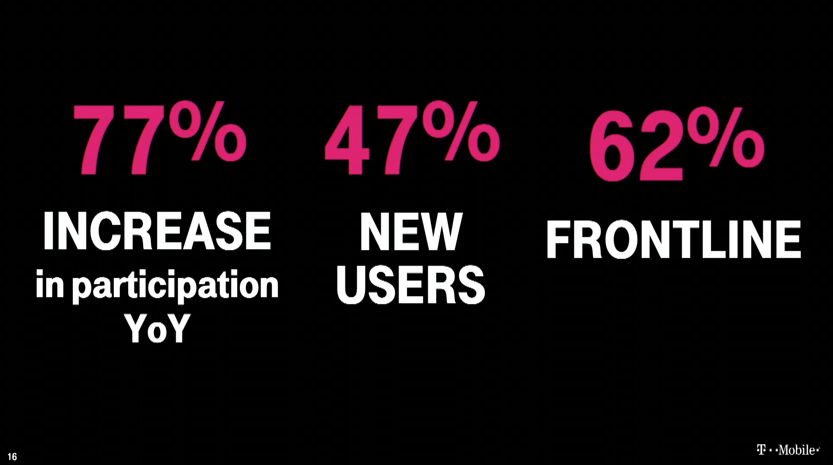 The results were incredible! On social we generated more than three million impressions and 35,000 retweets of #GivingOnUs on GivingTuesday.
More than 17,000 employees participated, which was a 77% increase from GivingTuesday 2017, and 47% of those were employees using Benevity for the first time—and 62% of them were frontline employees.
---

There are four big reasons this campaign was so successful:
1. Leadership support
​Our CEO sent an email to all employees and tweeted about #GivingOnUs. In addition, we had support from our executive leaders in Retail and Care who also communicated the campaign to their employees.
2. Internal partnerships
At T-Mobile, we have a strong partnership with our marketing team which means we can partner on consumer-facing campaigns like GivingTuesday and Earth Day.
3. Organizational structure
Our Social Impact team is housed within our Corporate Communications department, which means we have direct access to our social media and PR teams and leadership. While your company structure might not be in your control, we recommend developing strong relationships with those communications teams in any way you can.
4. Communication
We met millennials where they are and communicated digitally, namely through our T-Mobile Tuesdays app and social media. And not only did we use social media to reach our customers, but our employees too, as many T-Mobile employees follow John Legere on social to receive company news and updates.
---
The Changemaker Challenge
Our other big success story is the Changemaker Challenge, a social innovation contest that invites young trailblazers, ages 13 to 23 to submit ideas on how to solve social and environmental problems in their local communities.
Even though our talk is focused on millennials, we'd also like to highlight some of our work with Generation Z, as they are the next generation of employees and customers.
We received applications from over 330 teams, representing 42 states and Puerto Rico, and brought 60 young people to T-Mobile headquarters for the Changemaker Lab, an in-depth workshop designed to help the Changemakers take their projects to the next level. Some teams even got to pitch their ideas to John Legere and other members of T-Mobile's senior leadership team.
The Changemaker Lab gave us insight into the causes Generation Z cares about and an opportunity to better understand how they are solving social problems. They are connected and committed to building relationships, unhindered by things that would have slowed earlier generations.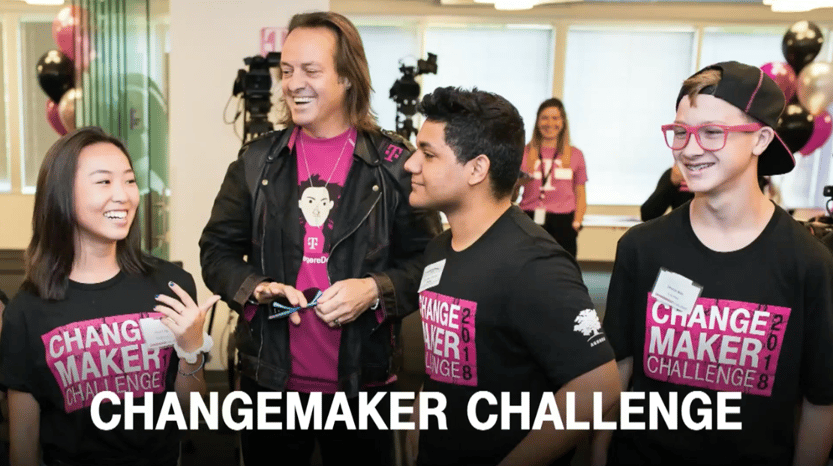 Our CEO, John Legere, brainstorming with several of the winning Changemaker Challenge teams in 2018.

Employees and leaders who connected with the changemakers were blown away by their vision, passion, energy, and action, and this generated some serious brand love for T-Mobile.
Callie Field, our Executive Vice President of Customer Care, tweeted after the Changemaker Lab about how inspired she was. And Kyla Guru, Changemaker winner and founder of Bits N' Bytes, a cybersecurity education nonprofit, also tweeted about the inspiration she gained from the Changemaker Lab.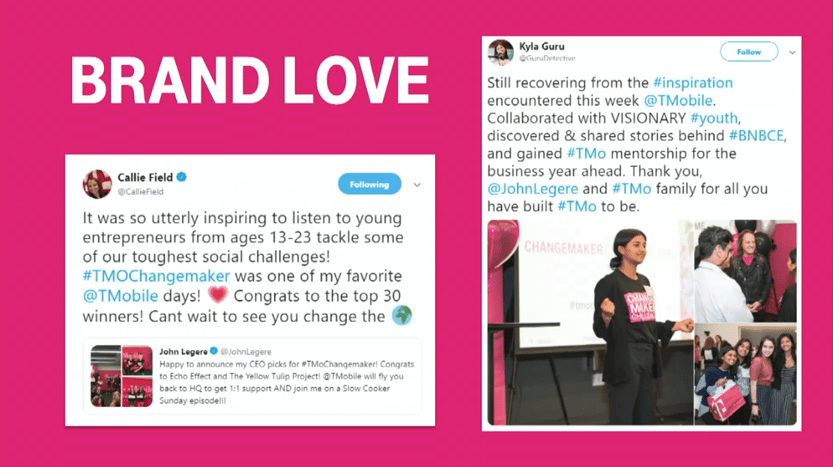 Callie Field is a Senior V.P. in our care organization, and this is an example of a tweet that she posted after engaging with the young changemakers. The second is from Kyla guru who is one of the Changemakers who actually runs a cybersecurity education nonprofit.
We want to leave you with three key takeaways for engaging millennials for good:
Know your audience. Know what your customers and employees want, what excites them, and how they prefer to communicate.

Develop strong internal partnerships. Successfully engaging millennials, or any audience in doing good, requires commitment and buy in from all different levels of the company. Help other departments realize what they have to gain, from a business perspective, by doing good.

Use social media. It's not going away and it's an incredibly easy way to communicate with millennials.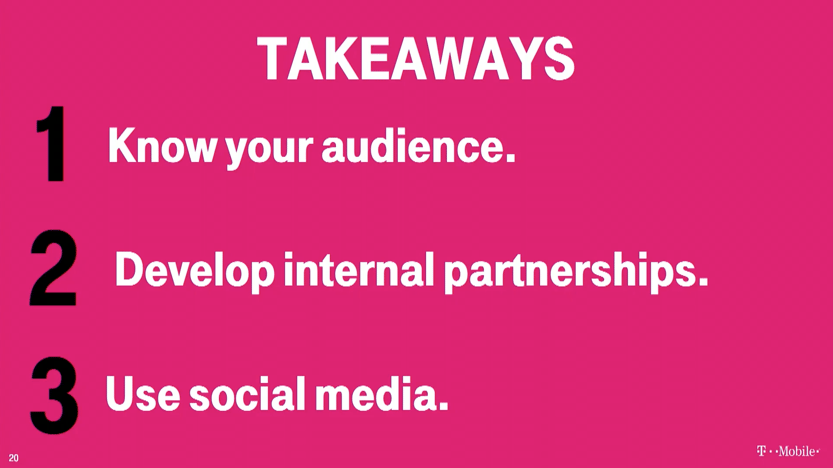 At the beginning of this post, we talked about millennials wanting companies to redefine their success and prioritize social issues in an authentic way. Well, at T-Mobile we aim to do just that through the two campaigns we shared and many more.
But, we also recognize there's a lot more to be done to engage millennials, Gen Z-ers and future generations.

So, as we always say at T-Mobile: we won't stop!

Find out more about how Benevity's solutions can help you engage your own millennial workforce! Request a demo today