5 Trends Defining the
Future of Corporate Purpose
Key insights from the top purpose event of the year, Goodness Matters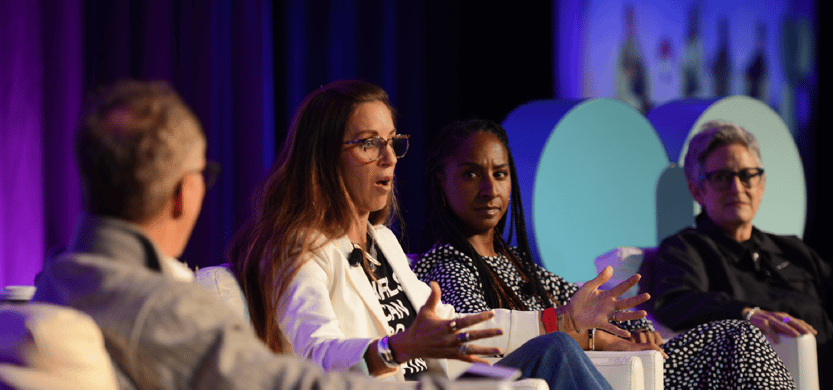 This year at Goodness Matters, Benevity's annual corporate purpose conference, we gathered with 1,600+ individuals from the world's most purpose-driven brands, causes and partners. We learned, connected and shared strategies on how we can expand the impact of Goodness and corporate social responsibility (CSR) programs in businesses and the wider world.

A lot has changed since we were last able to meet in person in 2020, and this year's conference confirmed that it's more important than ever for companies and their people to continue to push the limits on what it means to do good and be purpose driven. The event is always chock-full of trends that will inform the future of purpose — and this year was no different. Let's take a look at five of the biggest trends shaping 2022 and beyond:

1. Stakeholder philanthropy is on the rise

Businesses are changing the way they make social investments. Now, they're including more diverse groups of stakeholders including community partners, employees, customers and more in charitable giving and community investment decisions. And, they're pioneering new approaches to community investment that are democratized, trust-based, collaborative and engagement driven, giving rise to a new trend — stakeholder philanthropy.

During one of the panel discussions, The Rise of the Stakeholder, Patrice Thramer (Senior Director of Global Community Employee Engagement at Nike), Shannon Sinunu (Director of Community Investment at Apple) and Aisha Thomas-Petit (Chief People & Diversity Officer at AMC Networks) shared concrete examples of the importance of various stakeholders in each of their spaces.





According to Patrice, today's generation is the least active in history — a statistic the company is eager to change. Engaging their stakeholders is a big part of that effort — especially in their stores, where they connect employees, consumers and community partners through the Nike ambassador program. The company's largest community volunteer program, it gives Nike store associates, called Athletes, around the world an opportunity to share their love of sport with the next generation through coaching.


"When it comes to stakeholders and community, we believe that the biggest impact happens

when

they're

all brought together in one place," Patrice said.


Prior to the pause on in-person volunteering due to the pandemic, there were close to 7,000 Nike Community Ambassadors in 500 stores in 25 countries serving as volunteer youth coaches, oftentimes in the communities they grew up in.

Aisha shared how AMC Networks, a global entertainment company known for its popular and critically acclaimed content, worked directly with their creative partners, including writers, producers, directors and actors, to create content that helped promote important dialogue.

"One of the most important things that I think we can do is understand each of our stakeholders more deeply," she said.

This can be tricky when interacting with creatives who don't work for the company internally, so AMC Networks gathered feedback from them to learn more about how the company showed up in on-set environments, what issues in society and the workplace they cared about, and how the company could continue to best serve them.

Then, they were able to put pen to paper on some strategies to address the specific feedback they received — an approach that has been mimicked in their employee programs as well.

Lastly, Shannon shared insights into how Apple engages leadership, employees and specific teams like community investment to make an impact.

"Traditional philanthropy, grantmaking [and] our incredible employee giving program are one slice of a much bigger picture of how we're accelerating the pace of change on the issues we believe in," she shared.

For example, when it comes to the environment, they can look at the challenge more holistically by "impact investing," creating more sustainable products and leveraging their CEO's voice to drive change.



As part of a three-year health equity investment plan, Excellus BlueCross BlueShield launched the Health Equity Awards, an initiative where organizations could submit proposals around how they could help address racial and ethnic health disparities. They were able to make the awards as accessible as possible and diversify their applications pool. They worked with marketing to ensure they had inclusive media, connected with local foundations to help translate and spread the word, and analyzed data to see where they could engage certain counties or demographics more deeply. The results of their first-ever Health Equity Awards thanks to wide stakeholder engagement and input? Over 150 submissions from diverse, aligned organizations.
Learn more about stakeholder philanthropy and the seven elements of a successful
stakeholder philanthropy approach.


---

2. Embedding diversity, equity, inclusion and belonging (DEIB) into your business is now an imperative

The conversation during our panel The Rise of the Stakeholder flowed well into this trend, with Aisha from AMC and Shannon from Apple discussing how their creative partners called on them to build more equitable workspaces and how it's become more important than ever to create space for employees to have dialogue about the current issues that are affecting them.


A staggering 77% of employees believe it is important for companies
to allow difficult
conversations around race and social is
sues to occur
at work.

— Benevity Racial Justice Survey


We are seeing that creating a culture where DEIB is infused into the way your company functions is no longer a nice-to-have — it's essential to business success and employee affinity. The proof is in the numbers. According to a racial justice survey Benevity conducted in May and June 2021, 83% of employees said they wanted their company to prioritize addressing racial injustice in the coming year. And nearly 40% said they would likely quit if their company did not do so. One way companies can move the needle on some of these pressing issues is by partnering with nonprofits who already have a deep understanding of the challenges and are often on the ground working directly with the communities that are most affected.

The Trevor Project is the world's largest suicide prevention and crisis intervention organization for LGBTQ young people. They drive change through researching effective messaging to incite action, increasing understanding of the challenges these youth face, and supporting grassroots coalitions and crisis intervention. The key to making a sustained impact and saving lives? The long-term partnerships they've created with some of the world's biggest companies like Google.org, Kohl's and Coca-Cola — companies that are clearly creating and supporting inclusive cultures.


---
3.Employee resource groups (ERGs) are a key lever for fostering belonging at work

DEIB is more important than ever, and with it we're seeing the rise of another supremely powerful form of community and it's one that is transforming the future of work, DEIB and impact — ERGs.
What
'

s an

ERG?

ERGs, or affinity groups, are voluntary, employee-led groups of people who come together based on shared characteristics, interests or life experiences. Companies in the Benevity client community and around the world were called on to address race, justice and politics at work over the past year as well. ERGs played a key role in this transformation by helping to create spaces for important discussions, educate peers and create even greater community impact. ERGs are also driving a sense of belonging — and it's critical. Amid the Great Resignation and other threats to employee retention and well-being, ERGs are giving people the opportunity to connect, thrive and learn alongside a group of people who get them and allies who want to help make a difference. Plus, belonging is not just intrinsic to the human experience — according to McKinsey & Company, 51% of people said they had quit their jobs because they didn't feel a sense of belonging at work.

UPS, who calls their ERGs "BRGs" (business resource groups), has been working hard to help them create even more growth, innovation and impact. From quarterly forums to executive sponsorship and a playbook to help BRGs make the most of the resources available to them, UPS found critical ways to build out support systems that helped their BRGs gain even more engagement. And the effort led to some exceptional results ...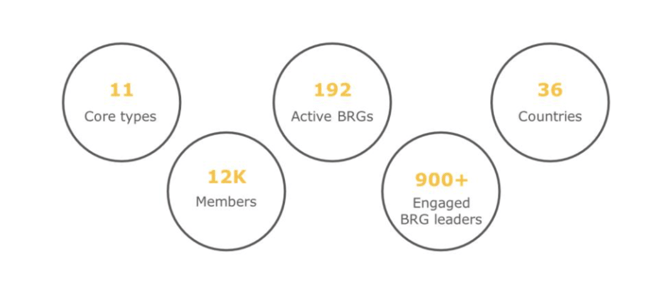 Many of the stories we've heard are telling us that ERGs actually allow people to think about who they want to be when they grow up, not just what they want to be. And some companies are already using Benevity Affinity Groups, our solution that helps companies scale, manage and track their ERGs and other affinity group programs, to drive diversity, equity, inclusion and belonging efforts!
The workplace of the future — where everyone feels a sense of belonging and community — will continue to build on the incredible impact and success of ERGs.
See How ERGs Are Creating a Sense of Belonging at Companies

---
4. Virtual volunteering is (still!) strengthening cultures


We're seeing companies continue full steam ahead, embracing virtual volunteering as a way to drive employee engagement and strengthen their culture as they wade through remote and hybrid working scenarios.

We shared some interesting Benevity data that tells the story of how virtual volunteering is playing an evolving role in employee engagement programs. For example, in 2019, before the pandemic, only 23% of tracked volunteer hours were virtual. In 2020 and 2021, that number not surprisingly soared to 78% and 73%, respectively.

We believe at least part of the growth can be attributed to more companies responding to the desire of today's workforce to experience more purpose at work. They've taken action by launching employee volunteering programs with virtual components, empowering employees to participate from anywhere, at any time, and tracking and rewarding participation.



Discover's program, You Care, We Share (YCWS) enables its employees to positively impact communities through charitable donations and volunteerism. It provides the opportunity to have the company match employee donations and offers a way to find volunteer opportunities that fit with the interest of each individual employee.
When the pandemic hit, Discover did not want to slow down any of their community work. The company evolved volunteering to meet the new realities, establishing drive-thru and socially-distanced volunteer events and offering virtual activity kit-making volunteer opportunities. These programs supported community organizations that focused on school children, children in hospitals and foster care, animal shelters, essential workers and more.
The results of embracing virtual and hybrid volunteering? Discover increased volunteer participation from 13% to 23.6% of employees and grew overall program participation from 23.3% in 2020 to 34.8% in 2021. Discover's 2021 goal was to have employees volunteer 25,000 hours which they met and exceeded, reaching nearly 38,000 volunteer hours, a 115% increase year-over-year.
---

5. Measuring the "S" in ESG


Companies and leaders everywhere are focusing in on environmental, social and governance (ESG). They're looking at how they can better align different aspects of their business — often ones that are in the realm of corporate social responsibility — to meet ESG goals.

While elements of ESG permeated many of our discussions at Goodness Matters, we had two sessions that were laser focused on the "S" (often the trickiest part!) and how we can measure it within companies.

Jason Saul, Co-Founder of Impact Genome Project and Executive Director at The Center for Impact Sciences, set the stage during his presentation, Measuring the "S" in ESG: "There's no way that we can ignore the importance of social impact anymore, and not just as a moral issue, but it is actually impacting the bottom line and top line of companies in very profound ways. And the way that we measure social impact today, or even measure the 'S' in ESG, I would argue is extremely antiquated and maybe grossly underdeveloped for capturing the true essence of what it really stands for."




Jason said we can start by looking at other movements. For example, the environmental movement found a way to quantify things like carbon as a proxy unit. What if we could do that for social impact? However, he said social impact is more about measuring outcomes instead of metrics. We need to crack the code on defining a standardized unit of social impact.

Enter, Impact Genome. This registry enables nonprofits and other social initiatives to basically "spit in a cup" by telling them their social impact DNA so that Impact Genome can standardize the various social outcomes in the world (there are just 132 common ones!). They also use this data to standardize other components like beneficiaries served, context in which the impact was made and how the program was implemented.

The power of this is not just in the conceptual engineering of it, but in what it means for companies, governments and philanthropists that are trying to solve social problems. Instead of giving a grant and hoping for an outcome, what if you could think about the outcome you want to achieve, and then find out who's best able to deliver it?

Maya Chorengel, Co-Managing Partner of TPG's The Rise Fund and Benevity board member, spoke about how the "S" in ESG is shaping business strategy in the boardroom. When The Rise Fund, which invests in businesses that are changing our world, decides which companies to support, Maya says they consider a few key questions:


What were the intentions of the founders when they created the company?

Did they really create it to generate social or environmental good?

What is the culture of the employee base and what is the company's orientation




around doing good?
The harder part is measuring that — but they've found a way. The Rise Fund grounds their methodology in academic research and evidence. So, they look at what companies are doing and then look for research and evidence that validates that the positive outcomes are coming out of that work. For example, they want to know that for every $1 they invest in a company, the impact would generate $4 of additional net positive social good in the world.
Keeping a pulse on future CSR and ESG trends
Goodness Matters plays a pivotal role in revealing the trends we know will impact the future of doing good. If you're looking for more data and stories to help deepen your knowledge of current and future CSR and ESG trends, look no further than Benevity's latest annual The State of Corporate Purpose report, with data from our community of more than 850 purpose-driven brands and their CSR programs. You won't want to miss these insights!