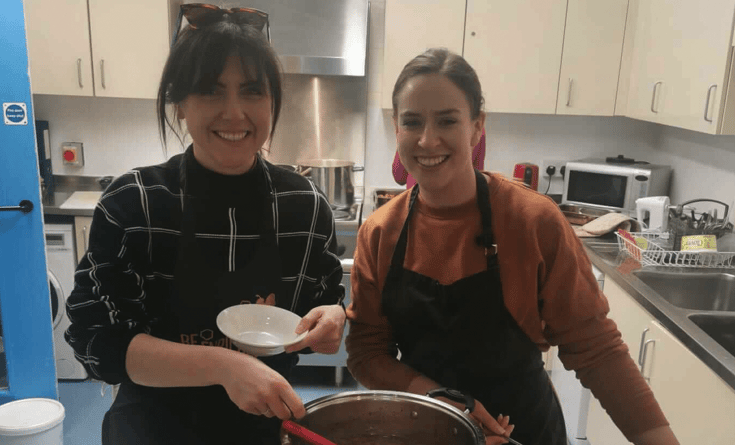 Be Enriched – The London Nonprofit Connecting Communities through Food
In 2013, Be Enriched started as a work placement program for young people. Initially, it began as a temporary project, but when the founders realized the ongoing need for food and social integration in the community, it turned into a permanent program.
Today, the organization runs two canteens offering visitors who face loneliness and food poverty a welcoming place to meet new friends and enjoy a nutritious vegetarian 3-course meal free of charge.
The canteens are sustained by donations and sponsorships and all meals are cooked by volunteers. Among the volunteers are people who use this opportunity to gain experience and build up their self-esteem to get ready to (re)enter the job market and also corporate groups who want to come together as teams and give back to the community.
To connect with corporates, they have published activities on Benevity, a field volunteering activity to help out in the kitchen (see above), and a fundraising campaign so the nonprofit can keep running their programs.
We recently caught up with the volunteer coordinator at the nonprofit. Read the full interview below to see how volunteers support their program and how Be Enriched prepares to receive them.
Corporate volunteering days are so memorable. Thanks to their support, we are able to keep our community canteens running, we are very grateful for their contribution.
Hi Kumiko, thank you for taking the time to speak with us. Can you tell us more about your role?
My name is Kumiko. I'm from Be Enriched, a charity based in Brixton, and I'm the volunteer coordinator.
We work with individual volunteers (18+), young volunteers for work placements, corporate groups, and agencies/community organizations that support adults who are unemployed and have a disability return to work to help them to increase self-esteem or help with their careers.
We are currently running two canteens; the Castle Canteen (in Elephant & Castle) and the Tooting canteen (in Tooting).
The Castle Canteen is open every Monday, excluding bank holidays between 11 am – 3 pm and we usually have a maximum of 6 volunteers in the kitchen and serving meals to 20 visitors per day/per session.
The Tooting Canteen opens every Friday between 10.30 am – 3 pm and we have a capacity to accommodate up to 10 volunteers a day, serving meals to 30 visitors per day/ session.
How do you reach volunteers?
We have a website, we're on social media, on Facebook, Twitter, Instagram, and TikTok, and obviously, we use Benevity as well.
Depending on the canteen, we can accommodate between 6-10 volunteers from corporate groups per day/session. We always try to provide the corporate groups with the wonderful opportunity to join our canteen, engage with the local community and give back.
What does a typical day in your canteen look like?
Our canteens use surplus food to reduce food waste and to be environmentally conscious.
Every session will be different because we receive different ingredients each day, so preparing the meals needs a lot of creativity and teamwork. The team needs to quickly decide what kind of menu to prepare with the food that was donated that day.
And not only the ingredients but also the canteen team is different each day. Some team members are new volunteers, some help out regularly and sometimes it's corporate groups. So every session is unique but the teams always work together very well and come up with amazing meals!
Usually, we offer a starter, a main, and pudding. And everything has to be ready for the visitors who start arriving at around 12.
It is quite a busy environment, but at the same time, it is an amazing feeling for everyone when the food is made and served.
The visitors usually give us feedback after enjoying their meals, we get a lot of compliments and big smiles!
It is also such a rewarding job for the canteen team as well. A mix of being proud of putting together a 3-course meal and the joy of successful teamwork. The volunteers are always happy to feel this sense of accomplishment and witness the positive impact that they had on the local community.
Additionally, for corporate groups, it's a great bonding experience outside of the usual office environment.
What is your experience working with corporate groups?
All the corporate groups we accommodated in the past have been fantastic! They were very reliable. Some of the corporate volunteers were excellent at cooking and able to share the recipes with the canteen team. Their passion to support the community through Be Enriched was shown in their actions which were greatly appreciated by the canteen visitors.
The corporate group volunteering day is such a memorable and amazing day for the corporate teams. And with their support, we are able to keep the community canteens running. So we are very grateful for their contribution.
How do you prepare for the corporate groups?
When the corporate group confirms their booking, we send them the necessary volunteer information. This includes the date, time, location, job descriptions, food & hygiene video links, and the kitchen safety quiz.
We encourage all canteen volunteers to have some basic knowledge of food and hygiene and kitchen safety rules prior to their volunteering day.
On the day of the session, the canteen leader will allocate tasks to the canteen team and suggest your role and a dish you need to prepare. That means you can show off your cooking skills or get creative to prepare delicious meals for the visitors! If someone is less confident in their cooking, they can work with a small team to prepare a dish.
How has Alaya by Benevity supported you?

It's just a very simple way for us to reach out or receive inquiries for corporate volunteering days via Benevity.
Usually, we receive inquiries through email and it is easy for us to liaise with the corporate groups. It is wonderful to be a part of the platform and we are grateful for Benevity' involvement and support!
Thank you for taking the time to talk with us!
Reach more volunteers on Alaya by Benevity
Did you know that your nonprofit can increase donations and attract more volunteers by simply creating a volunteering opportunity on the Alaya by Benevity platform?
We connect nonprofits like yours with corporate employees around the world who are looking to donate their skills, time and funds.
Choose from one of the following activity types to gain support for your organization:
Field-based volunteering

– create an appeal to recruit corporate groups volunteers seeking to volunteer for the day
Skills-based volunteering

– get help on specific projects from skilled employees such as web development, translation or copywriting
Goods donations

– in need of canned food, new kitchen equipment or clothes? State your drop-off point to receive donations
Fundraising

– create a fundraiser to raise money for your nonprofit
Create your first activity today by telling us your needs, and we'll take care of the rest: