Leveraging skills-based volunteers: SINGA's Approach to Fostering Entrepreneurship
SINGA is a Swiss-based nonprofit that promotes entrepreneurship, social, and cultural projects by connecting people from refugee and migrant backgrounds with entrepreneurs and skills-based professionals. The organization believes that diversity is a powerful force for economic and social innovation.
Their programs include the SINGA Incubator, which consists of a 6-month startup program designed to help entrepreneurs from refugee or migrant backgrounds establish their own businesses in Switzerland.
SINGA is present in Zurich and Geneva. To date, the nonprofit has supported 129 individuals and 30 businesses across a wide range of industries. The organization works with over 500 volunteer experts in Switzerland to empower individuals who might face barriers to success, to create their own opportunities for growth and in turn, drive social and economic growth for Switzerland as a whole.
Volunteers are crucial to our organization. Without them, we would not be able to run our programs or build a network of support. SINGA without the SINGA community wouldn't exist.
We recently spoke with Elody De Brito, the co-director of SINGA on how the organization works with skills-based volunteers through corporate partnerships on Benevity to build a support system for entrepreneurial projects.
Empowering entrepreneurs: SINGA's proven methodology

How long have you been working here and what inspired you to start?
I joined SINGA in 2018 when we launched our activities in Geneva. One of the things that inspired me to work for the organization was the way we support people with refugee and migrant backgrounds with ideas and potential. At SINGA, we believe in opening doors and providing opportunities for these individuals to reveal and realize their potential. It was this mission that initially drew me to the team, and it has kept me committed to the organization for the past four years.
What is the mission of the organization and how do you work towards it?
At SINGA, our main focus is on helping people with refugee and migrant backgrounds in Switzerland start their own businesses or become self-employed. We do this through an innovative incubator program that guides individuals from an idea to launching a product or service in six months.
We use a model of entrepreneurship to support highly-qualified people with refugee and migrant backgrounds who may face barriers in entering the Swiss job market. Through this program, we have seen firsthand the positive impact that supporting entrepreneurship can have on individuals and their integration into Swiss society.
How does your nonprofit receive support?

A significant portion of our work is carried out by volunteers. In Geneva alone, we work with over 250 volunteers who provide mentorship, lead workshops and offer one-on-one support to the individuals we serve. These volunteers come from a variety of professional backgrounds, including the private sector, banks, and consulting firms. Many of them are also entrepreneurs themselves, and are eager to share their expertise with the aspiring entrepreneurs we support.
Partnering with Benevity further allows us to reach volunteers with specific skills-set, and we also learn from the experience in managing volunteers.
Maximizing impact through corporate partnerships
How do you work with volunteers?
Many of our volunteers have been involved with us for several years and we welcome new volunteers every year. Our process starts with an interview to introduce them to our values and mission. We understand that entrepreneurs are busy, so we offer flexibility with volunteer schedules. For example, the mentors commit to support one participant for six months, while workshop leaders organise a session on digital marketing and experts offer several individual sessions in a row about legal aspects or finance.
SINGA means "connect" in Lingala, which reflects our focus on connecting our people with entrepreneurs to support them develop the skills and network they need to start a business in Switzerland. This is a mutually beneficial relationship, as the volunteers also gain experience in diversity and inclusion. We believe this is why our model is successful.
How do you attract volunteers?
One of the keys to our success is our network of mentors. They connect us to other people within their networks which in turn creates a snowball effect. We have been able to establish ourselves in Geneva and Zurich, and our reach is expanding globally. We are now part of a larger movement. The majority of our collaborations come through personal recommendations, as people who have already worked with us want to share their positive experiences with their own networks.
How do volunteerssupportyou achieve your goals?
A significant portion of our organization's value is derived from the work of our volunteers. Our team ensures that sessions are organized, knowledge is shared, and everyone is comfortable participating. One of the unique benefits of our program is the diverse background and expertise of our volunteers. Each week, a new volunteer comes in and shares their knowledge with the group. This is extremely enriching, both in terms of knowledge and human connection.
Building strong partnerships with skilled volunteers on Benevity
What kind of volunteer opportunities do you post on Alaya by Benevity?
We have many volunteer opportunities published on Alaya by Benevity, 17 to be exact. We first started publishing on the platform in 2018 when we first launched and formed our partnership. The platform has enabled us to connect with corporate volunteers with ranging from different skills. We also have several activities that are always running, so volunteers can join at any time throughout the year.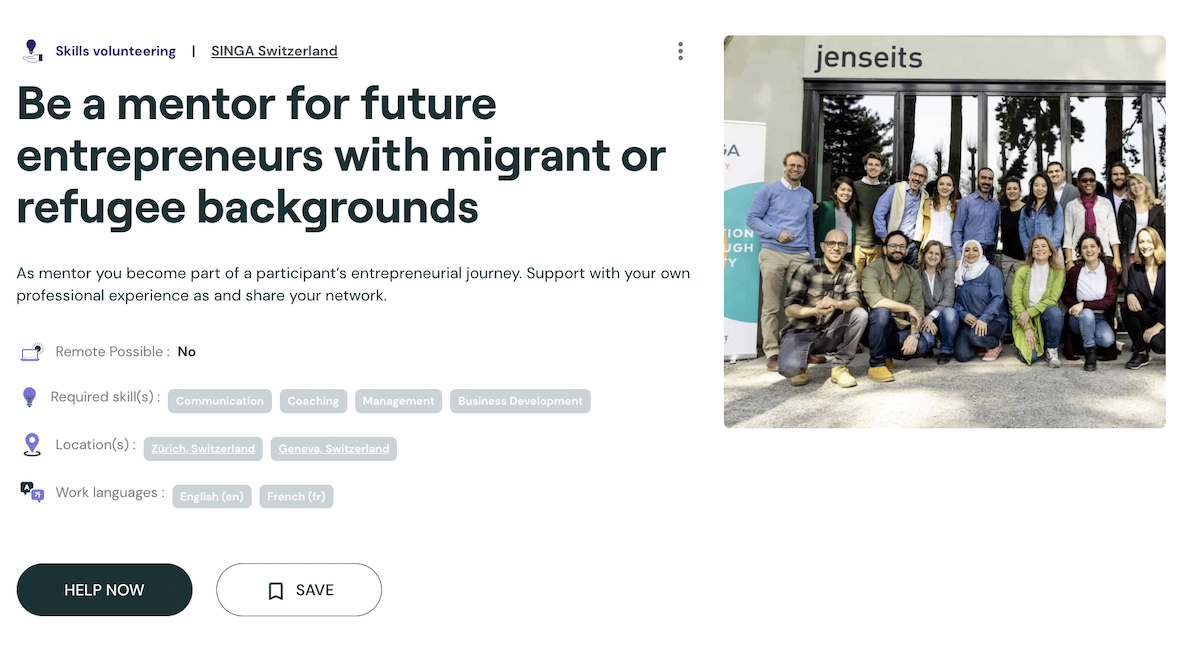 As we are present in both Geneva and Zurich, Benevity allows us to involve local volunteers in our activities. Our experience working with volunteers through Benevity has been positive, as it is easy for us to quickly connect with interested volunteers and organize meetings to define the scope of their involvement.
What's the impact of receiving volunteers from Benevity?
Through Benevity, we have met a diverse group of volunteers, including mentors, participants in our boot camps, and supporters in areas such as finance. They have helped us improve our programs and tackle challenges. What motivates many of these volunteers is the concrete impact they can make with their expertise. For example, a finance professional can support an entrepreneur in the same field.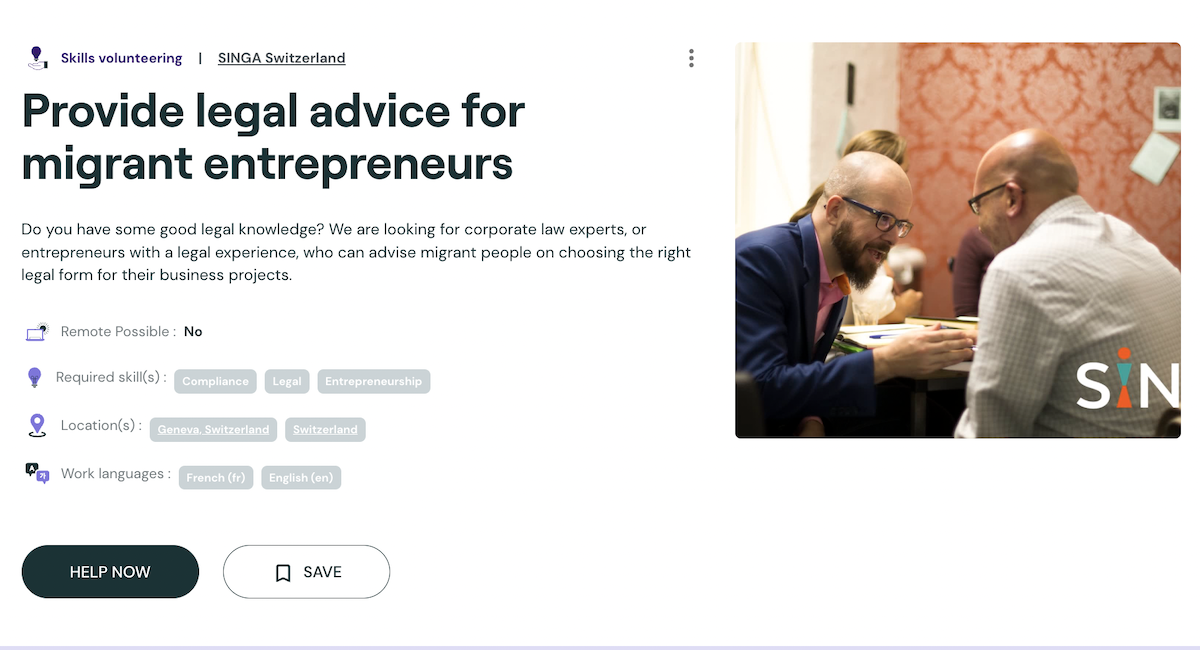 We are working to build stronger partnerships with teams within companies. We've had success in this area through collaborations in communication and finance thanks to Benevity. When a team approaches us and wants to support us through volunteer work it is powerful, because it brings the whole team together and allows us to achieve common goals. We find this type of interaction to be very rich and human.
How fundamental are volunteers to your organization?
Volunteers are crucial to our organization. Without them, we would not be able to run our programs or build a network of support for the entrepreneurs we work with. The community of volunteers is vital to the success of SINGA, SINGA without the SINGA community wouldn't exist.
What would you recommend to other nonprofits kind of looking for support?
I advise building solid communication with volunteers. We often receive positive feedback from volunteers in the private sector who are not used to working with NGOs or non-profits that they appreciate our efficiency and professionalism in our collaborations. With new joining volunteers, we communicate effectively through short and regular calls, respond quickly to questions, and build trust with them.

We make sure that they have all the information they need to be prepared, and understand the scope of their involvement and how they can support the entrepreneurs we work with. We also understand that sometimes getting involved with volunteering will help them hire new individuals. Through this process of connection, creating space to meet and facilitate entrepreneurs is what makes us achieve our mission.
Elevate Your Nonprofit's Impact: Partner with Corporate Volunteers Today
Benevity partners with nonprofits like SINGA to help your nonprofit connect with corporate volunteers looking to donate their time and skills. Here are some examples of volunteer opportunities your organization can list on the platform.

By becoming a part of the Benevity network, your nonprofit can tap into a wealth of resources and support to further your mission. On our platform, you'll have access to:
Field-volunteering: Connect with a pool of volunteers who are ready to provide on-the-ground support for your organization's initiatives, such as cleanups, meal preparation, and farm work.
Skills-based volunteering: Access a network of skilled professionals who are willing to offer pro-bono support to your organization. Our network includes experts in fields such as translation, marketing, and web design.
Goods donation: Take advantage of donations of tangible items such as books, canned food, and clothing.
Monetary donations: Raise funds for your cause through donations from corporations across the globe.
To get started, all you have to do is submit your organization's volunteer needs using the form below, and we'll take care of the rest.