8 simple steps to create a CSR strategy
Get your CSR program started
Corporate social responsibility (CSR) is becoming a core business strategy for many companies. It's proven to increase customer loyalty, retain employees and increase the bottom line — all while doing incredible things for the world.
Nearly half of all consumers are looking toward brands to lead the way in making the world a better place. It's not only consumers; a Glassdoor survey found that 75% of employees between 18 and 34 expect their employers to take a stand on important issues. The influence businesses have and the responsibilities placed on them today are massive.
Before diving into a corporate social responsibility initiative, it's important to take a step back and consider developing a complete CSR strategy. This article will help walk you through how you can implement a successful CSR strategy for your company.
What is a CSR strategy?
A corporate social responsibility (CSR) strategy is the total plan a business has to build, execute and optimize its CSR initiatives.
There are four types of CSR, and a CSR strategy will help you define which one is best for your business, determine the ways in which you can implement it and track the results of your efforts.
The four areas of CSR are:
Philanthropic responsibility
Environmental responsibility
Ethical responsibility
Economic responsibility
A good CSR strategy builds a business case around how your chosen areas of CSR can integrate into your company growth plan. It will make sure that your initiative stays on track, hitting every KPI along the way.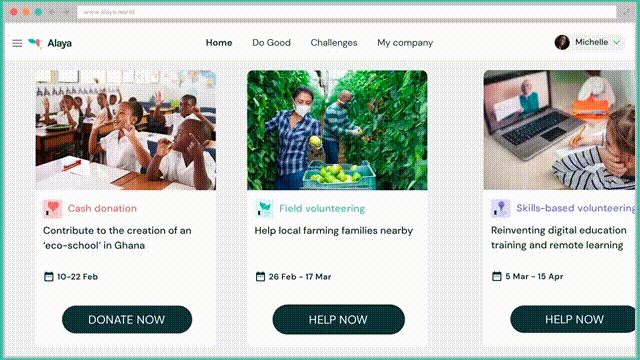 Why is a CSR strategy important?
Having a CSR strategy is essential to ensuring your business delivers effective corporate social responsibility initiatives. A CSR strategy will enable your business to remain goal-driven in its CSR initiatives and, ultimately, be successful.
When you create a CSR strategy, you'll align CSR with other business goals like improving employee engagement, increasing investor appeal and solidifying your brand reputation. CSR done well can indirectly (positively) affect a number of ROI-centered goals.
How does CSR integrate into business strategy?
Linking your CSR strategy to your company's purpose and values is vital. Once you've identified them, you'll be able to align your CSR strategy to them. You can then show how your CSR program is contributing to your long-term strategy, helping to support continued investment.
There are a few ways CSR can integrate into business strategy. It depends on your company's needs and goals; for example, whether it's to have an impact, engage and retain employees or engage consumers.
CSR can help with employee retention and employer branding, so it can be aligned with your human resources strategy.
It's also shown to increase customer retention and loyalty, so it can integrate into your sales growth strategy or customer success strategy. In fact, 68% of online consumers in the U.S. and U.K. would consider ending a relationship with a brand because of poor or misleading CSR.
Or, if your business is seeking investment, it's worth highlighting that companies with global sustainable development strategies are more likely to win investment opportunities.
The fact is, CSR can actively help a business work toward a larger profit margin while doing great things; it's a win-win.
Who decides the CSR strategy?
Developing a CSR strategy should be a collaborative effort. However, the project will need one core manager to lead the way, assign responsibilities and ensure everyone stays on track.
Some companies have a CSR department, while others assign CSR to Human Resources teams or Office Managers. Depending on your CSR goals, it can also be the responsibility of your Marketing or Communications teams.
Deloitte found that CSR is now a "CEO-level business strategy — defining the organization's very identity," and 46% of survey respondents said "CEOs and top executives play the most prominent roles in driving societal impact," or they are the main drivers of CSR strategies.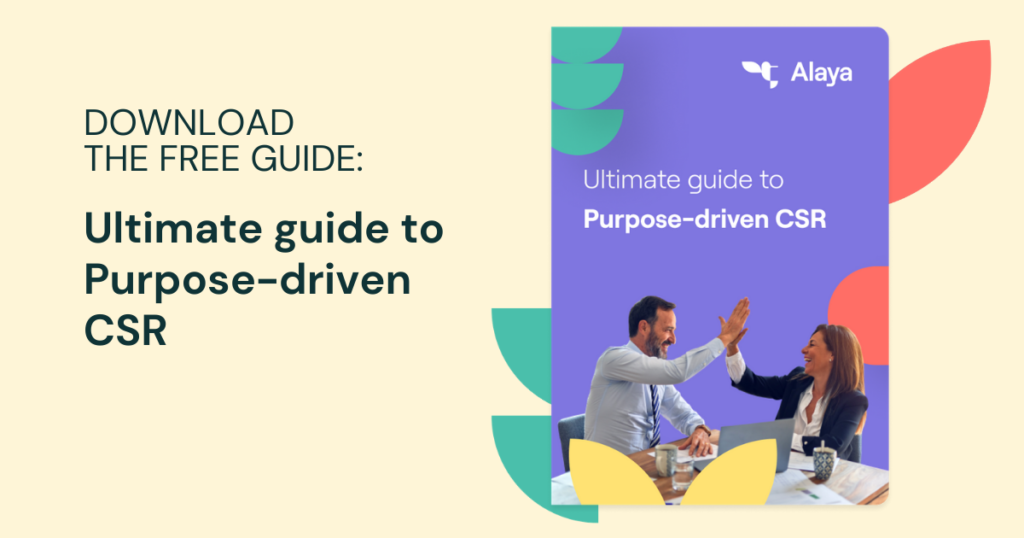 Download the free guide
How to create a successful CSR strategy
Above, we looked at what a corporate social responsibility strategy is. Here are the steps you'll need to take to ensure your strategy runs smoothly.
1. Define the concept of CSR
Especially today, CSR can mean different things to different people. A person's culture and past experiences with CSR will help determine their opinion and definition.
At this stage, it will be important to speak to and understand all stakeholders' concerns; leadership, employees, consumers, professional organizations or unions, local communities and environmental groups. Once you've understood their concerns, you can consider where there is a match and how your CSR program can address these.
Once you know everyone understands what CSR is, you can start discussing it without bias or misconceptions. You can define — or redefine — what CSR means to your business and ensure you have everyone's buy-in.
2. Understand the benefits of CSR
Before you start developing your CSR strategy, you'll need to get the project approved with buy-in from internal stakeholders.
It's important to spend time researching the benefits of CSR and finding examples of businesses that have profited from having a successful CSR plan in place.
Once you have an idea of the ways your company can benefit from CSR, you can work on a business case that will be specific for your company.
3. Get project approval
Launching a CSR plan will require a certain amount of time and budget. You can use tools; however, until you get to that point you're going to need people power.
When putting together your business case for implementing a CSR strategy, ensure you include all of the potential benefits a CSR program can bring to your company.
Source: Unsplash
Your business case doesn't need to include any initiatives you'll be launching or even the tools and people required. It can be broader, covering what CSR will do for your business and the initial resources that will be needed.
4. Set project goals
With your CSR business plan in place, you'll be ready to set goals. Setting goals and KPIs will be important for demonstrating your strategy is positively impacting your business and that your CSR project is on track.
In the early stages, these goals can be anything from winning board members' buy-in to having 100% of employees understand what CSR is or hosting meetings with potential CSR SaaS providers.
Once your program has been launched, they can be more KPI-oriented like employee engagement rates, online brand sentiment or lower customer churn.
5. Run a current CSR analysis
Conduct a full review of any CSR initiatives you currently have running, be it officially or unofficially, within your company.
Perhaps employees have already set up something that could grow bigger with new support from the company? For example, fundraisers like bake sales, community running groups, volunteering days, in-office recycling, meat-free Fridays or eliminating single-use plastics.
Also, think about existing programs and events you may have, such as an employee of the month award, team brunches or well-being initiatives.
If any past CSR programs didn't take off, then look at the project tools and communication styles involved and try to identify the problem.
Look at all of your current areas of CSR and note what you currently have. Bring these pieces together to inform your strategy and connect to what your employees are interested in and the broader business strategy, including long-term goals.
6. Research your CSR initiatives
You've established the benefits that CSR can bring to your business, you've won company buy-in and now it's time to identify your initiative and digital CSR tools.
This stage includes researching social and environmental initiatives that you think would be a good fit for your company's mission and vision, as well as those that align with your employees' values.
Your corporate social responsibility research can also involve examining what other companies in your industry are doing. How are they aligning CSR to their company purpose? This could inspire some great ideas or possible collaborations of your own.
Lastly, think about the tools you may need to support your CSR efforts. Consider technology that empowers your employees to take the initiative and communication tools to help you stay on top of everything.
7. Launch your CSR campaign
Once you've done all of the above, you should be in a comfortable position to launch your CSR campaign — this is potentially the most important part of your CSR plan.
You'll need to clearly communicate your CSR launch to the right stakeholders. These will include:
Employees
Shareholders or investors
External stakeholders, partners and local communities
The press
Customers
Fans and followers
Make sure you have a clear communication plan with priorities for this group so your initiative launches with maximum impact. For example, your employees will need to know the ins and outs of your initiative before your fans and followers.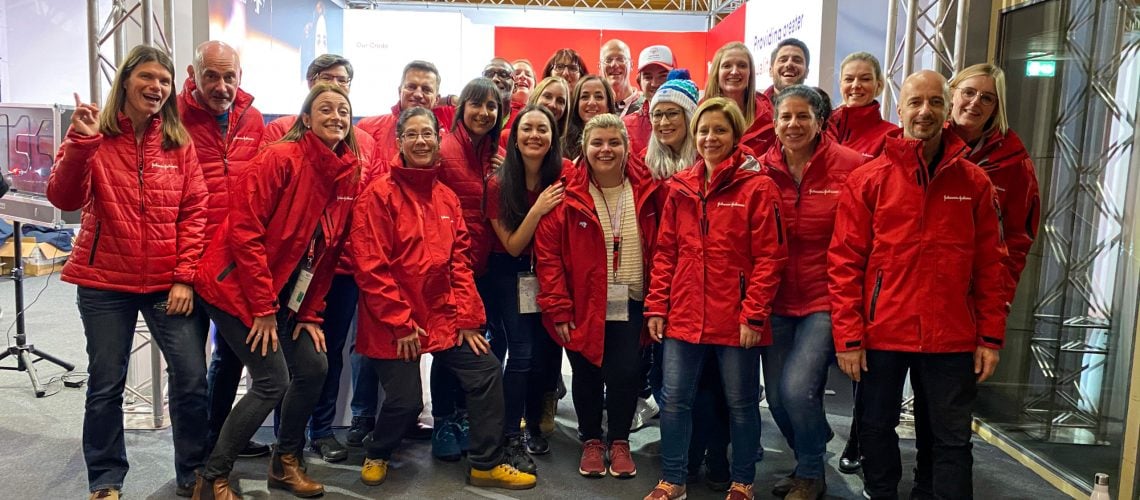 Source
8. Manage your program to success
Next to consider is the maintenance of your CSR program and campaigns. What KPIs or goals have you set?
Consider your larger corporate social responsibility mission, but also consider the smaller KPIs and data points that help you get there. For example, if your initiative was to plant 100 trees — with one planted each time an employee rode a bike to work instead of driving:
How many trees have you planted?
How many individual employees have biked to work?
Has your employee engagement rate and happiness increased?
It's a good idea to collect qualitative feedback alongside quantitative feedback. Ask employees how they're feeling about your CSR initiatives. If they're not engaging, then how can you adapt your activities to make them more relatable, offer them more choice and win employees' interest?
CSR strategy best practices
When creating your corporate social responsibility strategy, there are a few best practices to help make the process smoother and more efficient.
Define your WHY: Your CSR strategy needs a reason for being. From day 1, align on the purpose and vision for the strategy. It will help define every step you make in its creation.
Assemble a stellar team: Efficient CSR initiatives need top talent to get them up and running. Assemble an internal team from multiple departments to help you build your strategy. Socially responsible companies start with socially responsible employees.
Ask for feedback: For your CSR program to be successful you'll need feedback. This comes from your employees. Ask them what they would like to see and understand the social or environmental challenges they're passionate about.
Strategize & benchmark: Look toward socially responsible companies for guidance. All of the best CSR leaders had to start somewhere. See which ethical business practices are working well for similar companies, understand their successful CSR initiatives and benchmark your own strategy against them.
Start with a soft launch: A strategic corporate social responsibility launch is released in phases. Get your internal CSR leaders aligned on the launch calendar and start with a soft launch. With feedback given at each step, this will give your team time to adjust your strategy accordingly.
Launch with a stellar campaign: If you've followed our steps and best practices, your CSR strategy will give your business a competitive advantage and you will start seeing social or environmental benefits. Eventually, you'll see a result in your financial performance.
Wrapping it all up
Implementing a CSR strategy is important for ensuring your corporate social responsibility initiative is effective.
By following the eight steps above, you'll be giving your CSR program the sturdiest foundations possible — benefiting your business and the causes you're supporting.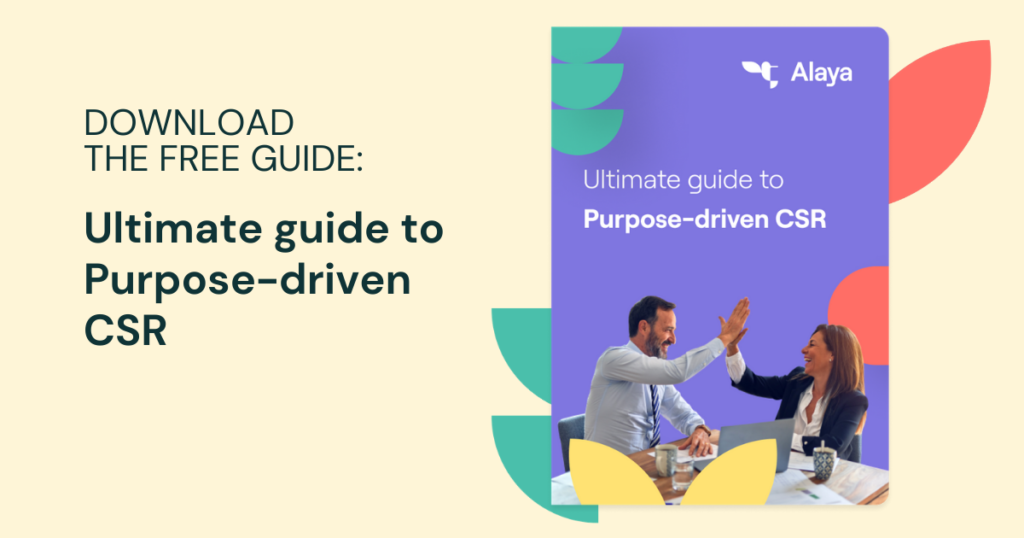 Download the free guide
Corporate social responsibility (CSR) FAQs
What is a CSR strategy?
A CSR strategy covers every aspect of your corporate social responsibility initiatives. The strategy is the key document to tie your CSR program and activities to your company's larger business strategies and ensure your corporate philanthropy remains on track.
Who creates the CSR strategy?
The CSR strategy is usually created by the CSR department, Human Resources and/or Office Managers. These teams will often work with CSR service providers, like Benevity, to align on strategic planning, CSR activities, sustainability initiatives and key performance indicators.