Announcing the 2022 Goodies Award Winners!
Benevity's Corporate Goodness Awards, also known as "The Goodies," celebrate the bold, innovative, inclusive and creative ways our clients are making a difference in the world — and how they inspire other people through purpose.
The impact that companies in the Benevity community have been creating over the last two years is incredible. Together, the Goodies finalists contributed a total of $145 million in donations, awarded $69 million in grants and tracked more than 2 million volunteer hours in 2021 alone.
Congrats to the 2022 Goodies winners announced at our annual Goodness Matters conference in San Diego, California: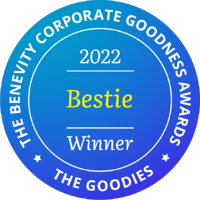 The Bestie Award — F5
For best-in-class approach and overall impact

A big high five goes to F5 for winning the Bestie Award for best-in-class approach and overall impact! This is a company with purpose at its very core, and the reason for their program's success is twofold: their leaders believe in it, and their people drive it.
F5's corporate purpose program is 100% employee directed, and their leaders celebrate employee purpose right alongside employee performance. It's making a huge difference for their business, and more importantly, their employees and their communities.
When F5 started building their social impact program in 2019, they began with a global listening tour with one-on-one employee conversations and focus groups.
Today, they have a global employee committee that leads the strategy of their granting program. And each quarter, they award five community impact grants to nonprofits their coworkers are deeply involved with. To date, they have awarded $250,000 in community impact grants, recognizing F5ers and supporting the causes most meaningful to them.
Their weeklong GivingTuesday campaign encourages their people to share and promote their favorite nonprofits. In 2021, F5ers from 45 different countries participated, raising over $664,000 in seven days, and a total of $1.4 million has been raised over three years. In 2022, 1,989 nonprofits in 84 countries have received donations from F5ers.
And while the numbers are impactful, the most meaningful element to F5 is that their people are gaining a sense of self-worth and self-efficacy at work and in their lives. 87% of their employees favorably rate ''F5 has a great culture," and 88% of employees favorably rate ''I am proud to work for F5'' — and a big reason for that is the company's commitment to purpose.


---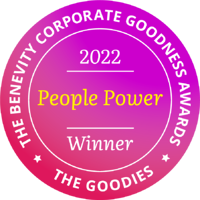 The People Power Award — Atlassian
For promoting purpose through people's passions

Atlassian was recognized for taking a very intentional approach to driving employee volunteering and giving participation.
When volunteer participation plummeted due to lockdowns and office closures, this company didn't give up. They doubled down with more volunteer opportunities, with a greater focus on remote and asynchronous activities. The result? An impressive 80% volunteer participation!
And with help from their global employee champions and committees, Atlassian put the power in the hands of their people to take action on critical social issues, including racial equity and steps toward Indigenous reconciliation.
Atlassian employees also create a lot of their own giving opportunities. Like Jake, a project manager who has a partner with multiple sclerosis. He organized a company-wide fundraiser that brought in over $50,000 for a cause he deeply cared about, while bringing much-needed awareness of the disease.
By enabling employees like Jake to create their own giving opportunities, matching their skills to volunteering needs and empowering them to be part of granting decisions, their people aren't just making a big impact. Despite two years apart, they also feel a deep sense of belonging and connection.
---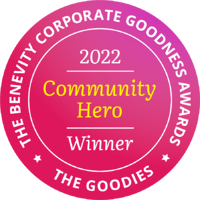 The Community Hero Award — CITGO
For best-in-class approach to community investment

CITGO was recognized for their deep partnership with their community partners and people.
No one knows their communities better than the employees and nonprofits on the front lines, so CITGO takes an employee-led and trust-based approach to granting. They allow their charitable partners to have flexibility in how they spend funds, whether it's to serve more people, scale up or support nonprofit employees.
And they've expanded their program to include volunteer acts of community service, too. Their Act of Goodness campaign allowed employees to count acts of service within their communities such as fundraising, delivering meals to neighbors or giving blood as TeamCITGO volunteer hours. Each employee who volunteered more than 30 hours received $200 in donation currency.
On top of that, they gave every employee $50 to donate to a cause of their choice to deepen engagement and learn about what their people care about, so they can put granting dollars behind it. Talk about meaningful stakeholder engagement!
---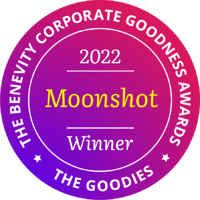 The Moonshot Award — Gibson Energy
For boldness and creativity
Gibson Energy was recognized for their bold and innovative approach to corporate purpose.
It's fitting that their program motto is to do things boldly, inclusively and creatively. They shot for the moon when they set a goal to get EVERY employee involved in Goodness. And, in 2021, they came very, very close to that moonshot, engaging 96% of employees overall — and 100% of remote employees!
When their program data showed that the lowest participation was among field workers, it wasn't a surprise — it's no secret that it's tougher to engage remote workers — but they didn't dismiss it as a common problem. They got hyper focused on how to provide opportunities that everyone could get involved in, like mailing out supplies to create thank-you cards with their families, and working with charitable partner STARS (an air ambulance charity), to bring volunteer opportunities to their most remote employees.
In a hybrid world where more and more employees are considered "remote," Gibson is showing that a little creativity, and the right focus, can go a long way. They've reenergized their program and met with more than 20 other current and prospective Benevity clients to share how they are achieving incredible results!
---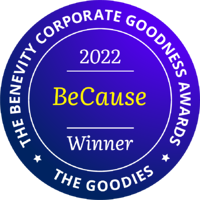 The BeCause Award — PagerDuty
For dedication to causes
Awarded to PagerDuty, the BeCause Award recognizes a company whose dedication to causes is bettering the charitable landscape for all.
This company's business is built on responding to the unpredictable, so they wasted no time supporting their time-critical health partners to address vaccine inequity, as well as the downstream effects on access to care.
To ensure their partners could focus on their missions and scale their impact, they introduced an integrated philanthropy model that includes funds, free products and pro bono technical expertise. And because PagerDuty takes a trust-based approach, their grants are 100% unrestricted, so nonprofits are free to use the funds to address their most pressing needs.
PagerDuty also leverages Spark for insights to grow their storytelling and positive feedback loops to their charitable partners and people. Employee sentiment on PagerDuty's program is high — 90% of their company believes the work they are doing is making a difference, and 92% of the company has either donated or volunteered in the past year.
---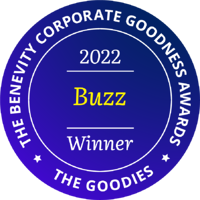 The Buzz Award — Hootsuite
For catalyzing purpose through communications and storytelling
Hootsuite was recognized for catalyzing purpose through rich storytelling.
They leaned hard into branding and storytelling as an essential strategy to engage their employees and leaders in the launch of their new program. And they ended up outperforming every benchmark in just four months.
As a company that many other companies rely on to help create buzz on social media, they are well aware that you can't always do everything yourself. So one of the best things they did was partner with the experts on their brand team to develop a logo, animated GIFS and other elements they could use to create their own materials in a scalable way. And they then tapped into that team's talents again to produce super-inspiring and shareable videos that highlighted employee stories across every internal channel.
Their people love their program and love to share it with the world on their social channels.
---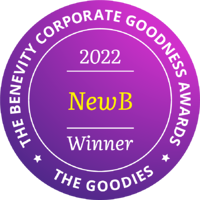 The NewB Award — National Australia Bank and Subaru
For most transformational approach
Since you're only a new kid once, and we couldn't gather for the Goodies last year, two companies were awarded the NewB Award — for 2020 and 2021 achievement years.
The NewB Award — 2020 (* launched with Benevity between July 1, 2019, and July 30, 2020.)

When National Australia Bank (NAB) joined the Benevity community in 2020, their program participation had dropped 50% over five years. And then the world locked down.
So what did they do? They stepped up — with a four-month-long "race around the neighborhood" that mobilized employees and leaders to see who could give and volunteer the most.
They also used Missions to create a "get the jab" challenge, where for every employee who got a COVID-19 vaccine, they gave one to someone in need.
They completely transformed their program and reached their six-month participation goals in just two weeks!
The NewB Award — 2021 (* launched with Benevity between July 31, 2020, and December 31, 2021.)
Subaru, a brand new Benevity client, is all about those data-driven insights. Ahead of their launch, they worked with Benevity to get historical data going back to 1983 into their reporting.
At launch, they added new-employee seeding, encouraging new employees to get involved through $25 in donation currency. And they promoted a ton of volunteer opportunities — 50 in six months — as well as a bold 5:1 match campaign. They even added a Benevity widget to their intranet to give their people more ways to get started.
Their Share the Love Kickoff Event, their most successful, received more than 600 volunteers in 16 different locations across the U.S. In total, employees volunteered almost 6,500 hours! And from an employee base of 1,300, half of whom are remote workers without regular access to a computer, they saw 1,349 donations supporting 673 different nonprofits in the first year.
---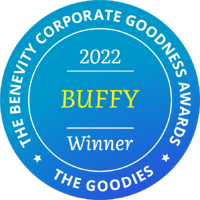 The BUFFY Award — Bree Vopelak from Abbott, M.K. Racine from Mortensen and Karen Bergin from Microsoft
For individual leadership, innovation and impact

The winners of the BUFFY Award are corporate purpose leaders who exemplify what we call the "Benevity Unicorn Factor." They are a rare breed of risk-takers, changemakers and Goodness leaders who are defining what it means to be purpose-driven.
Bree Vopelak, Senior Manager, Global Citizenship & Sustainability at Abbott was operating her own law practice when she was so inspired by a client's purpose-driven citizen strategy that she left her practice to join them in leading the program. It wasn't an easy decision, but she'd do it all over again to see the sense of personal purpose employees feel from giving and volunteering.
Her goal was to turn a limited, transactional program into a transformational one — and she's doing it! Six months into her role, she built an open and democratized program, where employees can choose the nonprofits they support and see the impact of their efforts. And it's resulting in record-high engagement.
M.K. Racine, Social Responsibility Manager at Mortenson, is a role model for responding to a crisis. A few months after launching with Benevity, COVID-19 hit. Like many, she and her team quickly pivoted to virtual volunteering and launched a matching campaign for local causes — hitting their goal in just over a week.
Then on May 25, 2020, the murder of George Floyd shook her community of Minneapolis, and she knew the company had to do the right thing. So, she jumped to action with the Racial Justice and Twin Cities Rebuild campaign, focused just as much on rebuilding the individual as repairing the city. Realizing that as a company and people, they had to work on themselves to fulfill their program's purpose of improving communities, she launched Missions activities to help employees confront their own biases, have difficult conversations with family members and dig deep into mental health supports.
Microsoft's Senior Director of Employee Engagement, Karen Bergin, is her program's biggest advocate and promotes her people and peers at every opportunity.
She's always thinking about the employee experience with her company's giving program, and it's allowed the company to build an immense amount of trust with their people to continually push participation to new heights. In response to COVID-19, her company's president looked to her and her team to engage their community in its first-ever global campaign.
And now they're going global year-round — not an easy feat for a giant tech company — largely in part to her to tireless work and passion to build an employee-centric giving program that her people and executives are inspired by every day.
---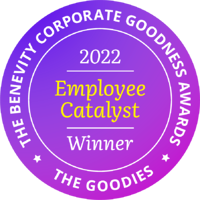 The Employee Catalyst Award — Sushima Assi at Spin Master Corp.
For an employee whose passion creates movements

This new category celebrates the behind-the-scenes heroes who deserve recognition for the incredible influence and impact they generate.
Sushima Assi from Spin Master Corp. is described as "the heart and soul of employee-led sustainability initiatives." She has gone beyond her job as Archivist to turn her passion for sustainability into a movement. Through her commitment and creativity, she's had a huge impact on her coworkers, her company and the planet.
Sushima transformed the concept of a "green team" into Spin Master's Earth Buddies program — a group that now includes 150 passionate employees worldwide. She recruited local champions and set the strategy that has activated tree planting, upcycling competitions and waste-free workshops in Spin Master offices across the globe.
She also co-champions a committee that helps ensure the company's sustainability goals are met. And she was the one behind Spin Master using the headbands in their popular "Hedbanz" game to create and distribute more than 450,000 face shields to hospitals, shelters and long-term care homes across the globe.


---


This year's winners, and all of the nominees, are truly raising the bar for what it means to be a purpose-driven company and leader. And they are proof that there is no one way to do it.
We can't wait to see all of the amazing feats the Benevity client community will achieve in the coming year within their companies, their communities and around the world.

Looking for a little more inspiration? Check out the 2020 Goodies Award winners, Levi Strauss & Co., Adobe, Albertsons, Splunk, Intel, TELUS, Arm and Tricia Stevens from Lush.