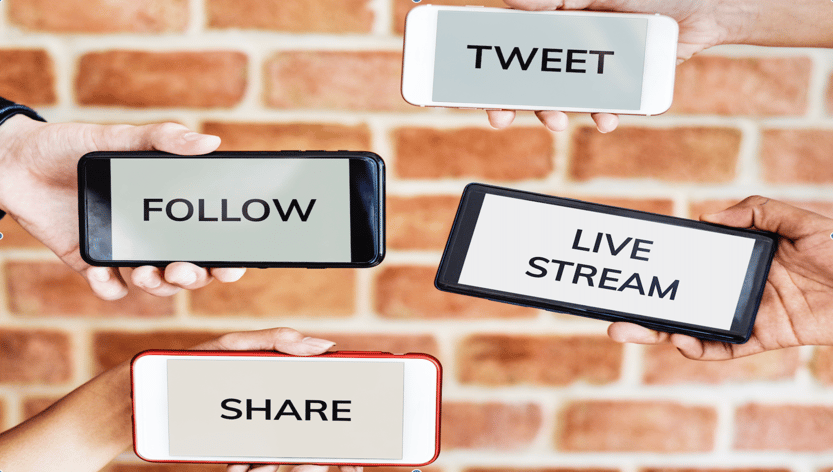 How to boost donations for your nonprofit through social media
As of 2022, it's expected that more than 4.59 billion people are using social media, almost triple the quantity of users in 2010, and this growth shows no signs of stopping. Given that social media is now an established part of people's daily lives, whether they regularly post and interact or simply scroll through their feeds as a passive observer, it's no surprise that it can also be used to great effect to reach your fundraising goals.
In this article, we are going to cover a wide range of things that will help you to build fantastic social media fundraising campaigns including:
Why having the best social media strategy is necessary

How to optimize your content according to your audience

When is the best time to post across the most popular social media platforms
Why is social media marketing an essential aspect of your fundraising strategy?
Whether you prefer Facebook, Instagram, LinkedIn, TikTok, or something else entirely, it's imperative that you master social media in order to optimize your outreach. Social media is one of the most effective marketing tools at an NPO's disposal, as it allows nonprofits to share their stories and news with their followers, while also reaching new potential donors. Another advantage of social media is that it is free, although you can pay to boost your profile. This means that you could potentially reap the rewards without even paying a penny.
Once you have gotten to grips with social media, your stories can help to increase donor engagement among both current and prospective donors, improve awareness of your cause, and promote fundraising initiatives by sharing links to both your website and donation page. Posting on social media also makes it easier for your donors to share your content with their followers, which can help to further increase your reach to other potentially interested parties.
There is a theory that everyone in the world is connected through a series of six handshakes, which builds on the idea that everyone in the world is connected to everyone else through a maximum of six connections. There is no reason you can't also apply this to social media and digital connections. In principle, this means that if you share a post about your organization with your followers, who in turn share it with their followers and so on, in theory, you could reach everyone through a chain of 6 shares. Even better, as social media is instant, the speed with which you could reach a wide audience is unprecedented.
How to optimize your social media strategy
There are many different aspects that you should consider when developing your social media fundraising campaigns. Everything matters, from what you post, to when you post it and if you have a lot of donors in different time zones, you might even want to consider having multiple accounts across the different regions your organization operates in. In this section, we will take you through the most important things to consider when optimizing your social media strategy to reach your fundraising goals.
Create a social media calendar
Planning is always key when it comes to social media and having a calendar where you can plan out your social media fundraising campaigns can really help you to form a solid foundation for your online communications. You can find a range of different planning templates online if you're unsure where to start.
Thoroughly planning out what you want to post ensures that you achieve consistency with the message your organization sends out across the different platforms, while also ensuring that the content shared is targeted effectively according to the typical audience of that platform.
Set goals to maximize reach
When thinking about your social media strategy, you have to think about the priorities of your campaign. Is your aim to increase your followers? Or would you rather reach a wider number of people to increase awareness of your cause, even if they don't then follow you? Or maybe your main goal is simply to boost your conversions and increase donations? No matter what your priority is, you have to make sure that your social media communications reflect this and adapt your strategy accordingly.
Choose your frequency
Many social media campaigns aren't as effective as they could be because organizations post too much or too little. While the suggested frequency of posts varies from platform to platform, the general consensus according to LinkedIn is that posting once per day is optimal. Although many people think that posting multiple times per day will help to increase your reach, this often leads to a drop in engagement over time and in general, pages that share one targeted relevant post per day are more likely to see their fundraising strategy succeed than organizations who post every hour. Reducing the frequency of your posts also ensures that you have the time to respond to interactions and donations in a timely manner including personalized thankyou messages to donors.
Post at the right time for your donors
Choosing the right time to post your content is crucial to maximizing your outreach. Different platforms generally see activity peaks at different times and while you can use studies run by other organizations as a rough guideline, you should also test out different timings yourself when starting out. It is also important to note that if you have a large audience across multiple countries and time zones, you should consider having multiple accounts to cover the territories where you have the most followers in order to optimize engagement, with one official account to post global content.
In general, the best day to post seems to be Wednesday, with the most engagement falling between 10am and 5pm across Facebook and Instagram. All platforms report that engagement is at least slightly lower at the weekends for organizations, so try to post more during the week, where possible. TikTok generally sees more engagement earlier on in the day, with the best days to post being Tuesday, Thursday, and Friday.
Adapting your content to your audience
Different types of content will be more effective depending on your audience and it is imperative that you think about the typical audiences of various social media platforms when developing your social media fundraising campaigns. Make sure to post content that is relevant and interesting to increase engagement and strengthen your fundraising efforts.
Who is the content intended for?
In general, most social media platforms tend to be more geared towards a younger audience, mostly between the age of 18 and 29, with a still significant number of users between the age of 30 and 49. TikTok, however, also sees a lot of users between the age of 13 and 17, while LinkedIn's audience consists predominantly of people aged 25-34, with little engagement across the other age groups. You have to carefully consider these ages when thinking about what to post as different age groups will respond better to different types of content.
As a general rule of thumb, though, you should always try to make your content as interactive as possible and avoid posting massive walls of text. The majority of users will watch videos, but only a small portion will read content.
You should also check out the reasons why people use the different social media platforms when working on your social media strategy and adapt your content accordingly. People typically use Facebook and Instagram to connect with their friends, so post content that is easy for people to share. TikTok users, on the other hand, prefer content that is easy to watch, so try to post videos that are engaging.
What is your Call-To-Action (CTA)?
Many people assume that when it comes to social media fundraising campaigns, 'donate' is the best verb to use in your CTA. In fact, this couldn't be further from the truth. Even in the middle of a fundraiser, you should make sure you pay heed to the 3-1 cultivation ask rule. This is outlined in more detail in our fundraising checklist but essentially builds on the idea that in between every time you ask for a donation from your donors, you should have three communications where you don't ask for anything from them.
For this reason, you should consider what sort of message you actually want to convey with your post. Are you aiming to inform your users about your cause or organization? Do you want to thank your donors for their past and future support? Do you want to share your goals or your progress towards the goal of the campaign? Decide what you want to achieve with your post and choose an appropriate CTA that aligns with this goal.
Here are a few examples of CTAs you can use in you social media campaigns:
Share your accomplishments

Join our cause

Learn more

Send us a message to find out more



Share your programmatic and fundraising goals
Tell your donors what the goals of your fundraising campaign are, along with regular updates with your progress towards them. Seeing that you are making progress towards your goals often encourages more people to donate and actually increases the feeling of mutual trust between organizations and their donors, as they can see that you are willing to be open and honest with them throughout the campaign.
How do you want to share your content?
Depending on the social media platform you want to use, you have a plethora of different ways to share your content. Familiarize yourself with your organization's chosen platforms and the different methods of sharing available to you on each one. Using the different formats in a way that is interesting for your audience is the key to increasing donor engagement during your social media fundraising campaigns.
Here are some of the different formats available to you across the different platforms:
Stories

- Stories allow users to share content, which will only be visible for 24 hours. The limited availability of the stories often creates a sense of urgency that can encourage users to act more quickly.

Reels

- Reels are clips of 15 seconds that utilize a mixture of videos, audio, and often special effects. You can share your reels with your followers in your feed but also with a wider audience through the 'Explore' section on Instagram.

In-feed content

- This is content that will show in your profile either indefinitely or until you manually delete it.

Live content

- This is content that you can broadcast to your followers as it happens.
It is important that you vary the types of content you share in order to keep engagement high. Here are some examples of content you can use to ensure your social media strategy is bullet proof:
Testimonials from beneficiaries, donors, and volunteers

The history of your organization

Fun facts

Polls

#AMA sessions (Ask Me Anything)

Interviews with your staff
How can you encourage donors to give more?
So, you have plenty of donors, but how can you encourage them to give more? While boosting donations is never an exact science, there are a few ways in which you can encourage donors to give more. Follow these top tips to see if they have an effect on the donation volume.
Give a face to your campaign
A few different studies have found that social media fundraising campaigns are significantly more effective when you give a face to your campaign by identifying people rather than simply sharing shocking statistics. In general people find it easier to imagine how their impact can help one person than thousands of people, as the latter can feel a little overwhelming.
Thank first, ask later
While this may seem counteractive, it all boils down to a simple fact: people like to feel appreciated. In our fundraising checklist, we mentioned the importance of the 3-1 cultivation ask rule and this also ties into this concept. In between every ask, your donors should hear from you a minimum of three times where you don't ask for anything. While this can be invitations to free events or information about your cause, thanking your donors for their pledge in advance is another key component to a successful social media fundraising campaign.
Giving donors a choice
Although it must obviously always be the donor's choice whether or not they donate, this is not the choice to which this refers. A study on Time-Inconsistent Charitable Giving found that allowing potential donors to donate up to a week later actually increased the likelihood of a donation by at least 20%. While there is no definite reason given as to why this is the case, it is suggested that people like to retain some control over their actions, and being given the choice of when they can donate allows them to keep this control.
Describe the impact of their donation
In a study conducted by Cynthia E. Cryder, George Loewenstein, and Richard Scheines called 'The donor is in the details' potential donors were given different levels of detail about the charity Oxfam and then asked after viewing the information how much of their participation fee they would like to donate, as well as if they would like to donate any more money to the nonprofit. People who were given the more detailed information donated significantly more, saying that they were given a clearer picture of what their donation would be used for. This showed that people like to see not just that they are making a difference, but also HOW they are making a difference. Tell donors what their donation will get for the cause. If they are donating to help improve education, for example, how much will one textbook cost? Or how about pens and pencils for an entire class? If people can see that they are actually making a tangible difference, they are more likely to splash out and donate slightly more.
So, in conclusion, there are many different ways to boost donations for your nonprofit, from ensuring that you are posting content that is appealing to your audience, to making sure you post at the right time. Follow all of our top tips to see an increase in donations and smash your fundraising goals!
What are your next steps?
If you want more help optimizing your social media, why not create a volunteering opportunity on the Alaya by Benevity platform, a CSR platform where you can post volunteer opportunities to find volunteers who are specially qualified to help you out. On our platform, you simply give the details of the project you need help with, including the time commitment, the tasks they will be taking care of, and any skills needed. Once it's live, volunteers can search for it and apply through our system, after which, we will put them in contact with you. In this way, you can get help from someone who is uniquely qualified to help with your social media strategy.
On our platform, you'll be able to create a number of different activity types, including
Field-volunteering: Find volunteers who can help your organization with a range of different activities, such as cleanups, meal preparation, and packaging supplies at food banks, which require more physical, on -the-ground support.
Skills-based volunteering:

Find volunteers with skills that are especially suited to the tasks you need help with. Our volunteers will do work such as translation, web design, and copywriting for your organization free of charge.
Goods collection:

With goods collection activities, you will have access to a plethora of donations of things like non-perishable food, clothes, and educational supplies.

Monetary donations: Request donations for your cause to raise funds for your different projects.