Fighting hunger, giving hope: The Los Angeles Regional Food Bank's fight for food security

In the regional area of Los Angeles, one in five people faces the harsh reality of food insecurity. The Los Angeles Regional Food Bank stands as a beacon of hope. As a dedicated nonprofit organization, their mission is clear: a vision where no one goes hungry in Los Angeles County. The nonprofit combats hunger by distributing food and other essentials to children, seniors, families, and other individuals in need.
Since its establishment in 1973, the LA Regional Food Bank has provided more than 1.6 billion meals. Through the efforts of 15,000 volunteers and a network of nearly 700 partner agencies, they distribute over 1.83 billion pounds of food collected from hundreds of resources. With their unwavering commitment, they serve more than 900,000 individuals monthly, striving to ensure that no one in Los Angeles County goes hungry.
Benevity's platform connects us with individuals already engaged in corporate social responsibility efforts, making it more likely that they are committed and dedicated to creating positive change.
Join us as we uncover the untold, behind-the-scenes stories, discovering how the organization tackles the rising tide of inflation head-on, all while upholding its mission to combat hunger and nourish communities in need. In a recent interview with Roger Castle, the Chief Development Officer, we bring you a firsthand account of their strategies, resilience, and the vital role that dedicated volunteers play in sustaining their impactful initiatives.
LA Food Bank: fighting hunger, giving hope

How long have you been working here and what inspired you to start?
I've been part of the food bank for six years now, and my anniversary is just a couple of days away. Before joining, I had already been working in the nonprofit sector for quite some time. I was ready to take on a bigger role as Chief Development Officer. When I came across an opening here, I was drawn to the organization's mission and leadership team, and I knew it was the right fit for me.
What is your mission and how do you work towards it?

The Los Angeles Regional Food Bank is dedicated to fighting hunger in our community. Our vision is a Los Angeles County where nobody goes hungry. As one of the largest food banks in the United States, we serve the county's vast area of around 4,000 square miles and 10 million people. Shockingly, one in four people, or one in four families in our county struggle with food insecurity, which translates to approximately 2.5 million individuals who don't know where their next meal will come from.
One of the biggest misconceptions is that hunger only affects homeless individuals. In fact, only about 8% of the people we serve are homeless. The other 92% are individuals and families with jobs and homes who struggle to make ends meet and put food on the table.
How do you get support for your nonprofit organization?

We rely on three key inputs to do our work: food donations, financial donations, and volunteers. These help us provide food to over 800,000 people each month. We source food from farmers, retailers, and growers, while financial contributions help us purchase supplies and cover operational costs.

Our dedicated volunteers play a crucial role in sorting, packing, and distributing food. We are incredibly grateful for their ongoing support as we strive to end food insecurity in Los Angeles County.
What are some of the major challenges that your organization faces?
Our organization's biggest challenge is the high number of food-insecure individuals in Los Angeles County. We serve around 800,000 people each month, but the demand for assistance exceeds our current capacity. Government programs provide some support, but it falls short of meeting the growing need.

To address this, we rely on community and donor support for financial and food donations. The more resources we have, the more people we can help. However, this remains an ongoing challenge, requiring continued community support to make a significant impact.

Moreover, the high cost of living in Los Angeles exacerbates food insecurity. Inflation has only worsened the situation, forcing financially disadvantaged individuals to sacrifice meals or opt for cheaper, less nutritious options, negatively impacting their health.


Nourishing hearts and communities: volunteering at the LA Food Bank
How does your organization work with volunteers?

We consider our food bank as one of the best volunteer opportunities in Los Angeles County, as it's a really easy thing to do - you can just sign up online or select a preferred date to come in. Our volunteer shifts typically last three hours, and there is minimal training required since the work involves handling, sorting, packing, and gleaning food.

Our setup is also ideal for corporate groups. Teams of up to 100 people can participate, making it a great option for team-building activities. Unlike many other organizations, we have the capacity to accommodate large numbers of volunteers. This is why many corporations choose to have giving days at our food bank — they can bring their entire team and engage in meaningful work, such as packing a substantial amount of food.

At the end of the volunteering session, participants learn how many meals they've packed for families in need, providing a sense of accomplishment and fulfillment.
What tasks are involved for volunteers?

Volunteering at the food bank involves various tasks that contribute to our mission. These include sorting and packing fruits and vegetables, ensuring their quality before distributing them in smaller containers. We also assemble food kits for our children's and senior programs, as well as emergency food kits used during the pandemic.

One of the tasks involves a conveyor belt system where volunteers collaboratively create food kits. Each volunteer adds specific items, such as cans of beans or bags of rice, resulting in a shelf-stable food kit weighing around 35-40 pounds. These kits are then distributed to individuals in need.

Volunteers also have the opportunity to assist at our mobile food pantries, where they actively participate in distributing food directly to the community. This involves helping individuals choose the food items they prefer and need from our distributions.

By engaging in these tasks, our volunteers make a meaningful impact in addressing food insecurity and ensuring that nutritious food reaches those who need it most.
How many volunteers do you normally work with?

Last year, we had around 16,600 volunteers, but the numbers fluctuate. Prior to the pandemic, we received around 300,000 volunteers each year. However, during the pandemic, many corporate groups had to pause their involvement to prioritize safety and avoid large gatherings.
Fortunately, we are now witnessing a positive trend as these corporate groups begin to return. For example, we are excited to welcome a big group from FedEx next week, joining us for volunteer activities.
How do you engage with corporate volunteers?

Corporate groups come in all year long. Different corporations have varying seasons or preferred times for giving back. These groups organize volunteering days, bringing together their employees to make a collective impact. Some corporations coordinate large-scale volunteering events with up to 200 participants, while others, like United Airlines, send smaller groups of around 10 individuals who volunteer more frequently, often on a quarterly basis.

During the holiday season, there is an increased interest from corporate groups to contribute their time. People tend to be more mindful of food insecurity during Thanksgiving and Christmas, resulting in a higher demand for volunteering opportunities. To accommodate this interest, we encourage corporate groups to plan ahead and sign up three or four months in advance. It's important to note that December tends to be a busy period for us, so securing a spot for volunteering during that time may require early booking.
Do you receive repeat volunteers?

Absolutely! We often witness the transformative impact of corporate volunteer days on individuals. Many of them become not only recurring volunteers but also personal donors to the food bank. Once they experience the mission firsthand and witness the critical work we do, they are inspired to provide further support. They often transition from corporate group volunteering to become individual volunteers. Our website makes it easy for them to explore available shifts and sign up for specific time slots, for example, there are 15 shifts open on Tuesday, and at 9 am or 1 pm.

Word of mouth also plays a significant role in attracting new volunteers. Those who feel a strong connection to our mission often involve their family and friends, leading to a ripple effect of involvement. We've even had individuals celebrate their birthdays by volunteering at the food bank, showcasing their dedication to making a difference. This cycle of involvement and engagement continues to grow as more people become regular volunteers and actively involve their loved ones in supporting our cause.
How vital are corporate volunteers to your organization?

Corporate volunteers are an invaluable asset to our organization, contributing countless hours of manual labor that would be difficult to find elsewhere. In fact, their work is equivalent to that of 66 full-time employees and saves us several million dollars each year in labor costs. This financial relief allows us to allocate more resources toward providing food to our community.

During the pandemic, when volunteers were unable to participate, we had to resort to hiring temporary workers to fulfill those crucial tasks. The monthly expenses for these temporary workers amounted to hundreds of thousands of dollars. This stark contrast highlights the immense value that volunteers bring to our operations. By generously offering their time and effort, they not only help us save money but also enable us to increase our food distribution to meet the needs of the community.

We are deeply grateful for the dedication and commitment our volunteers bring to our cause, and we hope that more people will be inspired to join us in making a positive impact on the lives of those we serve.
Connecting with corporate volunteers on Benevity
What kind of volunteer opportunities do you post on Benevity?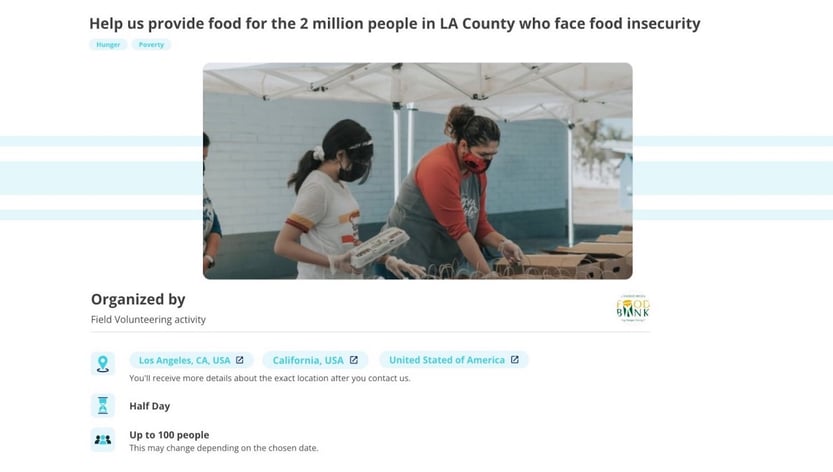 We typically post a range of volunteer opportunities on Benevity. These opportunities include sorting and packing food items, assembling meal kits, attending distribution events, and sometimes even assisting with administrative tasks. Our goal is to provide a diverse set of options that cater to different skills and interests, allowing volunteers to contribute meaningfully to our mission of fighting hunger in Los Angeles County.
What's the impact of receiving volunteers from Benevity?

The impact we have observed when receiving volunteers from Benevity has been valuable, and the support we receive from Benevity's corporate volunteers has enhanced our ability to serve our community. Their dedication, energy, and willingness to contribute their time and skills have allowed us to increase our operational capacity, reach more individuals in need, and improve the efficiency of our operations.

With the help of Benevity's volunteers, we can distribute food more effectively, execute events smoothly, and expand the reach of our programs. Their involvement has a direct and positive impact on our ability to fight hunger and improve food security in our region.
What are the benefits of working with corporate volunteers on Benevity?

Collaborating with corporate volunteers through Benevity brings several key benefits to our organization. Firstly, it provides a broader pool of volunteers passionate about making a difference in their community. Benevity's platform connects us with individuals already engaged in corporate social responsibility efforts, making it more likely that they are committed and dedicated to creating positive change.

Secondly, partnering with corporate volunteers through Benevity enables us to tap into diverse skills and expertise. Volunteers from various industries and backgrounds bring unique perspectives and talents, enriching our programs and initiatives. Benevity's platform saves us time and resources, allowing us to focus on our core mission of providing food assistance.
What would you say to other nonprofits looking for support?
Never underestimate the power of collaboration and community engagement. Seek partnerships with corporate entities and leverage platforms like Benevity to connect with individuals passionate about giving back. Communicate your organization's mission, impact, and volunteer needs to inspire others to join your cause. Remember to express gratitude and appreciation to your volunteers, recognizing their vital role in achieving your goals. Be open to new ideas and approaches and strive for continuous improvement. Together, we can make a lasting difference in the lives of those in need and build a stronger, more resilient community.

We are grateful for the support we receive from Benevity and its corporate volunteers. Their dedication and commitment to our cause have greatly enhanced our ability to fight hunger in Los Angeles County. We truly value the collaboration and look forward to continuing our partnership.

Connect with volunteers through Benevity
Benevity enables nonprofits like yours to connect with a community of passionate volunteers and access resources to help you achieve your mission (for free). Here are some examples of volunteer opportunities your organization can list on the platform.
On our platform, you can create the following types of volunteer opportunities and donation requests:

• Field-volunteering: Connect with a vibrant pool of field volunteers ready to provide hands-on support for your initiatives, from cleanups and meal preparation to farm work.
• Skills-based volunteering: Access a network of skilled professionals offering pro-bono expertise in fields such as translation, marketing, and web design, including virtual volunteers.
• Goods donation: receive items such as IT equipment, canned food, and clothing.
• Monetary donations: raise funds for your cause through global monetary donations.

Join the Benevity network today by simply submitting your volunteer needs using the form below: