How to excite, inspire and engage with a successful launch strategy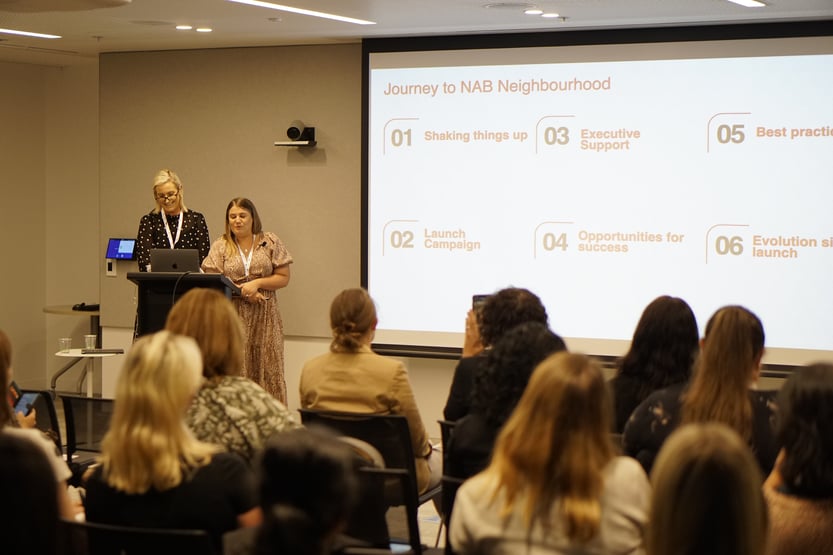 Launch strategy proved to be a principal topic at the Benevity Forums in Australia, discussed in multiple panels and within a special presentation from National Australia Bank (NAB).

Programme launches are an excellent opportunity to generate awareness, build excitement and get people signed up from the start. But it's crucial to infuse something special into your launch to capture the attention of busy colleagues.

In the session presented by NAB, Kate Twyford, Senior Associate of NAB Foundation, and Kate Jones, Associate Sustainability of NAB Foundation, shared their winning formula for driving engagement to their giving and volunteering programme, NAB Neighbourhood.

Here are the takeaways that NAB credits for making a difference.
Gamification
Gamification is a powerful driver of engagement, energising team members by sparking up some friendly competition. Put a focus on creating a cohesive experience that explains the rules, stakes and prizes of the contest in a clear and, most importantly, fun way.

The NAB launch was built around a "Race Around the Neighbourhood" campaign dividing executive leaders and their divisions into teams. The team that completed the most giving and volunteering activities over four months won. A leaderboard tracked progress of the race.
Executive advocacy
Executive advocacy can have a huge impact on the success of your launch, particularly when you get leaders involved in the competition. Create a video featuring executives leading up to the launch to drive interest in the programme.

In the case of NAB, not only did NAB Neighbourhood have an executive sponsor, but executive team members were responsible for leading efforts in raising awareness of the features they wanted to promote, like tracking volunteer time, getting rewarded through volunteering, and organising their own fundraising campaigns.
Rewards
A key ingredient to an effective launch is offering your employees an incentive for signing up. Seeding money that employees can donate to a cause of their choice motivates them to check out your programme for the first time.

At NAB, all employees were given AU$10 in their Giving Account, with four randomly seeded with AU$1,000. This extra incentive encouraged people to sign-in to the platform to check if they'd been one of the lucky four to receive the larger amount.
Communication
Inspiring employee action involves keeping everyone informed of the engagement pathways – and causes – available to them. Set up a communication system for the launch of your programme that reaches your employees where they spend their time.

From multiple teasers to desktop wallpapers and their intranet, NAB built an extensive communication plan that used a variety of internal channels to keep employees informed and excited leading up to the launch. In particular, a detailed map of NAB Neighbourhood, and its various features, was revealed over time across channels to pique interest.
Multiple ways to engage
Cover all of your bases by providing employees more ways to engage in goodness than just giving and volunteering. For example, micro-actions are an effective way for individuals to make a small contribution by changing their habits or challenging themselves to try out new things. This can be as simple as biking to work or going vegetarian for a week.

Using Benevity's employee engagement solution, NAB encouraged employees to take small, positive actions to drive big change. Micro-actions like "Get a Jab, Give a Jab" meant that for every colleague who registered for their COVID-19 vaccination, NAB paid it forward by donating the cost of vaccinating a person in need via UNICEF. The result? Around a third of NAB's workforce recorded a vaccination and raised nearly AU$50,000 for UNICEF.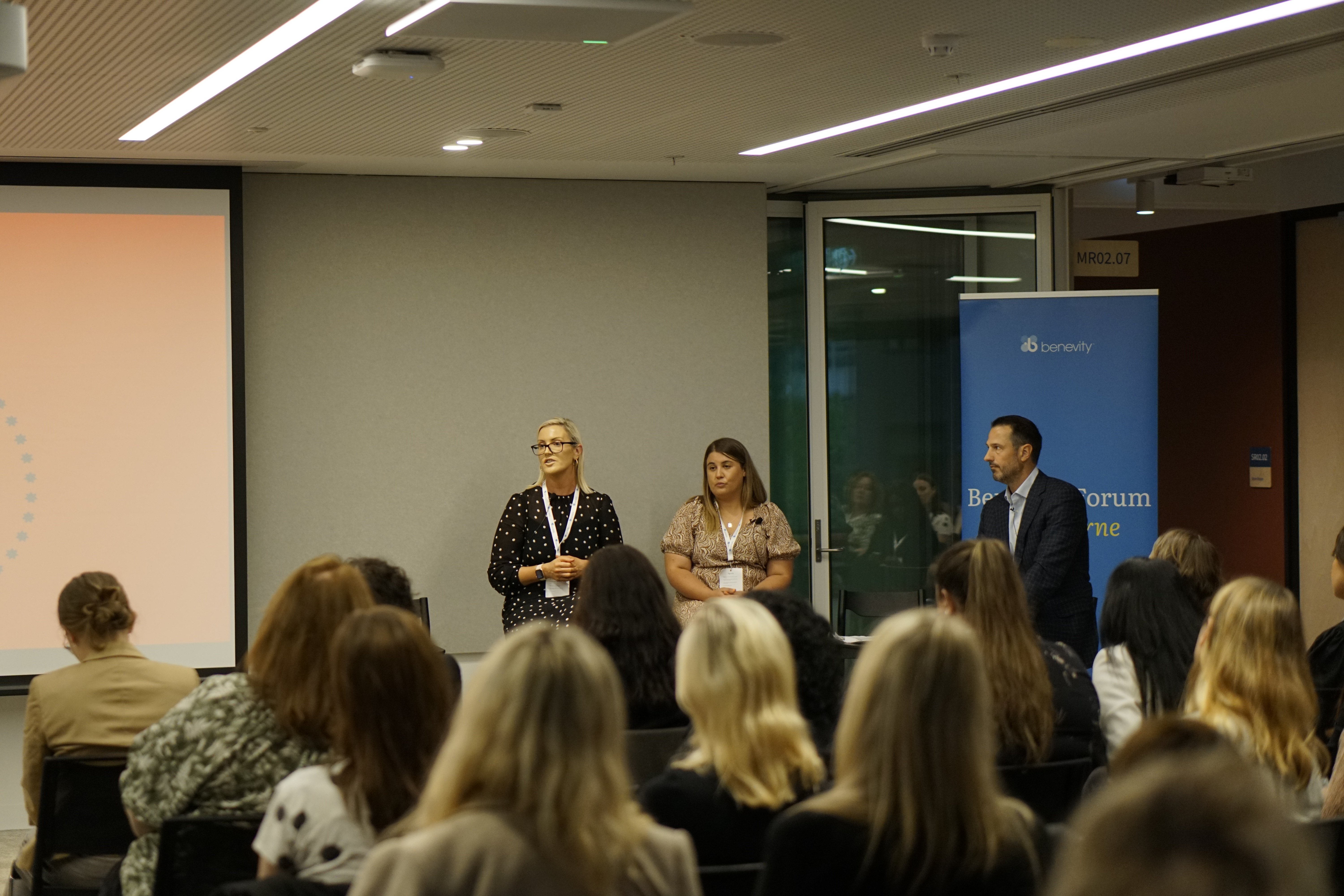 A winning launch strategy
The impact of NAB's launch was immediate. Their initial goal of 25% of NAB employees logging in to their giving and volunteering platform within the first six months of launch was reached within two weeks.

The goal was increased to 50%, which was hit within three months. Ultimately, 60% of employees participated by the end of the bank year. Their latest goal is to hit 65% of colleagues logging into the platform and to continue increasing engagement.

Want to hear the full story of how NAB achieved these results? Read the case study here.
More best practices for an effective launch
Make the most of micro-actions
Strive to keep them simple and strategic to support campaigns and make them as topical as possible. NAB chose vaccine equity and disaster relief.
Colleague feedback
Ask your employees to share their experience so you can keep pushing the needle to create a functional programme. NAB has made programme tweaks based on user feedback, such as extending volunteer reward expiry time from three months to 12 months.
3. Work collaboratively
NAB integrated Benevity with other communication tools across the company by working side-by-side with their Employee Communication team. This way stories of impact and celebrations of colleagues' contribution to the community are shared far and wide.
4. Employee value proposition
CSR managers agree that it's more valuable to capture the attention of employees at the start of their career, so integrate your programme into the new starter and induction kit. To sweeten the deal, NAB seeds all new employees with AU$10 to their Giving Account.
5. Beyond the business offer
Work with colleagues who manage business relationships with not-for-profit customers to share dedicated toolkits to support conversations and help causes become involved in your volunteering and giving programme.
6. Easy and accessible
Make it easy for colleagues to volunteer and give easily in one place. It's important to be strategic as well as keeping it an open programme.
Keeping a pulse on future CSR and ESG trends
Our Benevity Forum events play a pivotal role in revealing regional trends that we know will impact the future of doing good. Keep an eye out for future learnings coming from our upcoming forums in London, Paris, Frankfurt and Zurich, and of course our annual Benevity Live! event happening in May in the United States. You won't want to miss these insights from the world's most purpose-driven brands!