How OMERS launched a Peer Matching campaign — straight from the heart
Their story shows that when giving gets personal, it's unstoppable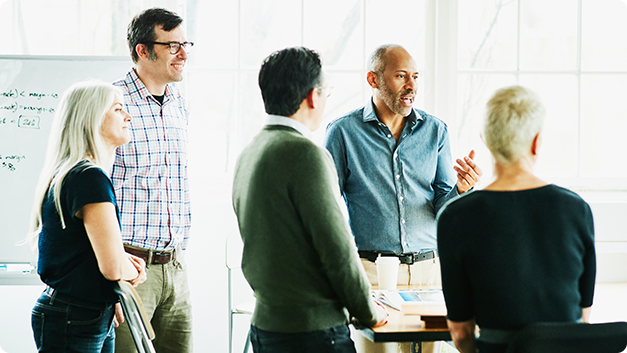 In its first-ever Peer Matching campaign, OMERS raised more than $64,000 for 17 causes from nearly 250 donors — with no corporate budget.
As the steward of a pension plan for more than half a million municipal employees, OMERS takes social responsibility seriously. The organization is deeply invested in the well-being of its employees, plan members and the community in which it lives and works. This commitment was at the core of OMERS' first-ever Peer Matching campaign.
On average, companies with matching programs generate 55% higher user donation totals than those that don't. So, the concept of amplifying participation along with impact had immediate appeal among OMERS' leaders and employees.
The Peer Matching campaign would also serve a dual purpose: generate awareness around OMERS' new program, Purpose@Work, which helps build social purpose — both within and outside of OMERS, and to launch the Benevity platform.
With GivingTuesday fast approaching, it was the perfect opportunity for the OMERS leadership team to launch its campaign.


Matching without a matching budget
To inspire employees to give back to the community — without relying on corporate funds for matching — 16 executives rose to the challenge. They led by example and each personally pledged $1,000 to match donations, with some executives choosing two causes to match!
Leaders chose charities that were personally meaningful to them. Food security was a common theme as the executives recognized the increasing demand for food banks during the pandemic. Gender equality, homelessness and education were other key themes, and it became clear that they resonated with OMERS' employees around the world.
The generosity of the leaders sparked the most human of impulses: to rally together and give. This executive group started a wave of generosity that streamed through every corner of this global organization, mobilizing employees around pressing societal issues.


Scoring big on purpose
The campaign turned giving into a collective effort, with philanthropy as its goal. Indeed, the spirit of philanthropy grows when the process is collaborative: research shows that 80% of people are more likely to give when there's a match offered.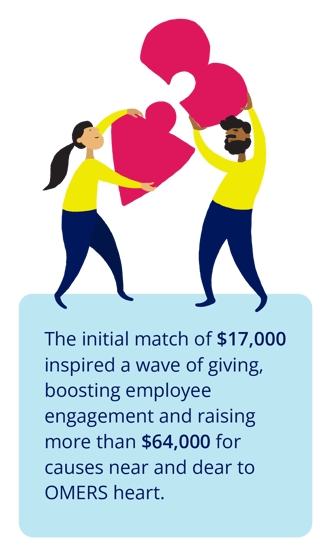 As a result of the campaign, the initial $17,000 match amount blossomed into $64,316 in just one month. During this time, nearly 250 OMERS employees hopped onto Benevity's Spark platform and used the Peer Matching feature to support 17 causes, giving much-needed funds to groups including Second Harvest, Children's Aid Foundation and the Alzheimer Society of Canada.
Coincidentally, two leaders chose the same cause — Sanctuary Toronto — because they had volunteered for this great organization and had witnessed first-hand its amazing impact. It provides stability, resources and — equally important — dignity to some of the city's most vulnerable residents. Not surprisingly, Sanctuary Toronto raised the most money among the peer-matched causes. By the end of the campaign, more than $10,000 had been raised for this urban sanctuary. It was inspiring to see employees across the globe rally to support their leaders and the cause.
OMERS' creative approach to matching paid off, not just in terms of dollars raised, but in employee engagement. It's clear that the company's employees and leaders share a strong sense of social responsibility. Shelagh Paul, Senior Vice President, Global Communications and Chair of Purpose@Work, sees this as just the start for OMERS. "Our members work in public service and spend their careers supporting their communities. Similarly, the people who work at OMERS have a strong sense of broader purpose — it is the nature of what we do and who we do it for. We want to provide a platform to amplify our employees' efforts to optimize our workplace and give back to their communities, whether it's through Missions, volunteering or donations," Shelagh says.


"This peer match campaign allowed our leaders to share their personal stories and engage our teams through philanthropy. The pride and enthusiasm it inspired across the company was fantastic, and we are looking forward to creating future similar opportunities."


— Shelagh Paul, Senior Vice President,
Global Communications and Chair of Purpose@Work
Launching a CSR program through Peer Matching
The goodwill and corporate spirit generated by OMERS' Peer Matching campaign also served as an ideal launching pad for Purpose@Work. The organization's new social purpose program supports the goal of reinforcing a purpose-driven workplace with meaningful connections to the community by focusing on six key areas: inclusion and diversity, wellness, plan advocacy, global citizenship, environmental impact, and growth and development.
The matching campaign was the first significant initiative of the Purpose@Work program.
Benevity's Peer Matching tool was the perfect way to motivate employees to give and to stimulate interest in the Spark platform — all without using corporate matching funds. It let employees join the matching pool or donate to receive a match. And this campaign has inspired several employees to create their own Peer Match opportunities, to rally their coworkers around causes that are personal to them!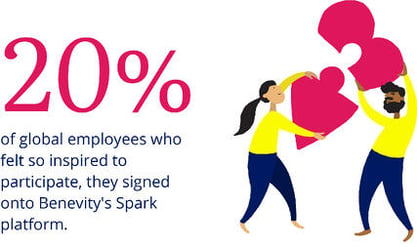 Choosing Peer Matching as a launch pad for their Purpose@Work program was the right decision for OMERS. The company's Corporate Social Responsibility & Engagement Lead,
Chor Lam, says, "We can attribute the Peer Matching campaign to bringing new users to the platform and getting employees excited about the program." In just three short months, nearly 20% of OMERS' global workforce had signed on to the Spark platform and accepted the Terms of Use. That's impressive, considering there were no corporate incentives like grants or corporate matching.
Adding Benevity's Spark platform, along with its Peer Matching feature, to the OMERS toolkit allowed the organization to make it easy for their employees to build social purpose together.
Inspiring generosity, solidarity and community
What started as a top-down initiative led by executives is becoming a grassroots movement led by OMERS' employees. Since the campaign, several employees have created their own Peer Matching appeals, including for a global NGO, World Bicycle Relief and a local hospital.
The investment finance team set up a one-week appeal for the Daily Bread Food Bank. Their goal was to raise $750. After presenting the appeal to the team at a town hall meeting, the $750 goal was raised in just 10 minutes! The team's leaders matched the $750 goal, and by the end of the week they had raised $3,000. The organizers were overwhelmed by the sheer momentum of the campaign and the incredible generosity of their peers. "My heart is bursting," said one of the organizers as the movement gathered speed, and her co-organizer simply said, "I can't stop smiling!" The success of the Peer Matching campaigns demonstrates the compassion of OMERS' employees, and it shows the power of the Peer Matching feature. It's intuitive and flexible: any employee can easily create a match for their chosen cause and ask colleagues to donate.
Research shows that people are 50% more likely to give if asked by a friend or colleague, so Peer Matching campaigns have the potential to turn individual donations into grassroots movements. As colleagues rally together, pooling resources, their matched donations can make a significant impact on the organizations they are passionate about.
Investing in goodwill
The Peer Matching tool is designed to make giving personal, and OMERS has brought this to life. Their matching campaign reinforces the importance OMERS places on building a purpose-driven workplace that cares for its employees and gives back to the community. When leaders tell personal stories in matching campaigns, it's a gesture of empathy and an investment in goodwill. The matching funds that came straight from OMERS' leaders' pockets also came straight from the heart, inspiring employees to tell their own stories, support each other and give.
Learn more about Benevity's Peer Matching feature and how you can power a movement in your company.